Free AVI Video Converter Still Hold Its Market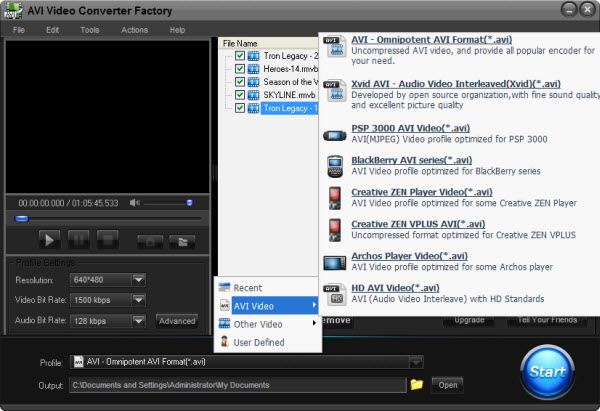 Nowadays, we can notice that there are lots of video formats for different user's requirements. FLV is popular for YouTube playing; MP4 is widely supported by portable media player; MOV is for Apple QuickTime special; etc. And the formats family is still in updating, some new and better video format may come out soon; it seems that some old and classic video format lost its status. But from some surveys on the internet, we got an answer "I'd like to choose AVI videos"; so free AVI video converter may still hold its market.
The Surveys About the Selection of AVI Video
"With no reason, I just like to record my videos in AVI. If I receive some video in other format, I would like to convert videos to AVI with some free AVI video converter. I think AVI good to use, I have been used it for several years, I'm familiar with it" When been asked, Thomas Black said so. Then we can notice that for the old users, AVI video may be the preferred.
And also, when one of my friends been asked, he just said that "I'm always watch video on my computer, all format is OK. But for AVI, I think it's popular, it's widely used and supported, and the video quality is well. And AVI is used and tested by its users for several years, it is stable."
Besides, AVI video still holds its advantages. If you are sharing some video from your friend, you may enjoy the video after you download all the video files. But if the video is in AVI, you can watch the video while you are downloading it. It will save your time somehow.
Free AVI Video Converter Should Concern More
There have the users who would like choose AVI, so some free AVI video converter still holds its status. But for the developers of the AVI video converter, they should concern more to develop the software for using. The free AVI video converter is not just provided as software or something else; it also provides the services to the users. So it should ensure the video quality, concerns the functions and pay an attention to the potential problems for updating to keep it runs.
And here, Free AVI Video Converter Factory is well. It concerns the AVI characters and the users a lot; it's easy to use. It's worth trying.
AVI video still holds its status, and free AVI video converter also holds its market; but the software should concern more on careful, professional and human.
Screenshot of Free AVI Video Converter