Free AVI Converting Software - Convert Video to AVI Free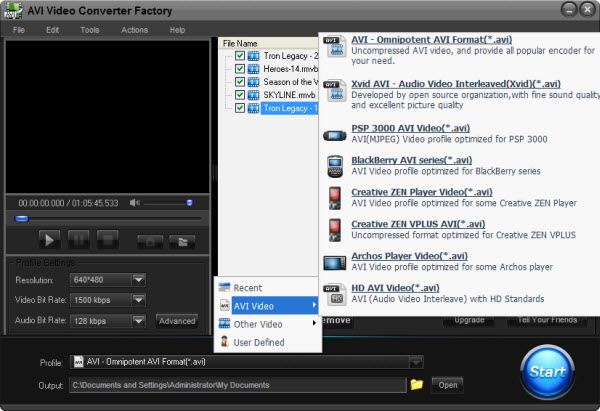 According to the result found by Google Searching, quite a lot of Free AVI Converting software available seems to be able to solve your problems. However, few of them could work as it advertised. After making a careful comparison among those software, I shortlist several suitable some Free AVI converting software to have a try. Among them, Free AVI Converter Factory is one of the Free AVI converting software with powerful functions.
Free AVI Converting Software - Make the Popular Formats Be with You
Nowadays, there are many formats we can see. Each of them has its own features, both advantages and disadvantages. AVI is one of them, which offer high quality for users and commonly used in various way. Maybe, some people may ask that: how to convert video to AVI? It is a simple task with Free AVI Converting Software. It can help you solve the problem mentioned above easily and conveniently.
The Brief Introduction and Features of AVI: Audio Video Interleave, known by its acronym AVI, is frequently converted as targeting files. It is a container format widely used by Microsoft's Video for Windows multimedia framework. It is supported in Windows and even some standalone DVD players, and still suitable for certain formats like DV. Since it was developed for Windows 3.1 in 1992, it is indeed lack of some features found in newer containers like MPEG or MP4, Whatever, it is widely used by consumers.
AVI-accepted by Pop Video Sharing Websites Like YouTube: AVI is accepted by all computers running Windows, and by all the popular web browsers. What's more, AVI video file is a very common format on the Internet like pop video sharing websites-YouTube, but not always possible to play on non-Windows computers. YouTube is one of the pop video sharing websites which can support AVI, so if you want more people share your wonderful videos, a Free AVI Converting Software is necessary for you to help you do the task easily, fast and conveniently.
Here I recommend powerful AVI converting software to you - Free AVI Video Converter Factory.
How to Convert Video to AVI with the Recommended Software
If you already have a Free AVI Video Converter Factory or if you decided to get a Free AVI Video Converter Factory, it is necessary for you to know how to convert video to AVI with Free AVI Video Converter Factory.
Step1: Import video. - Launch Free AVI Video Converter Factory, Click 'Add' button to import video(s), click 'Remove' button to delete video.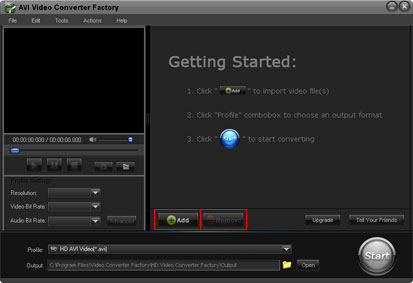 Step2: Choose an output format.: 1,Click 'Profile' combo box to choose an output format; 2, Common profile settings, In most cases, we provide multi-options for each setting; 3, More advanced settings.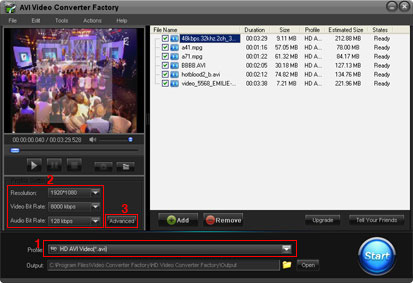 Step3: Click 'start' button on the interface of Free AVI Video Converter Factory to begin converting process
As you can see, you just need three steps and then you can finish all the converting processes. It is really easy for you to do the task!
Screenshot of Free AVI Video Converter Factory