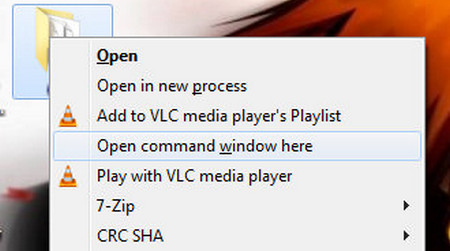 How to Open DMG2IMG
DMG2IMG is a small and lightweight application that allows you to convert DMG files into the standard disk image format, ISO, which is compatible with more programs on Windows.
Step 1: Free download DMG2IMG via http://vu1tur.eu.org/tools/dmg2img-1.6.7-win32.zip.
Step 2: Once the file has been downloaded, open your Downloads folder and extract the contents (3 files) to a new folder.
Step 3: Now hold down Shift and right click the new folder, then select Open command window here from the context menu.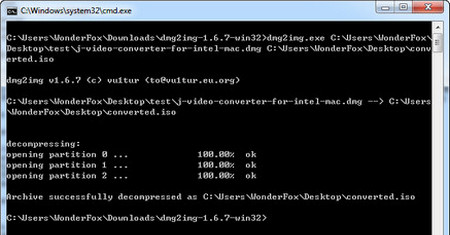 DMG2ISO
Step 4: Now use the following command syntax (remove brackets) to convert your DMG file:
dmg2img.exe (source file.dmg path) (destination file.iso path)
e.g.: dmg2img.exe C:\Users\WonderFox\Desktop\test\j-video-converter-for-intel-mac.dmg C:\Users\WonderFox\Desktop\converted.iso
Step 5: Finally, click Enter to start to convert .dmg to .iso.
Hot search: Extract IMG File | How to Mount an ISO
There are plenty of other tools that claim to help you convert DMG files, however, these two are the most reliable freeware I have come across. If you want, PowerISO, Any2ISO, MagicISO, UltraISO and more shareware are also worth trying. All in all, I hope you can easily convert DMG to ISO files after reading this tutorial.