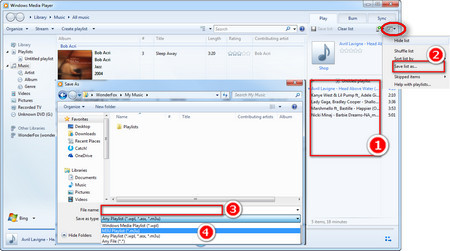 How to Make a M3U Playlist with WMP
If you are using Windows 7 or an older version, you can also use Windows Media Player to make M3U playlist.
Related Post: Correct DVD Titles with Windows Media Player l Solve Windows Media Player MP4 Playback Issue
Step 1. Create a new folder on your PC and put all audio files into it. Then drag the folder into the Unsaved List section of Windows Media Player. You can drag each audio file up and down to shift the order.
Step 2. Click on the drop-down menu and select "Save list as…" to create M3U playlist.
Step 3. Rename the file, and choose the output format as M3U. After that, click on "Save" to create M3U file. The default output path is My Music > Playlist. You can define a new output path as well. 
You can not only create M3U playlists but also play the files with VLC, Windows Media Player, and iTunes. Please note that, if the M3U playlist points to the audio files on your local device, you can't play it on other devices since the media player can't find the file path. However, if the M3U file points to a stream online, you can easily play and even share it when connected to WiFi or cellular network. Last but not least, M3U files are plain text files so it's impossible to convert M3U to a playable MP3 or MP4 media file. Of course, you can open an M3U file with Notepad and find the original path of the actual file, which should be like:
"#EXTINF:300,Nicki Minaj - Barbie Dreams-NA_mp4_Output_3.mp3
file:///D:/music/Nicki%20Minaj%20-%20Barbie%20Dreams-NA_mp4_Output_3.mp3"
In this example, file:///D:/music/ is the original location of the audio file. Once you find the audio file, you can convert it to any media format with a converter like WonderFox HD Video Converter Factory Pro.