Convert MP4 into MP3
Extracting Audio from Video
There is no doubt that MP4 is a popular video format. There is also no doubt that MP3 is a popular audio format.
Have you ever imagined that listen to the classic or unforgettable dialogues or music in the format of MP3 that extracted from your favorite MP4 movies or videos anywhere, anytime and just listen to it.
Have you ever imagine that you can get the MP3 audio format from MP4 movies or audios whenever you need.
Just convert MP4 into MP3 with a video to audio converter software, all you want will be realized.
Popular Video Format - MP4 Video Format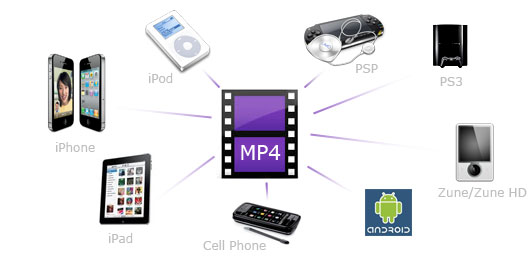 As our original video format, it is necessary for us to have some basic knowledge of MP4 video format. Here are some brief introductions of MP4.
MP4 (MPEG-4): MPEG-4 uses further coding tools with additional complexity to achieve higher compression factors than MPEG-2. In addition to more efficient coding of video, MPEG-4 moves closer to computer graphics applications. In more complex profiles, the MPEG-4 decoder effectively becomes a rendering processor and the compressed bit stream describes three-dimensional shapes and surface texture. MPEG-4 supports Intellectual Property Management and Protection (IPMP), which provides the facility to use proprietary technologies to manage and protect content like digital rights management. What's more, MP4 is widely used in the portable media player, it contains smaller files and better quality in comparison, it is convenient for inter-transmit. MP4 is a real popular video format.
Popular Audio Format - MP3 Audio Format
As our target audio format, we need know more about MP3 so that we can clear what we can get by converting MP4 into MP3.
The General Concept of MP3: MP3 is an audio-specific format that was designed by the Moving Picture Experts Group as part of its MPEG-1 standard and later extended in MPEG-2 standard. The first MPEG subgroup - Audio group was formed by several teams of engineers at Fraunhofer IIS, University of Hannover, AT&T-Bell Labs, Thomson-Brandt, CCETT, and others. MPEG-1 Audio (MPEG-1 Part 3), which included MPEG-1 Audio Layer I, II and III was approved as a committee draft of ISO/IEC standard in 1991, finalized in 1992 and published in 1993. Backwards compatible MPEG-2 Audio (MPEG-2 Part 3) with additional bit rates and sample rates was published in 1995.
Main Advantages of MP3: The use in MP3 of a lossy compression algorithm is designed to greatly reduce the amount of data required to represent the audio recording and still sound like a faithful reproduction of the original uncompressed audio for most listeners. An MP3 file that is created using the setting of 128 kbit/s will result in a file that is about 11 times smaller than the CD file created from the original audio source. An MP3 file can also be constructed at higher or lower bit rates, with higher or lower resulting quality. As we can see, MP3 has a lot of advantages, so convert MP4 into MP3 is not a bad choice.
Video to Audio Converter Software - The Bridge of MP4 and MP3
After knowing some basic knowledge of MP4 and MP3, now it's time for us to know how we can convert MP4 into MP3.
It is a very simple task for us to convert MP4 into MP3, what you need is just a video to audio converter software, here I list some general process of converting MP4 into MP3.
Firstly, you just need to download a video to audio converter software and learn the guide. > Secondly, add your MP4 movie or video files. > Thirdly, follow the guide and click the "Start" button to start converting MP4 into MP3 ((Nearly all video to audio converter software have "Start" button) > Finally, enjoy your MP3 audios!
If you are still have the question of how to choose the right video to audio converter software, here I can recommend a good video to audio converter software for you - Free Video to Audio Converter Factory. It is 100% free software; it can help you convert MP4 into MP3 easily. What's more, it support all media import format and capable of converting other popular audio formats like OGG, WMA, WAV and so on. It is really an all-in-one video to audio converter software. With Free Video to Audio Converter Factory, you can convert MP4 into MP3 in a single step!
Screenshot of Free Video to Audio Converter