VLC is more than just a media player, it can also download web files, rip DVDs, edit videos, and even convert videos. Due to its free nature, VLC is the first choice of many people when it comes to video conversion. Below, we will detail how to convert FLV to MP4 using VLC. If your VLC conversion breaks, we also provide a free Plan B in the extended reading to help with the conversion. Just read and follow.
Note: If you haven't installed VLC on your PC, get the latest correct version of VLC from the official website https://www.videolan.org/vlc/.
Step 1. Open VLC. From the top menu bar, select "Media" > "Convert / Save …" (or press "Ctrl + R") to bring up the "Open Media" window.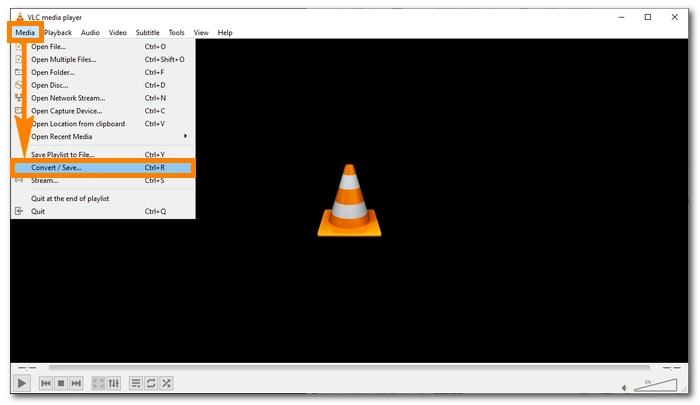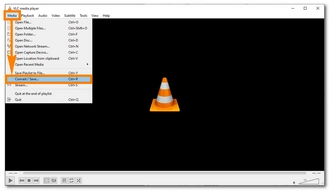 Step 2. In the new window, click "+ Add …" to load the needed FLV file(s). Then click the bottom "Convert/Save" button.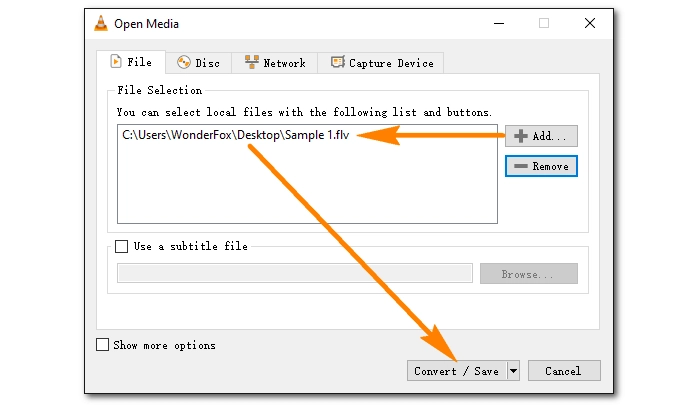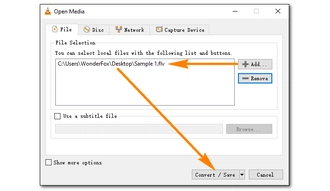 Step 3. In the next window, select "Video – H.264 + MP3 (MP4)" from the Profile drop-down options.
Step 4. Click "Browse" to rename the file and set an output destination. Make sure to change the file extension to ".mp4."
Tips: If you have selected multiple FLV files, you can't customize a specific output path. VLC will automatically generate the converted files to the same folder where the source files are located. You can tick off "Append '-converted' to filename" to view the output files more clearly.
Step 5. Finally, click "Start" to begin the FLV-to-MP4 conversion in VLC.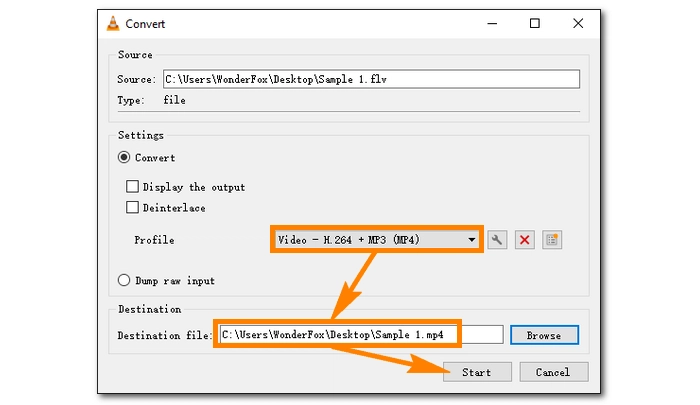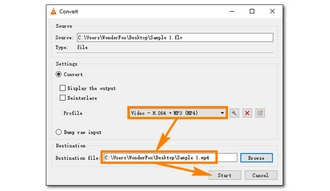 Sometimes, videos converted with VLC may lose audio. If you encounter such issues, try the following remedies.
Fix 1. Update VLC to the latest version.
Fix 2. After Step 3, click the wrench icon to open the "Profile edition" window. Go to "Audio codec" and tick off "Keep original audio track" and click "Save." Then, complete the rest steps and see if the conversion goes normally.
Fix 3. After Step 3, open "Profile edition" > "Audio codec", then change the Codec to "MPEG 4 Audio (AAC)" and the Sample Rate to "48000 Hz." Then click "Save." Finish the rest steps to see if it works.
If the above solutions don't work, you can try another video converter.
VLC isn't the only option for video conversion. Programs like WonderFox Free HD Video Converter Factory offer easier and faster conversions. If you can't convert FLV to MP4 using VLC, you may wish to try this program.
Step 1. Launch the software and open "Converter." Click "+ Add Files" to import an FLV video into the converter. You can also drag and drop the file into the program directly.
Step 2. Click the right-side format image to open the format library. Select "MP4" as the output format.
Step 3. Click the bottom ▼ button to choose an output folder. When everything is ready, click "Run" to complete the process.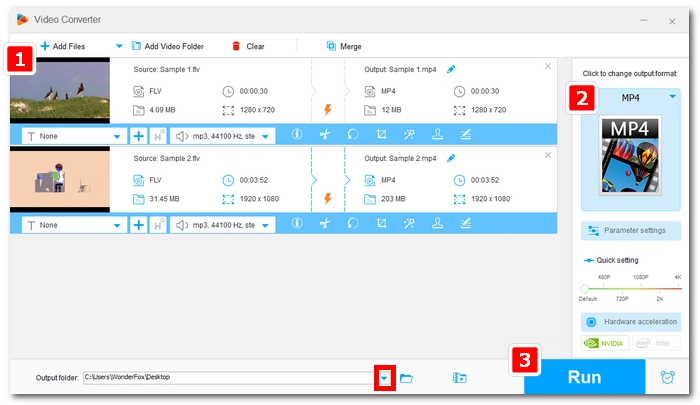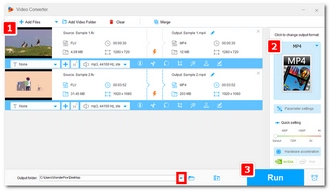 Finally…
Converting FLV to MP4 in VLC takes only a couple of clicks. Overall, it's a simple job and all you have to do is follow the steps we've provided in this article to complete the conversion. But if you run into some conversion issues, we also provide several solutions and a plan B. That's all I want to share in this post. If you have any questions, feel free to contact me on Twitter. I'm happy to help. Thanks for reading!