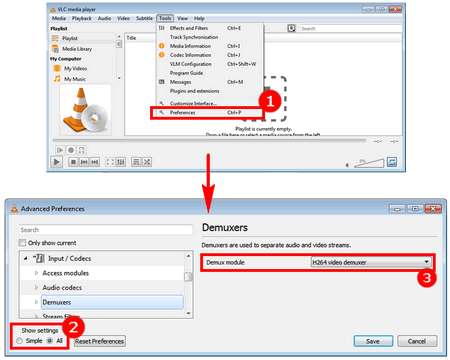 Step 1. Run VLC Media Player. In the top toolbar of the home screen, click "Tools" > "Preferences" or use the hotkey "Crtl + P" to open the "Simple Preferences" window.
Step 2. At the bottom left corner of the new window, switch to full preferences view by changing "Simple" to "All" in the "Show settings" box. From the left-side panel, find "Input / Codecs" and select "Demuxers".
Step 3. Under the Demux module section presented at the right side of the window, change "Automatic" to "H264 video demuxer" and click "Save" to keep the adjustments. Now the VLC has become a DAV player, and you should be able to play DAV files in VLC successfully.
Note: After you have changed the demuxer to the H264 video demuxer, the VLC now only supports playing DAV files. To play other types of video files, you need to undo all the settings that you have made.