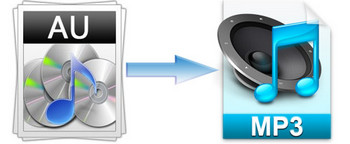 Convert AU format sound to MP3
Recently, I received some feedback from several members who mentioned that they had some songs of huge sizes that could not be opened and played by their portable players. After a further investigation into the samples they sent to me, I found that it was AU file format that caused the failed playback. AU is also an audio file format similar to MP3 and WMA although it is relatively rare to public. It is playable on some certain players but not compatible with our common mobile devices and portable players. If you just
want to play music, songs or other audio files in AU file format, you will need to resort to a practical AU audio converter and convert the files to MP3 or other common audio formats.
What Is the Best Tool for AU CONVERSION?
HD Video Converter Factory Pro, a multifunctional audio and video converter, is capable of converting the original media file to more than 500 formats and codecs. As for AU format, you can use this convenient software to convert it to the commonest audio formats like MP3, WMA, WAV, FLAC, AAC and so on. It is safe and fast, in the course of conversion, original quality can be saved to the greatest extent. HD Video Converter Factory Pro can also be used as a potential audio compressor to dramatically reduce audio files' sizes to save more storage space for your portable devices.
Free download the best audio converter to convert AU to WAV, MP3, and other common audio formats for a better compatibility with your portable gadgets.
How to Convert AU to MP3 within 3 Simple Steps
Step 1
Launch HD Video Converter Factory Pro - the most powerful AU file converter. Click on "Converter" on the main screen, then select "Add Files" to add the file to the Video Converter interface from local folder. Or just drag the file's icon to the interface which is more direct. Batch conversion is supported for you to add multiple files simultaneously. Then, at the bottom, preset an output folder for the conversion process.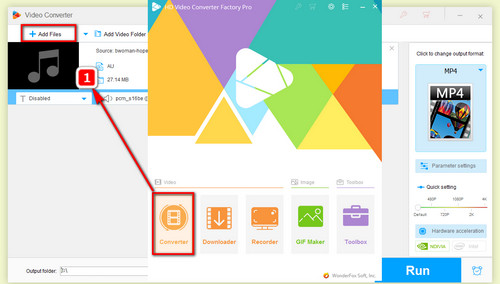 Add an AU file
Step 2
Notice the two words "Output format" on the right side. Click below it and you will see a format list. Go under the audio tag, and then choose the icon of your desired output audio. Here I take MP3 as example because MP3 shares the best compatibility with other players and devices.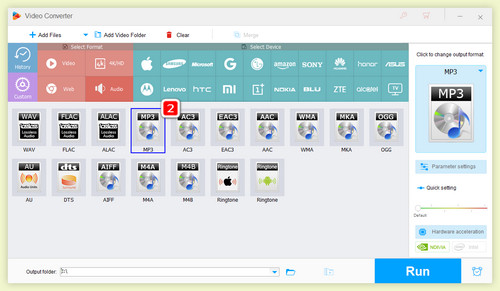 Choose the desired output format
Step 3
Click on "Run" to start conversion. Within a few seconds you will find the output MP3 audio file in the folder you preset before.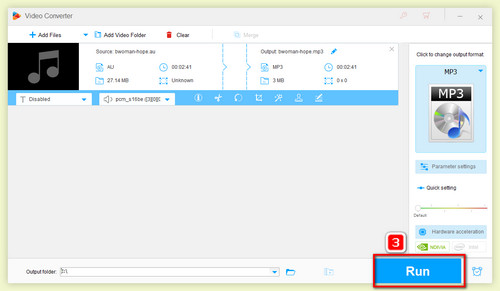 Begin conversion
Some Tips for Audio Editing
HD Video Converter Factory Pro is not only a good AU MP3 converter, but also you can use it to edit music or songs by changing their parameters, length, and so on.
In step 2, besides that you can choose any audio formats you want, if you have some basic knowledge about audio terminologies, you can control the parameters for the MP3 output. By clicking on "Settings", you will see a list of parameters including bit rate, sample rate, sound and volume. For example, you can convert MP3 bit rate to make it have a smaller output size.
As for editing process, you can merge audio files by clicking on "[+]Merge" and you can also cut audio by hitting "Clip" and drag the slide bars to decide the audio length.
What Is AU
The .AU extension is an audio format associated to Sun Microsystems. AU files store their data in three parts: a 24-bytes header, a variable length annotation block, and the actual audio content. These are audio files used primarily on Sun or other Unix-based devices and have been adopted by some audio programs like Adobe Audition, Java and QuickTime. Because the web server on the internet is based on UNIX at early time, AU is widely applied as an audio file on internet nowadays.
Now, please download the HD Video Converter Factory Pro to complete your jobs.