Audio recording is simple in Windows 7 as long as you have the right audio recorder. In the following, we'd like to show you how to record audio in Windows 7 with two easy audio recording software. Just read and follow.
WonderFox HD Video Converter Factory Pro is a full-featured Windows application that works as an excellent audio recorder to capture computer sound. In Windows 7, it can easily record system sound, microphone sound or mic and system audio together as high-quality MP3, AAC, AC3 and lossless WAV files. Plus, it can record anything that happens on the screen, with audio included. The whole recording process is just a few clicks away. If you need to edit the recording, you can also use its built-in editing tools to trim, merge, convert and compress the recording files.
Now, with the instructions below, let's free download free download the software and try recording audio in Windows 7.
Step 1. Open the Audio Recorder
Launch WonderFox HD Video Converter Factory Pro on your Windows 7 desktop and enter the "Recorder" module. Next, choose the "Audio-only" recording mode at the first option from the right.
Tips. The other recoding modes include Full-screen recording, Custom Area recording, and Game recording.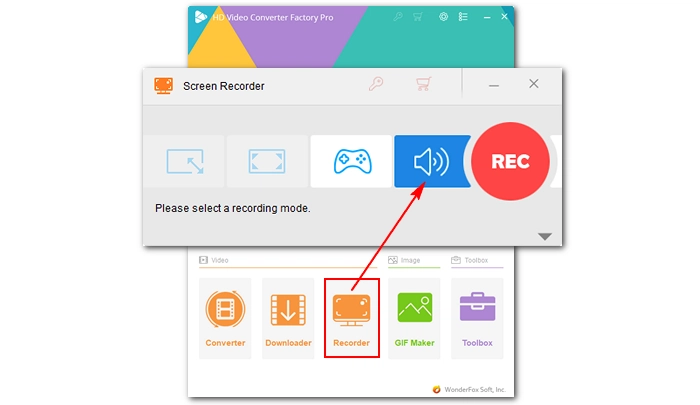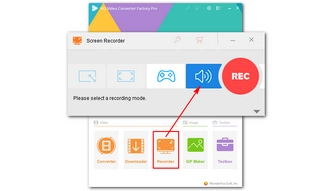 Step 2. Choose a Recording Format
Click the arrow icon if the recording settings didn't show up. Then, open the "Format" drop-down list and choose your preferred recording format, such as MP3, AAC, AC3, and WAV.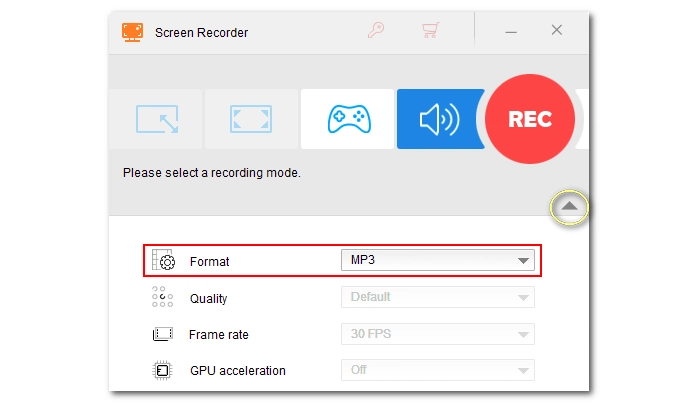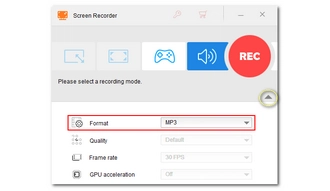 Step 3. Select the Audio Source for Recording
Now, in the audio source settings below, check the box before the audio you want to record. The "Desktop" option is to record the system sound on your PC, while the "Microphone" is to capture the audio from the mic. Of course, you can select both to record the two audio sources simultaneously.
Note. Choose the correct audio source from the drop-down box if there is more than one source. The volume bar on the right can show whether the sound is coming out from the source you choose.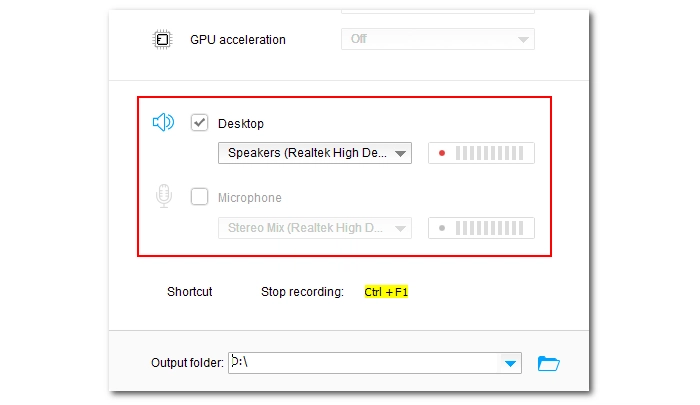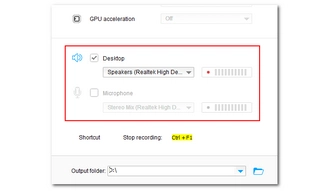 Step 4. Start Recording Audio in Windows 7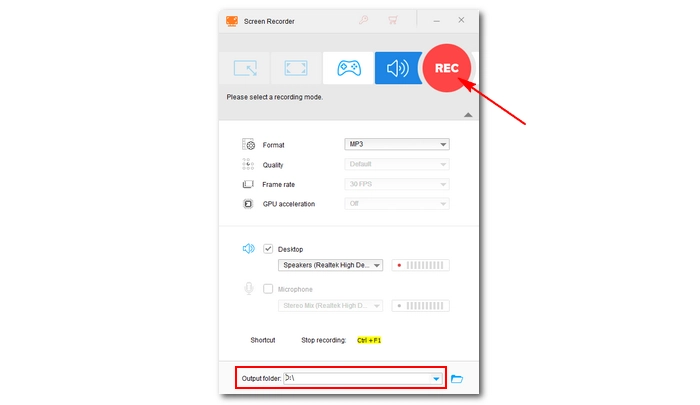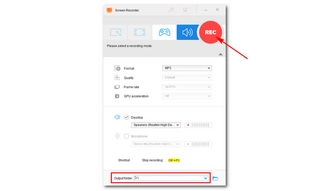 If you just want to record your voice in Windows 7, you can also use the built-in Sound Recorder in Windows 7 to do the voice recording for free. The Sound Recorder feature is easy to access but not quite as feature-rich. It can only do simple audio recordings and cannot edit files. And you need to set up the microphone properly to use the recording feature. Here is a simple tutorial on how to record mic audio using the Windows Sound Recorder.
Step 1. Connect your microphone to your computer and test if it is working normally.
Step 2. In Windows 7 desktop, go to Start and type in "Sound Recorder" to find the Sound Recorder program. Double-click on it to open the app.
Step 3. Now, click "Start Recording" to record your voice through the microphone.
Step 4. When you're done, click "Stop Recording" and save the recordings to your local folder as .wma files.
Tips. If there is no sound in the recording, you can check if the microphone is enabled in the recording settings. Go to Start > open Control Panel > choose Sound, then go to the Recording tab and see whether the Microphone is enabled. If you can't see the option, right-click anywhere in the blank area and choose Show Disabled Devices. Then right-click on Microphone to enable the device. Right-click on the Microphone again and set it as the default device. Now, try the above steps to re-record your microphone.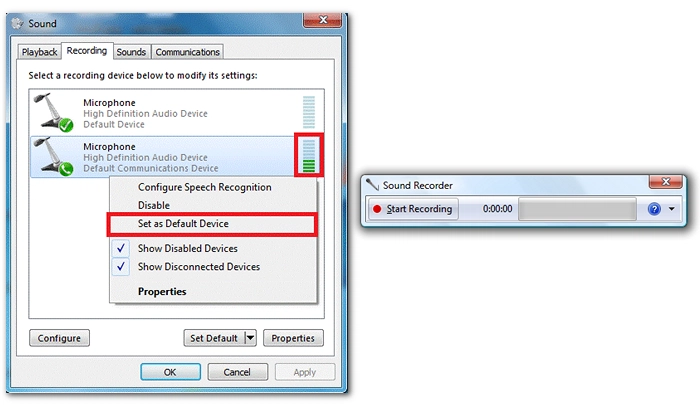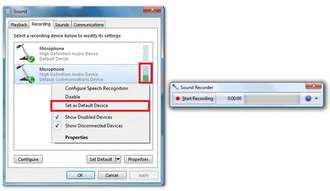 1. How to Record Audio in Windows 7 without a Microphone?
The microphone can pick up noises during recording. If you want to record internal audio from PC Windows 7 directly without using the mic, you can do it by enabling "Stereo Mix" in the Recording settings and then recording the computer sound with the Windows 7 Sound Recorder. Here is the how-to:
Step 1. Go to Start > Control Panel > Sound settings.
Step 2. Under the Recording tab, right-click on Stereo Mix and enable it.
Note: If you can't see the Stereo Mix option, right-click on the blank area and select Show Disabled Devices.
Step 3. Right-click on Stereo Mix again and set it as the default device.
Step 4. Now, open the Sound Recorder in your Windows 7 and click "Start Recording" to record the computer sound directly.
2. How to Screen Record in Windows 7 with Audio?
3. How to Record Live Streaming Audio in Windows 7?
To record streaming audio in Windows 7, an audio recording program is required. Use WonderFox HD Video Converter Factory Pro or try recording audio via Stereo Mix and you should have no problem recording the streaming music on your Windows 7.
4. How to Record MP3 in Windows 7?
As the default Sound Recorder in Windows 7 records audio as WMA files, if you need to record audio as MP3, you should use an MP3 recorder for Windows 7. WonderFox HD Video Converter Factory Pro can help you capture audio in MP3 format directly. Moreover, it's got an audio converter that can convert WMA to MP3 files. Download Download the software and have a try now!
Wrap-up
That's pretty much all I want to share about how to record audio in Windows 7 and the related tips in Windows 7 audio recording. I hope you could find this article helpful. Thanks for reading. Have a good day!