6 Good Websites to Watch YouTube Videos Together with Friends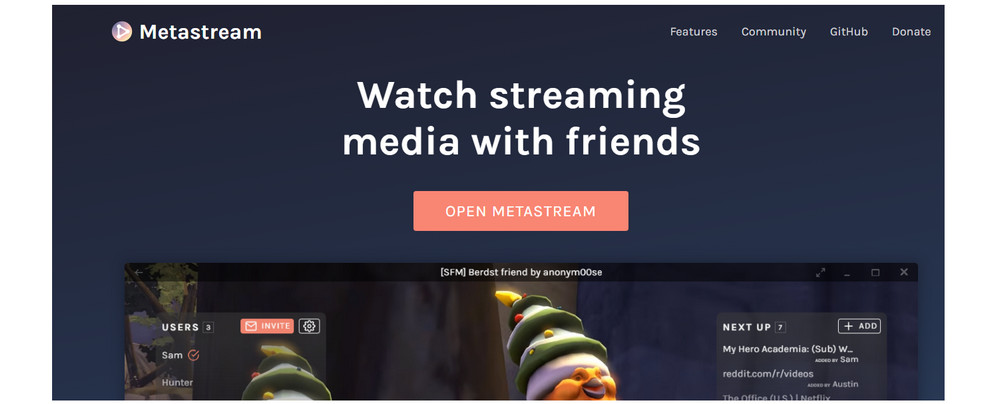 Metastream is an easy and functional platform for watching and listening to online media content together. It supports not only YouTube, but also Twitch, Netflix, Hulu, Disney+, Crunchyroll, SoundCloud, and Reddit. After filling in a display name, users are able to start a session on Metastream and invite users for watching at the same time.
How to watch YouTube together on Metastream?
Firstly, click the Open Metastream button on the home page, on the new page, select your preferred display name, hit Start Session. Metastream requires a Metastream Remote add-on for either Chrome or Firefox to enable the playback. Select the right add-on and install it on your browser. Next, select Add to session, paste the source YouTube video URL into the top box, and hit the Add to session button. You're able to add multiple sessions in queue, as well. After that, hit the Invite button on the upper left, copy the session URL, and send it to your friends. People can join your session through the URL directly.
Additionally, you can decide the max number of users in the session.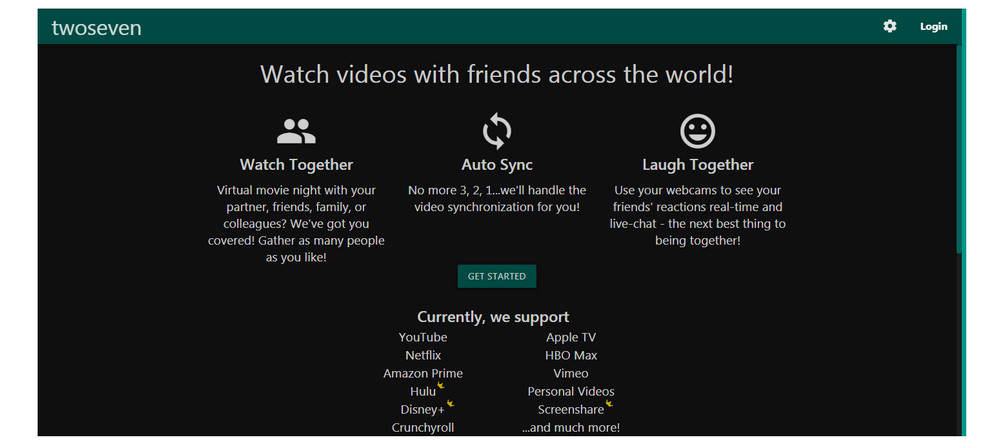 On Twoseven, when watching YouTube videos with others, you can also set up a live video and see your friends' reactions though your webcam, which can help you achieve a much more immersive viewing experience. Meanwhile, Twoseven also supports other video hosting websites including Netflix, Hulu, and Disney+ while some of them are paid. To watch YouTube videos together on Twoseven, a free account is essential.
How to watch YouTube together on Twoseven?
After signing into your account, you can first add your friends via email. Click START WATCHING, then select whether to allow the participants to use webcam/mac and control videos and playbacks setting. Then, paste and submit your YouTube URL under the video player. You can further manage the room. When everything is ready, play the video.
If you run into any playback hitches, try to disable ad add-ons to resolve the problems.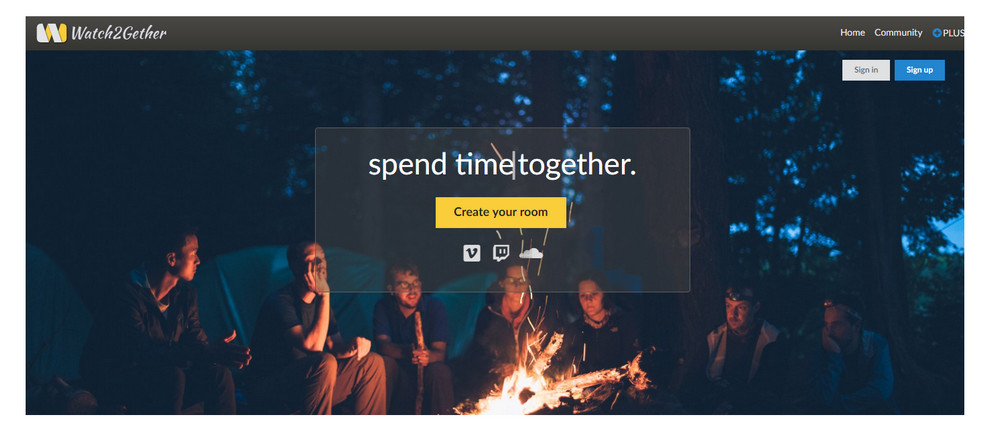 Watch2gether is an exceptionally easy website where you can watch YouTube with friends. Like other alternatives we have introduced, Watch2gether is not only for YouTube. An array of social media platforms are well supported by this website. Registration is not required.
How to watch YouTube together on Twoseven?
Click Create Your Room on the home page, search for or copy a YouTube video URL into the top box, and hit the search icon. Then, hit the Invite Friends button, copy and share the URL to your friends.
Watch2Gether has a sub-site named Togethertube where you can also sync streams.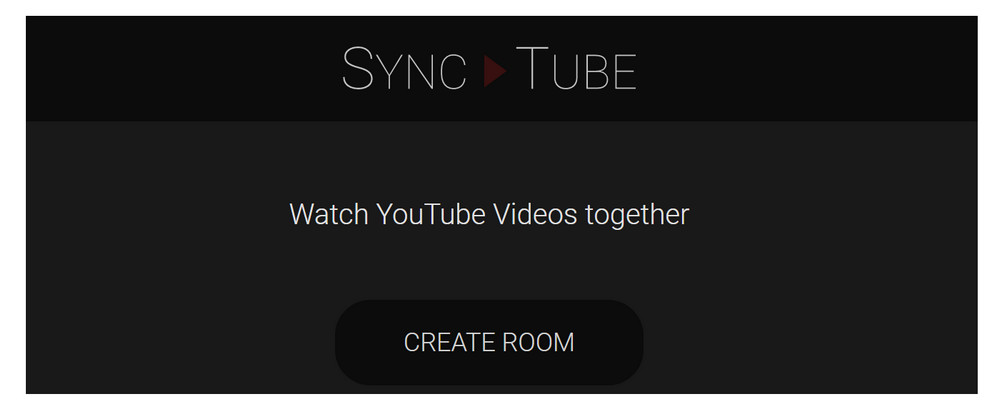 No bells and whistles, SyncTube is a dedicated site for syncing YouTube videos. It's simple yet practical. Through its concise black interface, you're able to use the platform in your elements.
How to watch YouTube together on SyncTube?
Hit Create Room on the home page, enter a YouTube video URL into the top box and submit it. Then, you can set the playback control permissions, change your display name, the room name, and make the room public or not. Hit the Copy link button on the video player and share the URL with your friends so that they can access the room via the URL.
During the playback, you can also chat with your friends and bring your distance closer.

Mycircle.tv provides an interactive platform to watch online videos together. During viewing YouTube videos on Mycircle.tv, users can use audio and text chat. Meanwhile, Mycircle.tv is free from registration for this task.
How to watch YouTube together on Mycircle.tv?
There is a versatile search box on the homepage. You can either type in a YouTube video address or keyword for locating the source video. Then on the new page, select and open the video you want to view, share the room code or URL to your friends via Facebook message, Twitter, or email. Now, you can enjoy the video together and share your feelings & ideas under the Chat section.

Update: Sync Video now is changed to https://gidd.io/ for playing games online.
Sync Video is a typical video syncing service that helps users watch YouTube streams together without the need of creating an account. It is as easy as 1, 2, 3, to use Sync Video to watch videos from YouTube together.
How to watch YouTube together on Sync Video?
Click the Create new room button on the homepage. It will take a while to load a room. Then, fill in your nickname. Copy and paste a YouTube URL into the blank filed and hit Add Video. In this way, you are able to create your own video playlist. Your friends can visit and watch these videos together with you via a specific Sync Video URL.