You can't be unfamiliar with VLC, which is a powerful streaming media player supporting multiple digital formats.VLC is titled the Swiss Army Knife in comparison with its counterparts for its powerful function. VLC can even help download online videos for a smooth playback with lossless quality. So, now let's begin to learn how to use this application in detail.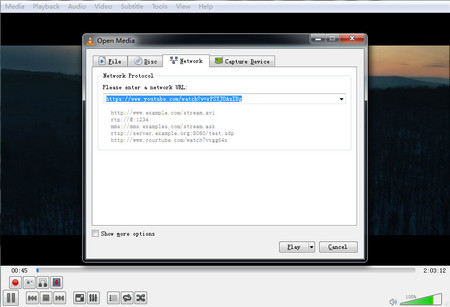 VLC download YouTube
As we all know, YouTube offers no options for video download. But if you have installed a VLC player on your computer, you can use its built-in video downloader to play and download YouTube videos as the following steps.
1.Copy the link of the YouTube video you want to download.
2.Firstly, launch VLC, then click on media. In the drop-down list, choose "Open Network Stream" or press "Ctrl+N".
3.Paste the URL of the desired video and click on "Play" to play YouTube in VLC.
4.In several seconds, the video can be played. Then, select "Tool" in the menu bar, and click on "Media Information" or "Ctrl+I".
5.Copy the YouTube video's download link at the bottom of the window of "Current Media Information" where "Location" is.
6. Paste the URL in your browser and hit the "Enter" key to begin the downloading process. If the video is played on the page, please right-click and choose "Save video as".