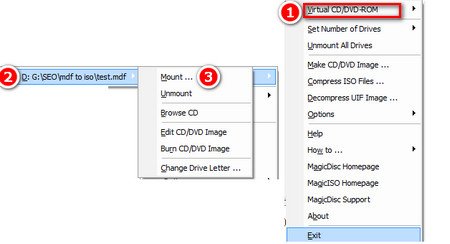 Mounting MDF Files with MagicISO
MagicISO is a powerful CD/DVD image file creating/editing/extracting tool. It can open/create/edit/extract DVD/CD image files, and it can convert BIN to ISO and back. Then, let's go to how to mount an MDF file with MagicISO.
Step 1: In order to mount MDF of mount MDS, free download, install and open MagicISO. Download link: http://www.magiciso.com/download.htm.
Step 2: Right-click the MagicISO icon in the bottom right of the task bar (the icon of a hand holding a disc) and Click "Virtual CD/DVD-ROM."
Step 3: Choose one of the empty virtual drives and click "Mount." Locate your .mdf or .mds file on your computer and double-click it to mount the disc. The disc will now be loaded to your virtual drive.