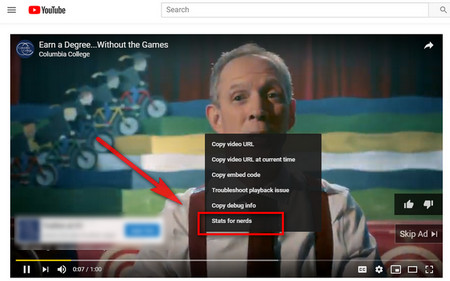 How to Find YouTube Ads Source
Mostly, the ads during/before YouTube video are independent videos provided by the advertiser. Every video on YouTube has a particular video ID, which coincides with the ad video URL. To find the YouTube ad video source, is to find the corresponding video URL. Here's how.
Step 1. Now that the YouTube page is playing the ad you desired, right-click on it > Stats for nerds. Then you'll see the stats of the YouTube ad video at the upper-left side of the video.

How to Find Ads on YouTube with Video ID
Step 2. Triple-click to select the Video ID/sCPN information (without the "Video ID/sCPN" letters). Use the keyboard shortcut "Ctrl+C" to copy it.

How to Find an Ad on YouTube – URL
Step 3. Go to the address bar of the browser, and you can see the URL of the current YouTube video page, select the part after the equals sign "=", and "Ctrl+V" to replace it with the video ID you just copied. That's exactly the URL of the ad video. From now on, I believe you can easily find ads on YouTube with the Video ID.
Then press "Enter" on your keyboard and you'll be led to a new window where the ad is played as an independent video.