Here is how to burn a DVD in Windows 7, which can be played on a standalone DVD player or DVD playback application. In the same way, you can also make DVD photo slideshows. No specific installation. The Windows 7 DVD Maker has given users a convenient solution. Here is how-to.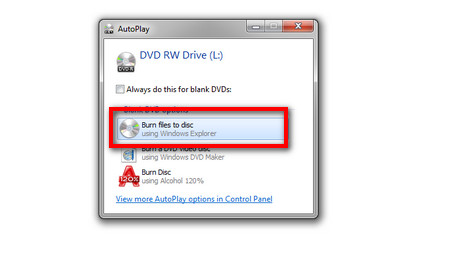 Windows 7 Burn DVD Video
Step 1. Insert a blank DVD disc into the optical drive of your computer and you will see an AutoPlay dialog. This time choose Burn a DVD video disc using Windows DVD Maker. In case that the dialog isn't activated, you can directly type "Windows DVD Maker" in the search box of the Start menu, which is on the lower left corner of the desktop, and click the Windows DVD Maker shortcut to open the free DVD burning software.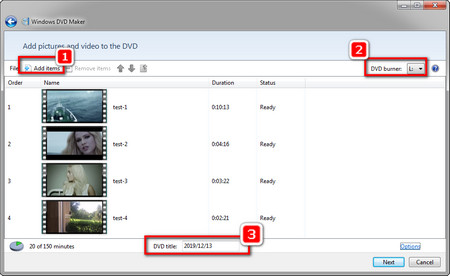 Add Videos and Photos
Step 2. Click on "Add items" to import pictures and videos into the interface, or drag & drop files into it.
Step 3. After adding the files, use the up and down arrowheads or drag each file to rearrange the order. Select "Add items" and "Remove items" to import more or delete unwanted files. You can also right click on a file, and adjust the order, remove and preview the file.  
Step 4. Open the DVD burner list and choose the target Windows 7 DVD burner you want to burn files into.
Step 5. Head to the bottom of the interface, enter the title of the disc. There you can also check the space you have left in the disc.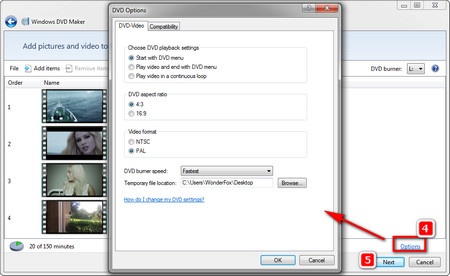 Advanced Settings
Step 6. You can further choose more advanced settings. Click on Options on the lower right corner and the DVD Options window appears where you're able to choose a DVD playback mode, change aspect ratio, convert the DVD to NTSC or PAL format, set burning speed, and specify the location for saving temporary files. Press OK to save the changes. Then click Next.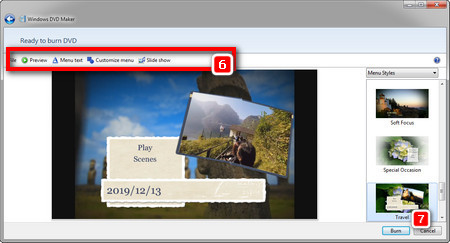 How to Burn Disc in Windows 7
Step 7. Choose a DVD menu template, customize the DVD menu, such as changing DVD menu text, creating your personal DVD menu style, adding music for slideshows and so forth.  
Step 8. Click "Burn" to create the DVD. Please be patient. It may take a while for finalizing the burning process.