Step1: Add Your Videos or Photos into This Program
After downloading and launching the video editor Windows Movie Maker, click the related icon at the upper left corner or click any point in the box on the right side to choose your video or photo files from the folder to add them to the software as marked in the screenshot.
(Tips: Speaking of uploading import files, Windows Movie Maker allows you to capture your videos or photos from computers or smartphones, DVDs, camcorders and even other portable equipment.)
Step2: Create Personalized Editing Operations
Regarding the video editing features of Windows Movie Maker, I would pick up some keystones to elaborate.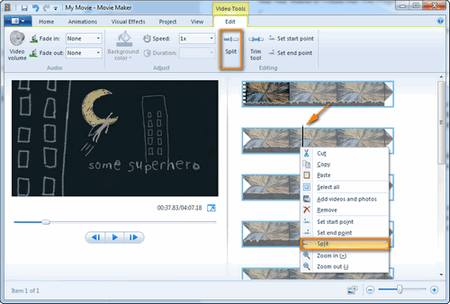 Part1: Split or Trim Videos
Split into Different Part Ones: After adding the video file, you can drag the vertical bar on the storyboard to the point where you want to make a cut, then right-click and choose "Split" tab or press the same bottom in the menu bar. The video has been delivered into two sections.
Trim the unwanted ones: double click the "Trim" icon close to the "Split" entering the cut plate. You can accurately fill the precise time in the "Start point" and "End point" box or move both rectangle sliders to save your desired segment.
Step3: Reserve the Edited Video and Share
When all the edited operation you want is finished, you could save your video via hitting the "Save movie" button on the right side in the toolbar at the top. You can upload video to YouTube, Vimeo, Facebook to more people or save to your PC or other portable devices such as smartphone, iPad and burn into DVD for collection.