FLAC as a lossless audio format represents the highest audio quality possible. However, the FLAC file comes at a big file size too. People who have a large collection of FLAC files may want to convert them to MP3 to shrink down the file size or play them on an MP3-compatible player. Fortunately, many programs can help get the job done.
Below, you'll find several great FLAC to MP3 converters to get the job done. Also, we will detail how to convert FLAC to MP3 on Windows 10 with the best FLAC to MP3 converter. Read on.
For users who need to handle FLAC MP3 conversion on Windows, WonderFox HD Video Converter Factory Pro is the best FLAC to MP3 converter. It's simple, fast and powerful. It can easily change FLAC into MP3 format with just a few clicks. Also, it allows you to freely adjust encoding settings, including audio codec, bit rate, sample rate, channel and volume. If you like high-quality music, you can encode FLAC to MP3 320kbps with top audio quality. As the cherry on top, this tool is a bulk audio converter that can also batch convert FLAC to MP3 at the same time.
Main Features
Easiest way to convert FLAC to MP3.
Options to control output quality and size.
Support WAV, ALAC, Ogg, M4A, AAC, and more audio files.
Extract audio from videos and online URLs.
Batch mode.
Fastest conversion speed.
Cut, join, and compress audio files.
Record sound from computer in MP3.
In the next part, I will detail the steps to convert FLAC files to MP3 with this program. Download the software and follow the tutorial below.
Step 1. Import FLAC Audio Files
Run WonderFox HD Video Converter Factory Pro on your Windows PC and open the "Converter" program. Next, click the center "+" button or the upper-left "Add Files" to import your .flac files into the converter interface. Alternatively, you can drag and drop the source files into the program.
You can set an output folder at the bottom of the converter interface or leave it as default.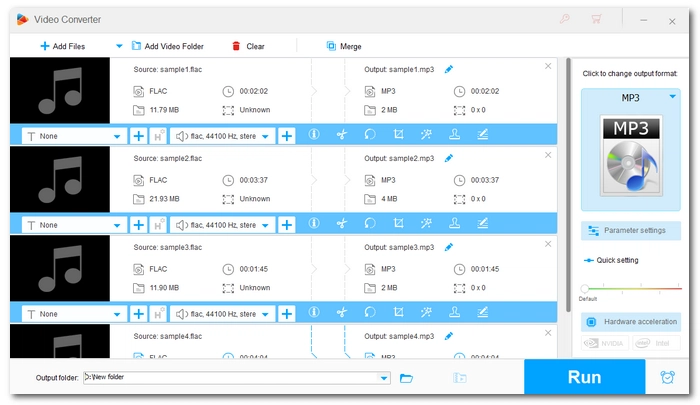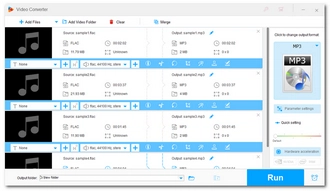 Step 2. Select MP3 as the Export Format
Now, go to the right side of the program and click to open the output format list. Then, head to the "Audio" format category and select "MP3" as the export profile.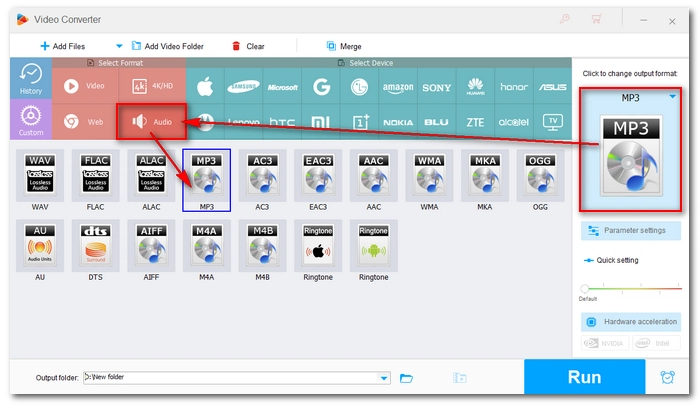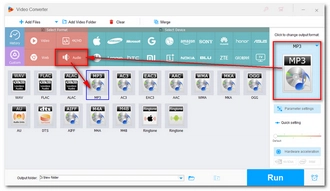 Optional Step. Adjust Audio Settings
If you have special conversion needs, you can go further with the "Parameter settings" where you can edit the audio codec, channel, bitrate, sample rate, and volume flexibly.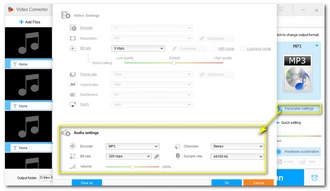 Step 3. Convert FLAC to MP3 All at Once
Finally, you can click the "Run" button to start the audio conversion immediately. Batch conversion will be triggered when there is more than one file. After conversion, you can view the converted files in the output folder you set before.
Hot Search: Batch WAV to MP3 | Batch WMA to MP3 | Bulk MP4 to MP3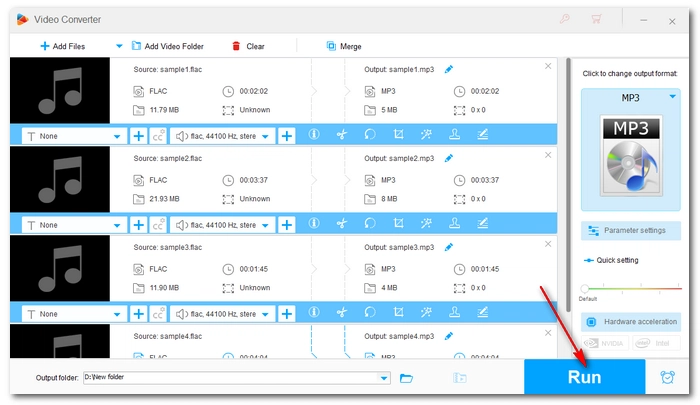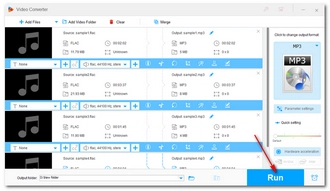 Besides using the professional WonderFox HD Video Converter Factory Pro, if you want simple and free options, here are the best free FLAC to MP3 converters to try.
1. WonderFox Free HD Video Converter Factory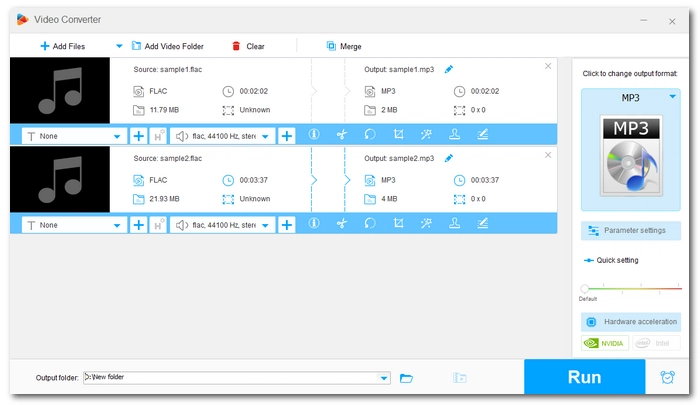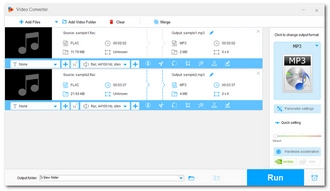 WonderFox Free HD Video Converter Factory is the best-recommended freeware to convert FLAC to MP3. Though being the free version of HD Video Converter Factory Pro, it is a powerful audio converter that shouldn't be overlooked. It can convert whatever format supported by the Pro version to all the mainstream audio formats. And in converting FLAC to MP3, you can also modify the audio settings, including the bitrate, to create high-quality MP3 output. But Free HD Video Converter Factory cannot batch convert audio files like in the Pro software. Yet, it still has a pretty fast conversion speed, and you can quickly handle your wanted conversion without length or size limit.
Besides audio conversion, this free program is available for common video conversions. Its built-in video downloader also allows you to download videos from YouTube and the like for free.
⇒ Download WonderFox Free HD Video Converter Factory Download WonderFox Free HD Video Converter Factory
2. Freemake Audio Converter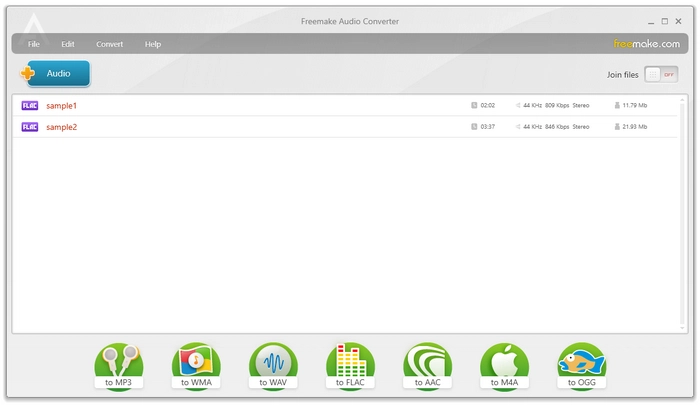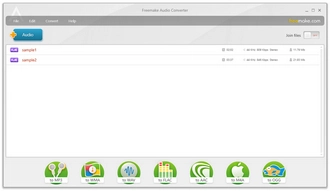 Freemake Audio Converter is another decent audio converter that can also work as a simple FLAC to MP3 free converter. It offers an easy way to convert FLAC to MP3. After importing your FLAC music into the program, select the MP3 output option at the bottom and click convert, you can start the conversion immediately. There are no confusing steps to get in your way. However, with the free version of Freemake Audio Converter, you can only convert audio shorter than 3 minutes. To get unlimited conversion, you can purchase the Freemake Infinite Pack or try out the other options in the list.
3. MediaHuman Audio Converter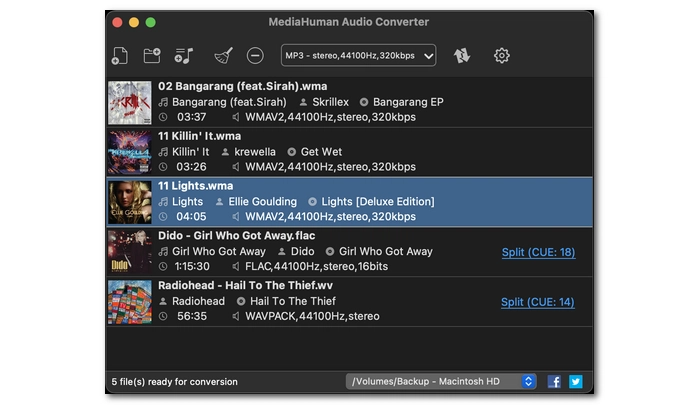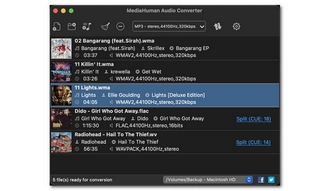 To convert FLAC to MP3 on macOS, you can give MediaHuman Audio Converter a chance. This software can be the most powerful FLAC to MP3 converter for Mac. In the meantime, it is an easy-to-use program. It not only allows you to convert FLAC to MP3 simply but also provides a lot of settings to tweak your conversion to output personalized files. Moreover, MediaHuman has an amazing conversion speed, and it can fast convert multiple audio files simultaneously. Another good thing about MediaHuman is that you can stop and resume the conversion if something interrupts your process.
MediaHuman is available completely for free without restrictions. You can also use it to convert between other key audio files.
4. Audacity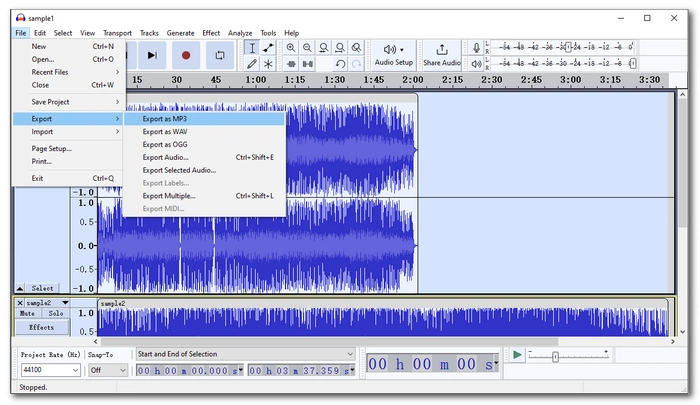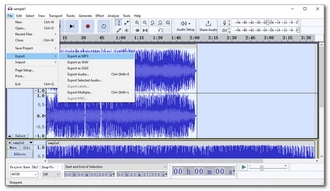 The world-famous audio recording and editing application Audacity can also be used as an open source FLAC to MP3 converter. It can import single or multiple FLAC files and export them to MP3 and other audio formats. Meanwhile, it delivers high-quality conversion where sample rates and formats are converted using high-quality resampling and dithering.
With Audacity, you can also edit and combine audio files into one. It may be a little complex to get started with Audacity. But that will be no problem at all for you can find tons of tutorials on how to use Audacity on the internet. To know more, you can read how to convert FLAC to MP3 in Audacity.
5. Foobar2000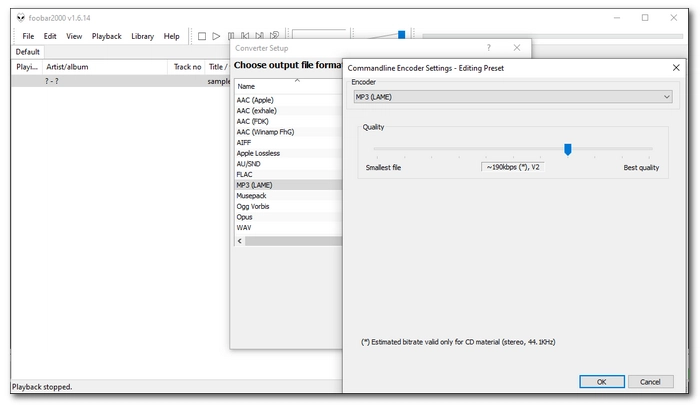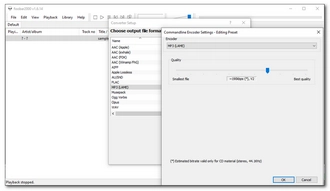 Foobar2000 is not just a free audio player but a decent conversion tool that is very effective in converting audio files. It can quickly convert FLAC to MP3 using its LAME MP3 Encoder. Simply load your FLAC audio into Foobar2000, right-click on the file and choose "Convert > Quick Convert", click the MP3 export option and let your conversion begin. What's good about Foobar2000 is that it will use your computer core and encode multiple files at the same time.
Yet, note that the converting functionality requires the Converter component to be installed in some versions. You can access this feature by selecting 'Optional Features > Tools > Converter' during installation.
6. VLC Media Player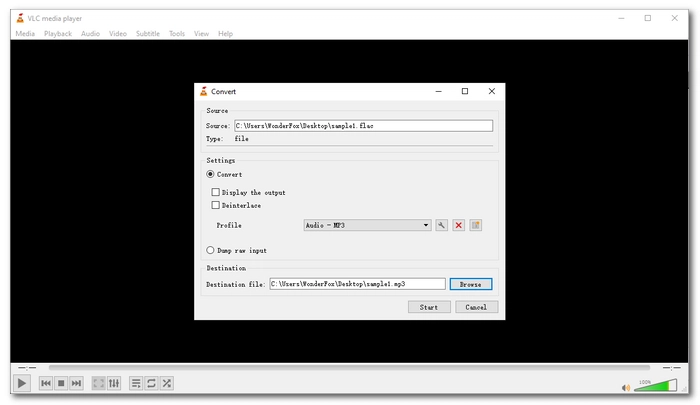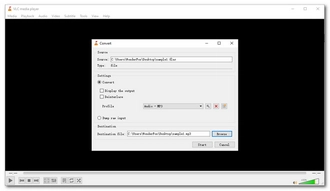 If you already have a VLC installed on your system, you can take advantage of this very app to convert from FLAC to MP3. In fact, VLC is one of the best free FLAC to MP3 converters that can deliver high-performance audio conversion in quite easy steps. It also lets you customize the export profile flexibly, and you can export MP3 audio with high-quality preserved.
VLC is a free, open-source program available across platforms. There are no limitations using VLC as well.
Audio conversion is an important skill today. Luckily, the FLAC to MP3 converter programs in this article can help you with FLAC to MP3 conversion and other common audio conversions. We also write reviews about other useful video and audio converters. If you want more help, check the hot article now: