Compared with the standard 24fps and 30fps videos, the 60fps ones do make great differences in viewing experience. The good news for people who have high demands for videos is that there are enough 4K 60fps videos on YouTube to watch and collect. Yet you may fail to download them. So this article will teach you how to get 4K 60fps video downloaded from YouTube with this useful 4K 60fps downloader:
https://www.videoconverterfactory.com/download/hd-video-converter-pro.exe

by Vita
Updated on September 03, 2020
As the largest video-sharing site, YouTube is always at the forefront of the video technology field. It can even create auto subtitles for the videos you uploaded to YouTube using AI. As early as when the 4K screen has not yet begun to popularize, YouTube has started to conduct 4K and 60fps video playback tests respectively. Before long it took a significant step forward and increased frame rates to 60fps based on 4K resolution. Now you can enjoy 2160P 60fps (4K 60fps) videos on YouTube, which improves your visual experience remarkably. Here comes the 4K era!
Problems You May Come Across While Playing YouTube 4K 60fps Videos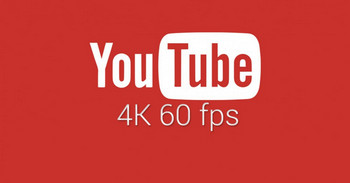 YouTube 4K 60fps
The Best Program to Help You Download 60fps YouTube Videos with High Quality
You may have tried many methods to download YouTube videos in 60fps, but it's hard to find a reliable one for 4K 60fps video download. Most online downloaders like KeepVid aren't able to download HD videos, let alone download 4K 60fps ones. For YouTube 60fps download, you need a functional program and WonderFox HD Video Converter Factory pro stands out for its excellent performance. It is capable of 4K 60fps YouTube videos downloading and also helps you get 4K 60fps movies downloaded from many other sites. Now install the software and then follow the tutorial to download YouTube 60fps videos.
Simple Steps to Download YouTube 4K 60fps Videos
Preparation: free download WonderFox HD Video Converter Factory Pro and install it on your PC.
Step 1. Copy the 4K 60fps video URL
To download YouTube 60fps video, firstly, open YouTube website and copy the target video URL.
Here I take "FAST 9 Trailer (4K Ultra HD) NEW 2020" as an example. Go to the video player page and copy the URL: https://www.youtube.com/watch?v=2Xmibe4YhpQ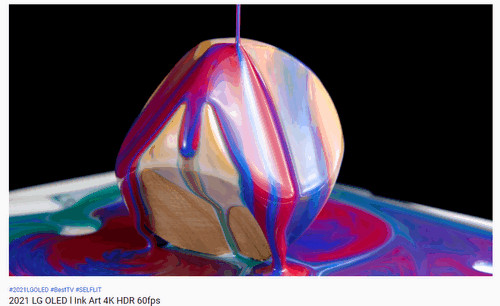 Find the Video URL for YouTube downloader 60fps
Step 2: Launch this 60fps YouTube video downloader and download videos
Launch this video downloader, select the Downloader icon, then click "+New Download" on the new window. Then paste the desired video URL into the "Paste URL" box and click "Analyze" or directly select "Paste and Analyze". Soon, this program will detect the video URL and list the resolutions, sizes and formats the video originally has. Then, just one click, and you can get the answer to how to download 60fps video from YouTube.
Note: WonderFox HD Video Converter Factory Pro can analyze URL quickly but anyway, time for analyzing mainly relies on the video length. Try re-analyzing the URL if you don't see the expected resolution.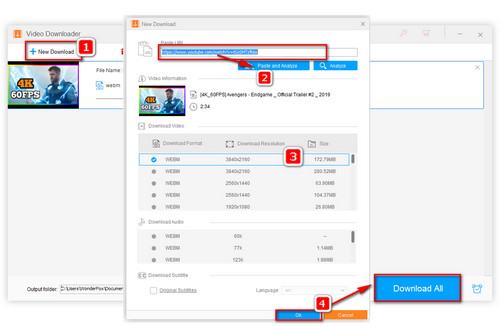 How to download YouTube 4K 60fps Videos
Step 3: Start the download process
Choose the 3840x2160 option and click on OK > Download All to download YouTube 4K 60fps video.
Tips: You're able to convert YouTube to MP4 60fps or others with this program. Simply go to the Converter section, press the "Click to change output format" area on the right and choose the format you need for batch conversion.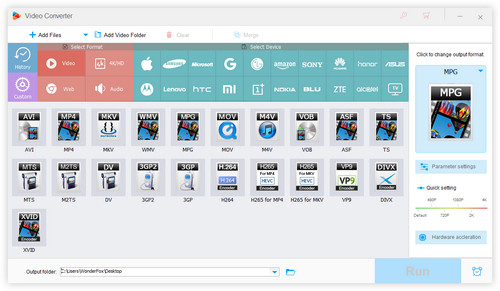 Supported Output Formats
Now you have downloaded 4K 60fps videos from YouTube and can watch the smooth videos offline at your pleasure. To download YouTube 1080P 60fps videos or get 60fps movies downloaded on other sites, just follow the same steps.
Convert Your Own Videos to 4K with WonderFox HD Video Converter Pro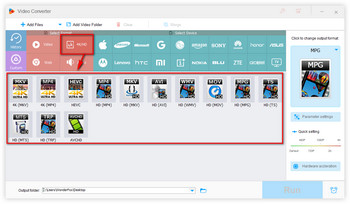 Convert Videos to 4K/HD
Expect for downloading 4K 60fps videos, this program can also handle 4K conversion and works as an outstanding YouTube 60fps converter for you to convert YouTube to MP4 60fps. Here I want to show you how to convert your videos to 4K Ultra HD.
At first, add the video files by tapping "Add Files" in the Converter module or drag videos in batches directly. Then choose the output format as "4K (MKV)"/"4K (MP4)" under the "4K/HD" tab.
After setting all the option, click on the big blue "Run" to start conversion.
Tips: Generally, 4K (MP4) is the most common format that can be played on most devices. Yet if you need to convert videos to 4k (AVI), 4K (MOV) and more, set 4K (AVI) as an example, just follow the steps: choose the output format as "AVI" and go back to the main panel to drag the resolution Quick setting bar on the right to 4K (UHD).
To enjoy 4K videos, WonderFox HD Video Converter Factory Pro is a good helper. Let it enhance your 4K video experience right now. Now, please download HD Video Converter Factory Pro to complete your jobs.
More Special Features of HD Video Converter Factory Pro
Download 4K, 1080P, 720P videos from YouTube, Facebook, Twitter, Daily motion and more
Convert videos to 500+ formats and common devices for free playback
Improve video quality from 720P to 1080P, 720P to 4K, etc.
Compress video size for back-up without quality damage
Edit videos with its built-in editor by cutting, trimming and adding post effect
Extract audio from videos for your own demands