What is Internet Radio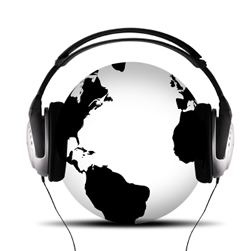 Definition of Internet Radio
Internet radio (also known as web radio, net radio, streaming radio and e-radio) is an audio service transmitted via the Internet. Music streaming on the Internet is usually referred to as webcasting since it is not transmitted broadly through wireless means.
Internet radio involves streaming media, presenting listeners with a continuous stream of audio that cannot be paused or replayed, much like traditional broadcast media; in this respect, it is distinct from on-demand file serving. Internet radio is also distinct from podcasting, which involves downloading rather than streaming. Many Internet radio services are associated with a corresponding traditional (terrestrial) radio station or radio network. Internet-only radio stations are independent of such associations.
Internet radio services are usually accessible from anywhere in the world-for example, one could listen to an Australian station from Europe or America. Some major networks like Clear Channel and CBS Radio in the US, and Chrysalis in the UK restrict listening to in country because of music licensing and advertising concerns. Internet radio remains popular among expatriates and listeners with interests that are often not adequately served by local radio stations (such as eurodance, progressive rock, ambient music, folk music, classical music, and stand-up comedy). Internet radio services offer news, sports, talk, and various genres of music-every format that is available on traditional radio stations.
Internet Radio Technology
Streaming
Streaming technology is used to distribute Internet radio, typically using a lossy audio codec. Streaming audio formats include "MP3, Ogg Vorbis, Windows Media Audio, RealAudio, and HE-AAC (or aacPlus)". Audio data is continuously transmitted serially ("streamed") over the local network or internet in TCP or UDP packets, then reassembled at the receiver and played a second or two later. The delay is called lag, and is introduced at several stages of digital audio broadcasting.
Simulation
A local tuner simulation program includes all the online radios that can also be heard in the air in the city.
Related Software
If you have found some wonderful music or audio resources via the Internet Radio and you want to get them, but your devices can not support the audio formats, what should you do at this very moment? Actually, you do not have to worry about that, a related converter can help you do the task in a single step. Among so many related converters, I think Video to Audio Converter Factory Pro is one of the best.
Video to Audio Converter Factory Pro is powerful, fast and reliable, it not only can help you convert video to audio but also it can help you convert between popular audio formats. With it, how to get Internet Radio will be not a problem!
Related Source
MPEG AVI MKV MOV WMV RM ASF RMVB VCD DVD Aspect Ratio 1280*720, 1920x1080