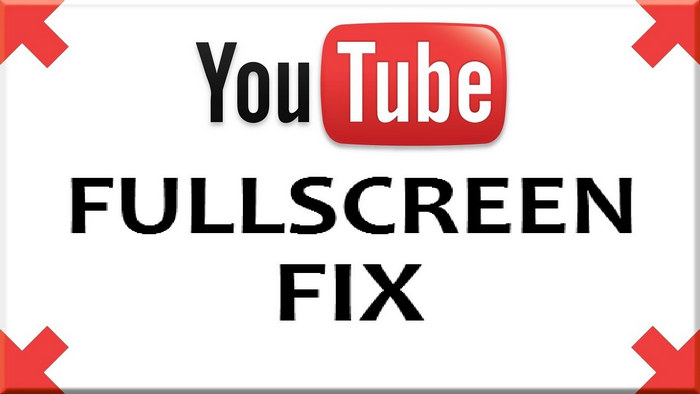 Fix YouTube Full Screen Problems
A friend of mine is a total YouTube addict for his channel. He complained to me that he got in trouble with YouTube fullscreen problem a few days ago. The fullscreen button appears in the lower right corner, but isn't responsive. "Why is my YouTube video not full screen?" You probably have the same question as my friend. Actually, YouTube fullscreen not working issue is a frustrating common error reported by numerous YouTube users while watching preferred videos. Don't worry, here you can find some solutions for fixing YouTube fullscreen problems.
Part 1 - Download Videos without YouTube Fullscreen Problem
Most YouTube users have also encountered with YouTube videos black screen error, YouTube videos freezing and many other common YouTube errors when watching videos online. Considering reasons causing those problems are various and you can't find the suitable solution all the time, the better way to watch any YouTube video, especially your favorite movies, is to download those videos and watch them offline without any trouble.
HD Video Converter Factory is such a free and powerful YouTube downloader to download YouTube videos at sharp speed and compress videos size with intact quality damage. It even allows you to download 1080P videos, 4K/8K videos, 360-degree videos, download VR videos and YouTube music with fast speed in batches. With this freeware, you can fix YouTube videos full screen problems by offline playback in full screen mode at one go.
Download and install the freeware, and then follow the tutorial to free download any YouTube video.

Free HD Video Converter Factory
Free HD Video Converter Factory, a total free YouTube downloader, solves YouTube fullscreen problem or other playback issues and batch download YouTube 720P/1080P/4K/8K/360/VR videos in 200+ formats at sharp speed with high quality. Learn more >
1. Click "Download Video" on the menu bar. Copy and paste your desired YouTube URL, then press "Analyze" button.
2. After analyzing, choose your expected video quality displayed in different resolutions and video sizes. Try to re-analyze the URL if you don't see the due resolution owned by original video in the list.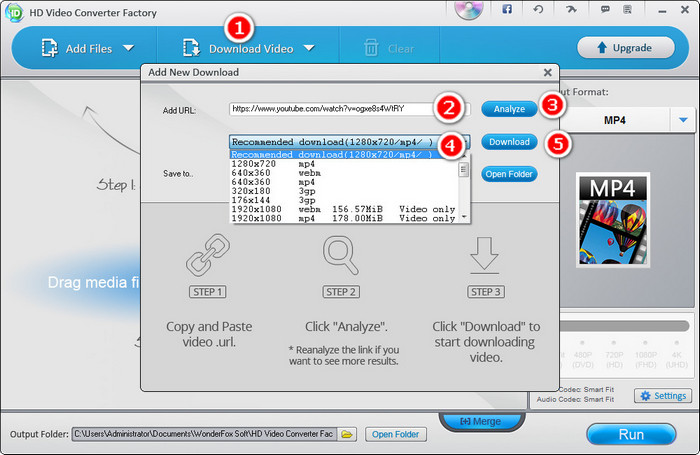 The Steps to Download YouTube Videos
Optional - After done, you are allowed to convert downloaded video to a wide range of preset optimized formats and devices by clicking "Output Formats" on the right side. You can transfer or stream videos to smartphones, tablets, TV sets, game consoles and so forth. Meanwhile, it allows you to convert YouTube videos to MP4, AVI, MKV, WMV, MPG, MOV, H264, H265 and many other formats and encoders. Then, choose the profile you need and hit Run button to convert video.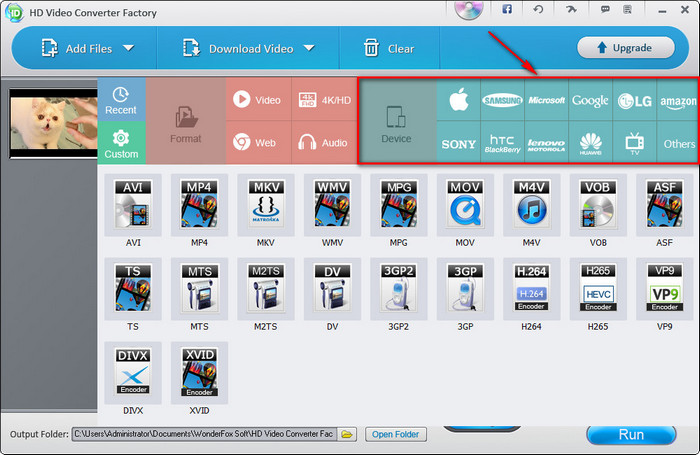 Convert Downloaded Videos to 200+ Formats
Part 2 - How to Fix YouTube Fullscreen Problem on Browsers
1. Update Video Card Driver
Sometimes, YouTube videos full screen problem is probably caused by outdated video card driver. Go to corresponding manufacturer's official website, you are supposed to download and install the latest driver to possibly fix YouTube fullscreen bug.
Update Video Card Driver
2. Update Browser & Flash Player
No matter which browser you're using now, you may be experiencing YouTube full screen problems or other Flash playback problems if you're running an out-of-date version of browser and Flash Player. With your browser updated to the latest available version, you are capable of viewing HTML5 video. Visit https://www.youtube.com/html5 and make sure "HTMLVideoElement" and "The HML5 player is currently used when possible" are checked.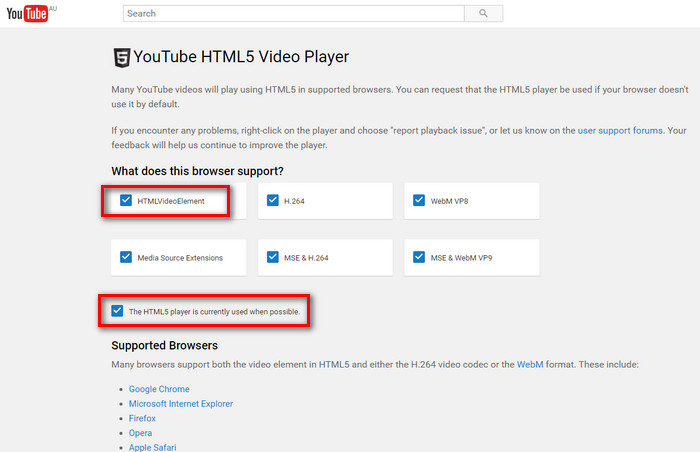 The Latest Version of Browser Supports HTML5 Video
Go to http://www.adobe.com/software/flash/about/ to check if your Flash plugin is up-to-date. If not, update Flash here.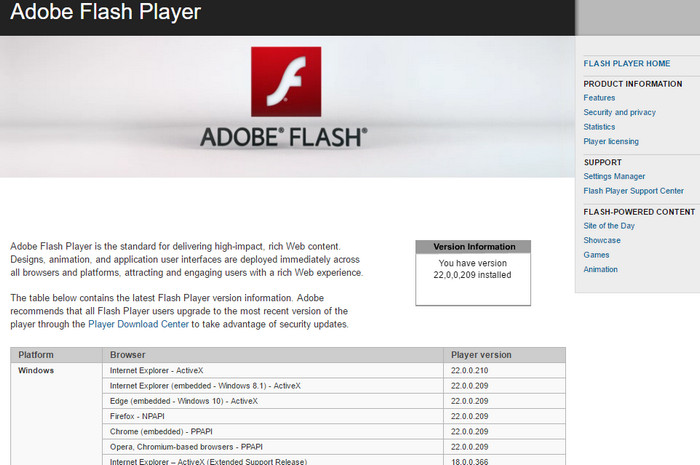 Update Flash Player
3. Disable Add-ons/Extensions/Applications
Certain browser add-ons/extensions/applications may make YouTube videos not full screen, e.g. AdBlock. Try to disable all of your plugins and then enable them one by one until you determine which is causing YouTube not showing full screen mode.
Disable Plugins
4. Fullscreen is not Allowed
Another kind of YouTube fullscreen not full on YouTube problem is special. If you cannot watch embedded videos in fullscreen mode on other sites out of YouTube, the most likely reason is the website owner has disabled fullscreen function. You should click "YouTube" icon in the lower right corner to watch the original videos on YouTube.com.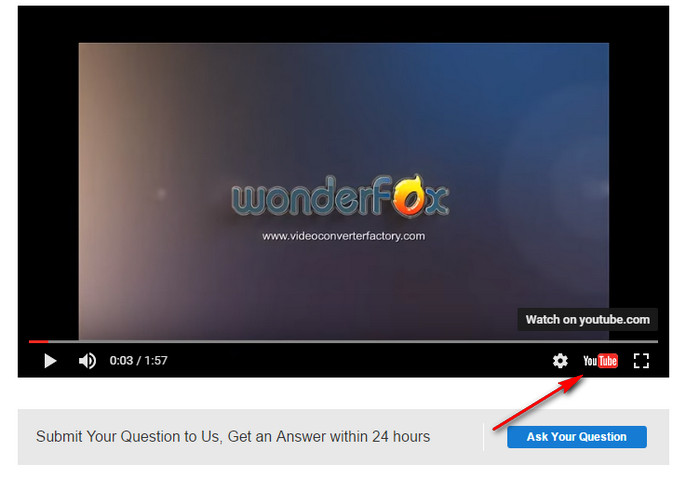 Back to Original Video Page on YouTube
These are the common solutions to fix YouTube fullscreen not working issue. However, you must find that this problem relates to many aspects, so you need time to eliminate the irrelevant factors and find the crux. Meanwhile, due to the differences of browsers, Operating Systems, development of the internet and other unknown reasons, the solutions above may not be appropriate for all of you. In this case, you are highly recommended to download YouTube video which applies to all situations without any trouble. Also, you are welcomed to share your experience below if you've solved YouTube fullscreen not working problem.
Still got question? Submit it to us and get answer within 24 hours.