Both WonderFox DVD Video Converter and WinX DVD Ripper are great programs for ripping DVDs. If you're wondering which is better, don't miss this test review that gives you direct results of DVD ripping speed, performance, quality, etc. using both programs. Without further ado, let's jump right into the WonderFox DVD Video Converter vs. WinX DVD Ripper comparison review.
WonderFox DVD Video Converter vs. WinX DVD Ripper
Here are some testing details you may like to know:
• Software for Testing:
WonderFox DVD Video Converter v29.6
WinX DVD Ripper Platinum V8.22.1
• Source for Testing:
THE_HOBBIT_PART_1_BONUS_DISC (DVD)
Duration: 02:06:58
• Machine for Testing:
Intel(R) Core(TM) i7-4790 CPU @ 3.60GHz
16.0 GB RAM, Windows 10
• Output Parameters:
MP4 with default settings (H264/720*480/1200kbps/29.97 fps)
Both software have a straightforward interface. But WonderFox DVD Video Converter is in cool black and more intuitive. Open the program; you'll see its three main features: convert video and audio, rip and backup DVDs (Disc, ISO, and DVD Folder), and download online video and music. This means, that besides ripping DVDs, you can also convert and download videos and audio files without installing other programs.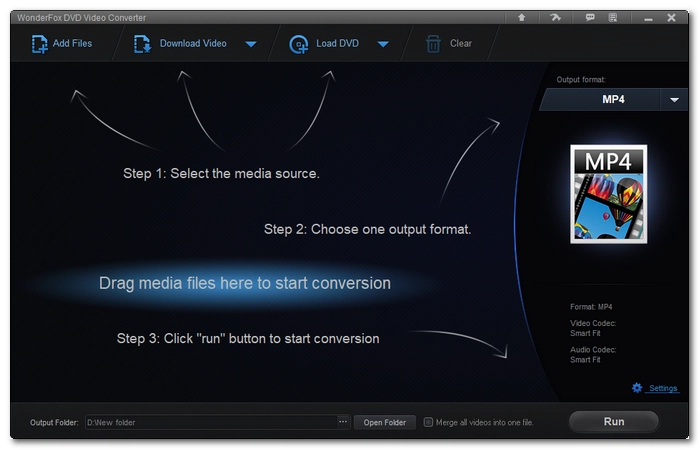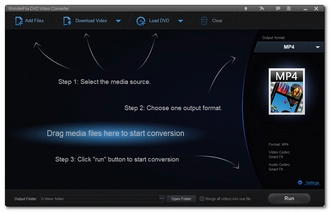 The color of WinX DVD Ripper is grey. Its DVD ripping key features are similar to WonderFox DVD Video Converter. You can also rip DVD discs, ISO images, and DVD Folders.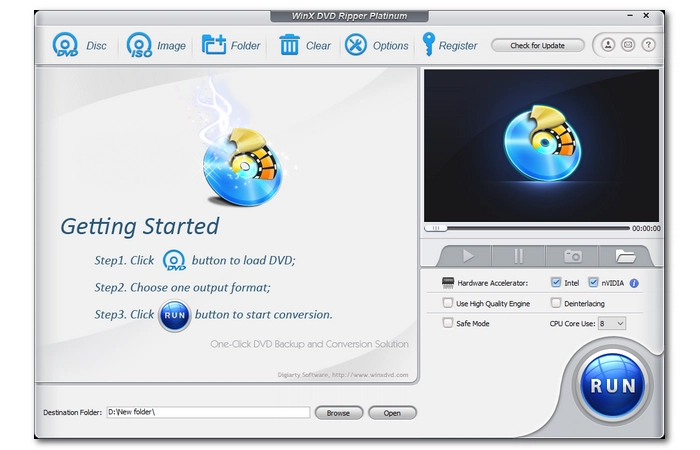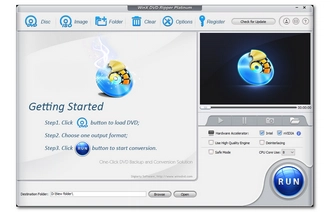 Both programs are easy to use. The whole ripping process involves three steps only: load a DVD, choose an output format, and then start the process. However, WonderFox provides more flexibility to adjust the output settings. With WonderFox, you can easily change the video and audio encoders, resolution, bitrate, frame rate, aspect ratio, volume, and more.
It's worth noting that both programs support GPU acceleration powered by Intel QSV and NVidia graphics cards. So both programs can deliver fast ripping speed. But which is the faster DVD ripper?
Converting to MP4 from the same DVD movie - THE_HOBBIT_PART_1_BONUS_DISC with a duration of 02:06:58, WonderFox DVD Video Converter took about 00:11:07 while WinX DVD Ripper took about 00:10:30. Therefore, WinX has a relatively faster ripping speed.
However, during the test, WinX took a longer time to load the DVD and failed the first time due to copy protection. After switching to the Safe Mode, WinX could decrypt the protection and rip the DVD. WonderFox, on the other hand, gave no errors and loaded the DVD quickly.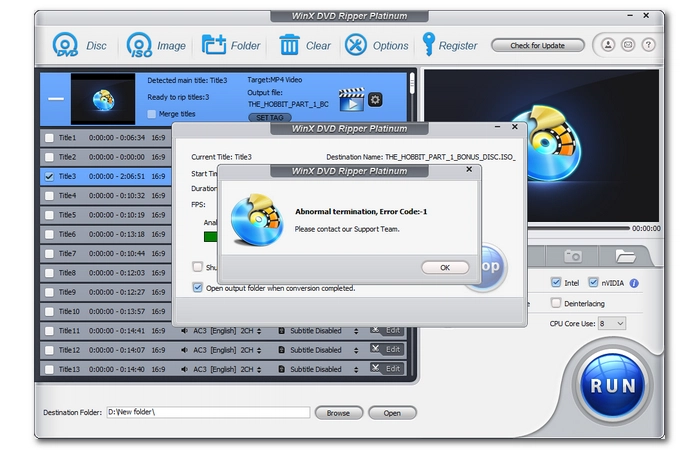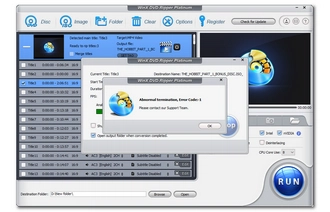 When using these two programs to rip DVD to MP4, we kept the default output settings provided by both programs, as both programs claim to keep the output quality close to the original, which is 720 x 480. However, in our testing, we found that WonderFox DVD Video Converter preserved the original quality, but WinX DVD Ripper output video at a resolution of 720 x 404, which is suitable for widescreen. Still, both videos played fine on a 16:9 screen.
In addition, when MP4 is selected as the output format, WinX does not retain the original audio track, but converts the 5.1 AC3/DTS channel to stereo AAC audio, while WonderFox perfectly maintains the original 5.1 surround sound. It's also worth mentioning that WonderFox also lets you set the output audio encoder to AAC if you want stereo audio, but WinX doesn't let you set AC3/DTS as the output audio.
So, in terms of quality, WonderFox DVD Video Converter is better than WinX DVD Ripper.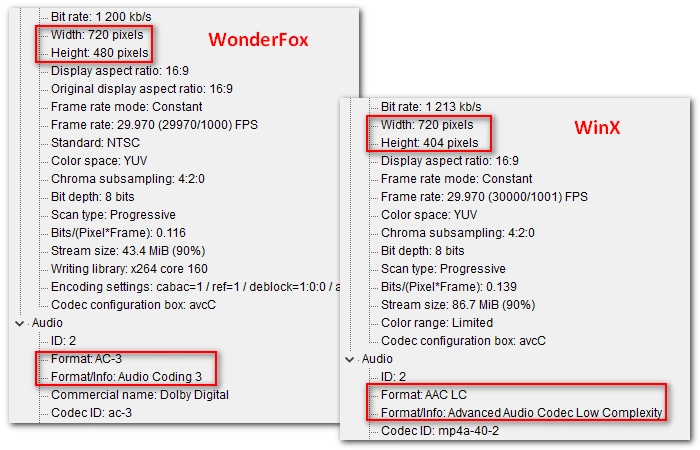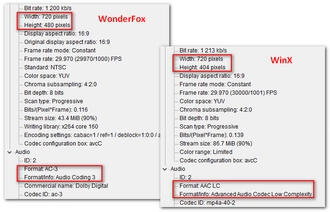 WonderFox DVD Video Converter and WinX DVD Ripper offer three-tier plans to meet different needs. Here are the pricings of both programs.
WonderFox DVD Video Converter
1 Year for 1 PC: $34.95
Lifetime for 1 PC: $39.95
Lifetime for 5 PCs: $49.95
WinX DVD Ripper
1 Year for 3 PCs: $39.95
Lifetime for 1 PC: $59.95
Lifetime for 1 PC (4-in-1 Bundle): $144.95
Depending on your actual needs, you may find both programs efficient to use. But in general, WonderFox is more cost-effective.
WonderFox DVD Video Converter is the better choice for ripping high-quality DVDs trouble-free.
More intuitive and modern user interface.
Better capability to cope with copy-protected DVDs.
Output video with original quality.
Bonus features: video converter and downloader.
More cost-effective.
Click to download:
Wrap-up
WonderFox DVD Video Converter and WinX DVD Ripper are currently two of the best DVD ripping and backup programs in DVD decryption technology and speed. Today, we have done a quick comparison between WonderFox DVD Video Converter and WinX DVD Ripper to help you save time and find a suitable tool for yourself. We hope this article was useful to you. Thanks for reading. Have an amazing day!