FFmpeg is so well-known in the video conversion filed. Besides converting videos, it also allows you to download videos using some videos in xhr format, which cannot be downloaded by the method in level 3. Now, let's start the part 4 to download streaming videos that are divided into parts.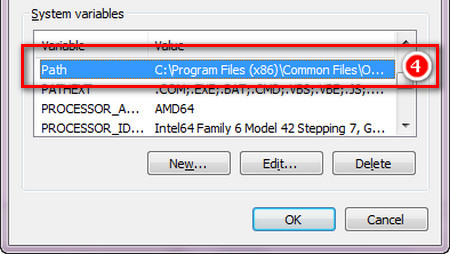 Install FFmpeg
Step 1. Install FFmpeg and Plug-in Component
Download FFmpge from the URL: https://ffmpeg.zeranoe.com/builds/
Download Plug-in component from the URL: https://github.com/nilaoda/N_m3u8DL-CLI
After you downloaded these tools, you are required to configure them. That is to say, add the storing path of FFmpeg to the Path environment variables. Because FFmpeg does not need to install, as soon as you download it, the path you stored it is just what we need to copy. Get it and then open the environment variables settings window (You can find it using the file explorer, right-click Computer > property > Advanced System Settings > Environment Variables). In the system variable setting window, press P to quick find Path, double-click to modify it. At the end of the original value, paste the storing path you just copied. It is also worth mentioning that you should make sure the original value is ended with ';'. If not, add it.
Subsequently, cut the plug-in component into the storing path of FFmpeg. Then, double-click to run it.

Install plug-in component
Step 2. Find True M3U8 Link
Just like Level 3, you are also required to find the true video link. But here, you should find a link marked as m3u. As you find it, copy and paste it into the plug-in component and press Enter to start to convert link to video.