As a matter of fact, Chrome and Firefox can help you grab SAPO downloads themselves, without any add-on. Though a bit of tough, this method, at first sight, you'll find it's actually really easy to master when you get acquainted.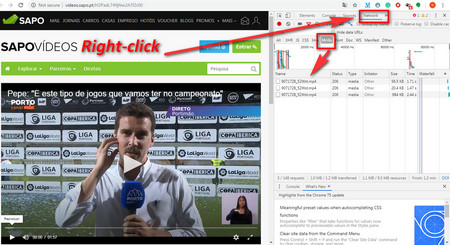 Obter vídeos de sapos usando o Chrome
Step 1. Run Chrome or Firefox, whichever you're currently using.
Step 2. Play the SAPO video you want to download.
Step 3. Press F12. Or right-click on the blank space of the page > Inspect in Chrome/Inspect Element in Firefox.
Step 4. Click "Network" Tab > "Media" subtab. Press F5 to refresh current page, play the video, you'll notice the media source like "XXXXX.mp4" with the name of the desired video shown in media subtab.
Step 5. Choose the largest one in size > Right-click > Open in new Tab. You'll be led to a new tab where a media player will display.
Step 6. Hit the download button. Or Right-click > Save Video as. If there isn't any.