How to Convert DV to PC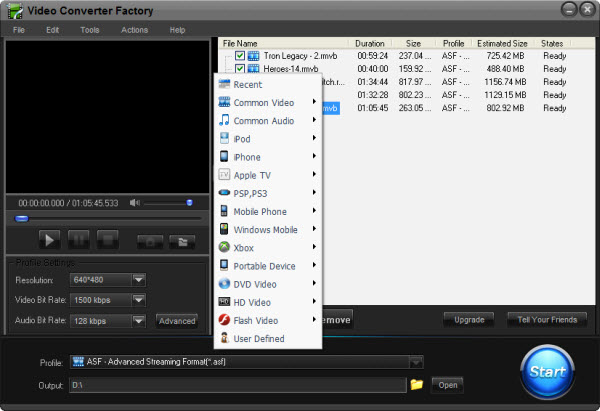 When out for some journey, out of the daily stuffs, what else will you take with? A camera or a DV? I think most people would like to choose DV. A DV is easy to take, and with a DV we can record every moment as we want. Besides, the videos are convenient for us to keep the memories and enjoy the journey again. But when want to edit the videos or share videos with others on the computer, transfer DV to PC is the problem we have to solve. For how to convert DV to PC, different issue has different way. Then the following are the details.
Transfer Video from DV to PC
On this issue, it's easy to convert DV videos to PC. Just need some USB connecting, then 'how to convert DV to PC' has been solved. We only have to get a USB extension cord, and connect the DV and PC, copy the DV videos to PC. Then all works done. But after that, the format compatibility may lead us to the other issue.
Convert Video from DV Format to PC Format
The DV videos may have a different format than the popular multimedia format; such video may recorded with some special video encoder. So, the multimedia player in the computer may not read such DV files. Then we have to convert video from DV format to PC format.
For video converting software, here I suggest HD Video Converter Factory Pro. It is the professional and powerful for video conversion software. The software can read the DV encoders/files and then convert them to the popular video format. Besides, the advanced functions (merge, clip, crop and effect) are also available for users to edit videos. But all advantages just need $29.95 and free to try.
Users who need such assistance just have to download the software and follow the Guide to convert DV videos to PC. Then 'how to convert DV to PC' solved and you can do whatever you want to the videos on your personal computer.
How to Convert DV to PC with HD Video Converter Factory Pro
If you have decided to choose the HD Video Converter Factory Pro to help you convert DV to your PC, now it is necessary for you to know how to do this task with this video converter. The passage below will show you the main steps.
Step1: Import video - Launch HD Video Converter Factory Pro, Click 'Add' button to import video(s) like your DV files, click 'Remove' button to delete video.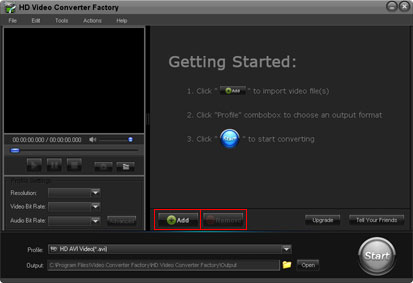 Step2: Choose an output format that your PC can support. 1,Click 'Profile' combo box to choose an output format. 2, Common profile settings, In most cases, we provide multi-options for each setting. 3, More advanced settings.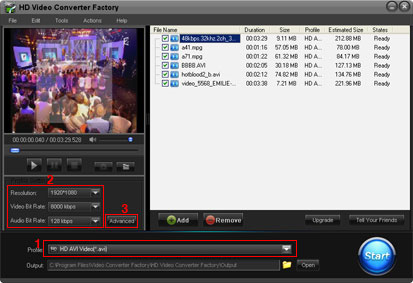 Step3: Click 'Start' button on the interface of this video converter to begin the converting processes.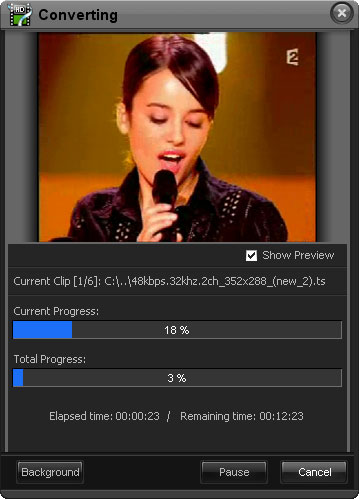 That's all, as you can see, it is a very easy job for you to do. Why not have a try?
Screenshot of HD Video Converter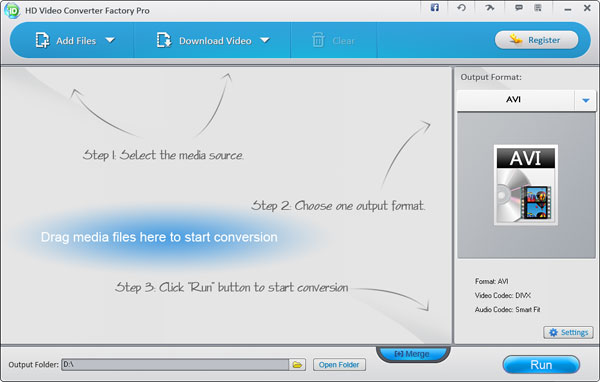 More Tips and Guides about HD Video Converter Factory Pro
HD Video Converter Factory Pro is an all in one video converterting software. This HD Video Converter builds in 150+ video formats, it can convert nearly all popular videos besides the SD video and HD video.
So, it cannot only help you solve how to convert MP4 to MKV, but also it can help you solve nearly all video conversion problems. For example, if you want to convert SD video to HD video, HD Video Converter Factory Pro will help you do it easily. And, if you want to convert videos from your Camcorders or DV like Sony HD camcorder, Cannon HD Camcorder or some other camcorders, this HD video converter will also help you convert them to your desire video formats without quality loss while in a high converting speed (Featured as Camcorder video converter), for example, it can help you convert MTS video, convert video taken from your DV (Featured as a DV file converter), etc. What's better, with its built-in 150+ video formats, you can convert virtually any video to a wide range of video formats, audio formats and popular digital devices with optimized presets.
If you are a video lover and would like enjoy videos without format limitation, HD Video Converter Factory Pro is one of your best choices.
We highly suggest that you upgrade Free HD Video Converter Factory to HD Video Converter Factory Pro. The following passage will show you related tips of HD Video Converter Factory Pro.