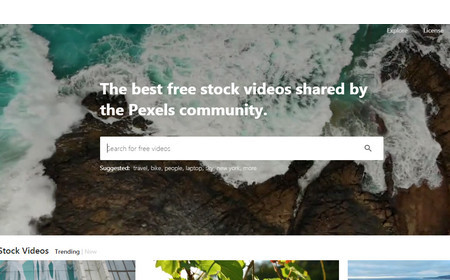 Free Video Footage on Pexels
1. Pexels
https://www.pexels.com/videos/
Pexels is a perfect option for millions of creators to download beautiful HD free stock videos for their designs and projects. A variety of themed videos like travel, sky, industry, traffic, and more can be easily found through the quick search navigation. Pexels is also a good free stock photos library where a wealth of gorgeous high resolution photographs are available. As the stock footage on Pexels.com is under the CC0 license, you can edit and use them on your creations for commercial use without worrying about copy infringement.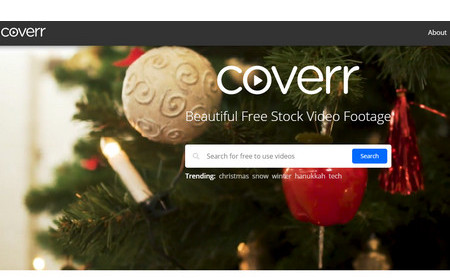 Stock Video Free on Coverr
2. Coverr
https://coverr.co/
Coverr is another great resource to download royalty free videos for both personal and commercial use with no need for attribution. There are 11 classifications including Tech, Mood, Artsy, Aerial, Vertical, Food, Nature, People, Urban, Animals, and Animated. Each category contains many correlative free stock videos you can free download, modify and edit as background videos. Coverr doesn't require registration for free video clips download, but you can still subscribe to the site using email for receiving exclusive Coverrs and news. Note that if you want to use recognizable people's images, brands trademarks, logos, or brands in the videos, you still need to have the permission of the owners.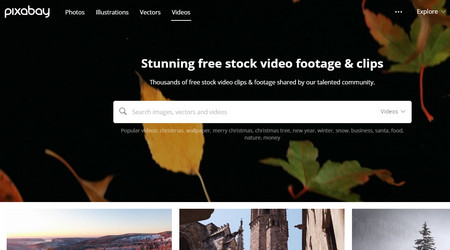 Free Videos to Use on Pixabay
3. Pixabay
https://pixabay.com/videos/
As one of the largest free stock video sites in the world, Pixaby features prominently for providing over 1 million striking free stock video footage and provides creators the easiest way to seek and download video files. It has popular and comprehensive topics and videos in different resolutions, ranging from 720P to 4K. Moreover, all contents on Pixabay can be used free for your business without asking for permission. You also don't need to use them with attribution information, but attributing ownership is still suggested.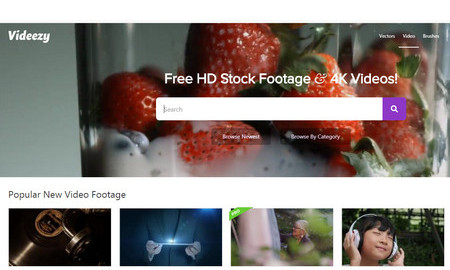 Royalty Free Video Clips on Videezy
4. Videezy
https://www.videezy.com/
On Videezy, you can share and explore free high-quality stock videos, backgrounds, b-roll, and other good stock footage. Videezy has all types of stock footage around the globe and carefully classifies contents into different columns. By means of its easy navigation feature, one can find needed results in a breeze. But not all videos here are completely free for use. First, the clips marked with a green "Pro" are not free, which can only be used by purchasing. Besides, you need to give credit to the Videezy.com to use free video clips in your projects, no matter which is for personal use or commercial purposes.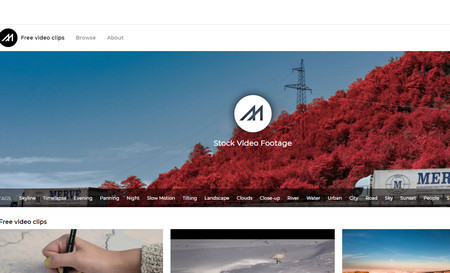 One of the Stock Video Sites Free – Mazwai
5. Mazwai
https://mazwai.com/
Mazwai focuses on free HD stock footage and moving images for creators around the world. This site has a concise and clean appearance and displays results with big thumbnails. By moving your mouse over a thumbnail, you're able to view the detailed information of the video clip, such as the author, the quality and format of the clip as well as the theme. You can also choose a tag to search for clips. There are two types of licenses: Creative Commons 3.0 and Mazwai License. You can check the license of clips on download pages. For CC-BY 3.0, you can use the clips free for personal and commercial aims yet need to credit the author. Contents under the Mazwai License can be used in the same ways without attribution.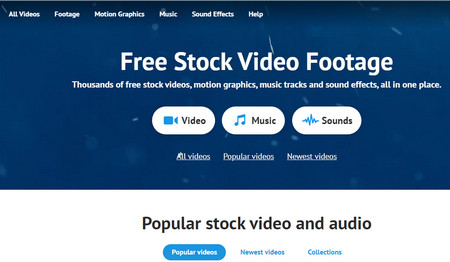 Best Free Stock Footage on Videvo
6. Videvo
https://www.videvo.net/stock-video-footage/
Videvo has a massive base of royalty free videos and motion pictures, around thirty thousand clips. Videvo is the same as Videezy, offering both free and paid clips, and the paid clips are marked as "PREMIUM". You can explore clips on Videvo by taking advantage of its user-friendly categories feature. Dozens of topics are available here. The qualities of video are varied yet most of the free stock videos are adequate in 4K and 1080P. So far, there are three types of licenses on Videvo. The most common Royalty Free License, the Videvo Attribution License, and the Creative Commons 3.0. You can check out this post to know more details: https://blog.hootsuite.com/free-stock-videos-sites/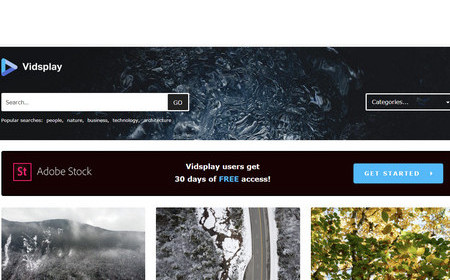 Free Videos for Marketing on Vidsplay
7. Vidsplay
https://www.vidsplay.com/
Vidsplay is also a good destination for completely royalty free MP4 videos, and it updates new high-quality videos weekly. Video designers can utilize the categories list to choose a video category or type a keyword in the search bar to find needed results. Creators are given the rights to free use the stock footage on Vidsplay. In other words, you can edit the clips, insert them into your video, set the clips as the background videos of your websites for personal, educational, commercial purposes and more but you're required to add a visual credit to Vidsplay.com on your pages, attribute Vidsplay.com on your video production or channels. On top of that, you can't redistribute the original clip to other resources without altering.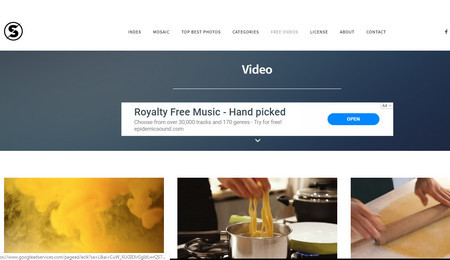 Top Free stock footage sites – Splitshire
8. Splitshire
https://www.splitshire.com/category/video/
Splitshire, run by photographer Daniel Nanescu, specializes more in royalty free photos but there is some good stylized and professional looking drone footage you can freely use to make your productions more attractive. The free stock videos on Splitshire can be used for a wide range of purposes, inclusive of business promotion. It's still a good practice to give attribution information to Splitshire.com though there is no requirement for that. You also not allowed to distribute the original versions of the video clips to other platforms or use them in projects with inappropriate content like violence, racism, sexuality, etc.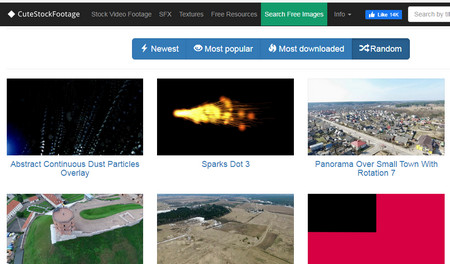 Royalty Free Stock Footage on Cutestockfootage
9. Cutestockfootage
https://cutestockfootage.com/
Cutestockfootage.com is a good place to download free footage, visual effects, overlays, light leaks, backgrounds, and other video materials for your projects, which is workable for both professional creators and beginners. The free contents on cutestockfootage.com are under Creative Commons Attribution 4.0 International License so you can use them free for any purpose. Nonetheless, you are not allowed to claim the materials on cutestockfootage.com as yours, post the content without attribution, or sell them to other platforms.  
Best Drone Footage on Life of Vids
10. Life of Vids
https://lifeofvids.com/
Life of Vids features high quality royalty free videos, clips, and loops and it offers an array of video resolutions for download. When you find the favorite video clip, click on Play over the video to preview the file and the download option is on the lower right corner. All the videos on Life of Vids are hosted on Vimeo so you can also go to the Vimeo page for viewing. In the Collections of Life of Vids, you can more easily access to results you need. Videos here are available for personal & commercial use but you can only redistribute up to 10 videos.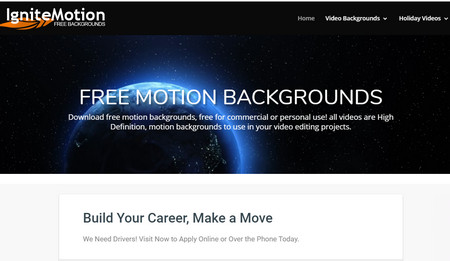 One of the Remarkable Free Video Websites - Ignite Motion
11. Ignite Motion
https://www.ignitemotion.com/
Ignite Motion mainly offers two types of stock footage – video animation background and holiday videos. If you want to create a gorgeous technology video or space adventure clip having the bells and whistles, Ignite Motion will be your way to go. It includes categories like Sci-fi Factory, Earth & Space, Particle Effects, etc. You can know what those categories refer to simply from their names. The holiday videos category also has many high quality free animations you can use to lighten your festival videos up. Content on ignitemotion.com is usable for both private and commercial intentions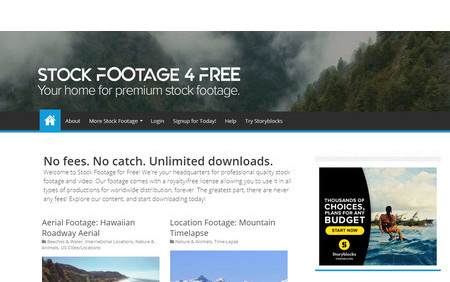 Unlimited Downloads on Stockfootage4free
12. Stock Footage for Free
(Down)
On Stock Footage for Free, you can find a catalog of HD stock footage and use them for your personal or commercial projects without costing a penny. Through the stock footage categories, you're able to locate to any topic. Besides, the quick search function on the right side of the interface will help you more handily find a specific clip. One high spot of the free stock video footage is the impressive and emotional description of each clip. Scroll down and you will find the download button, on which the download times, video format and file size will be displayed for your reference. Downloading clips from Stock Footage for free requires sign-in and the download process may take a while due to large file size.