Freesound is a paradise for free sounds effects download and the massive library, with more than 400,000 sounds and effect, will give you quite a turn. Recent uploads on the homepage are refreshed every day so there is a sporting chance that you will find daunting new sound effects for your works. Unlike other free resource sites, Freesound doesn't own a defined classification & navigation bar. If you want to find some specific sound effects, you have to turn to its quick search box. Then under the results page, you're able to filter sounds effects by licenses, tags, format, sample rate, bitrate, etc. To download sound effects for videos on Freesound, registration is required.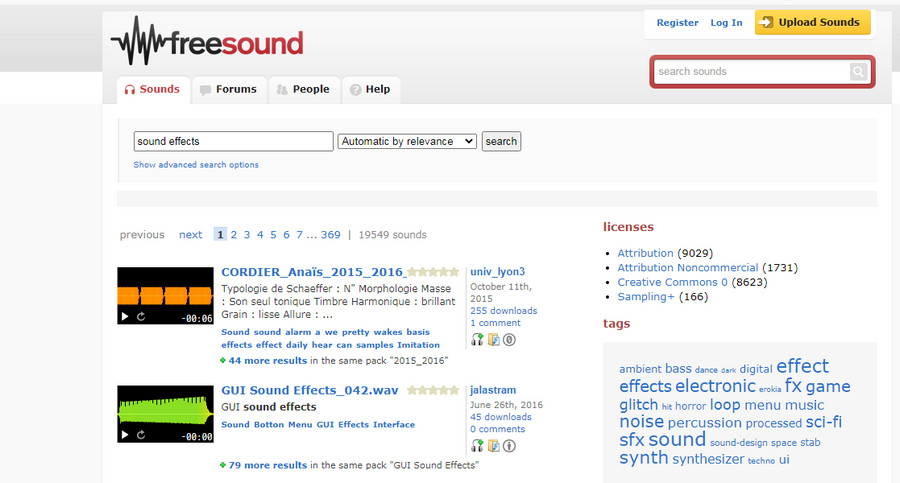 Zapsplat is a good destination for free sound effects and royalty free music, owning over 68,000 free professional sounds that can be downloaded in MP3 and lossless WAV format (available upgraded Gold members). Over and above, all the audio tracks on Zapsplat are available for both commercial and non-commercial purposes. On the sound effect categories section, all sound effects are considerately classified based on Animals, Bells, Cartoon, Explosions, and other 22 genres. The owner of Zapsplat.com keeps recording and adding new tracks. You can check back there any time to catch up with unique and new effects. Meanwhile, in spite of the free download service, you can also choose to upgrade to the Gold account of Zapsplat with a donation, which empowers you to download higher audio quality, enjoy attribution removal in projects and use more advanced features.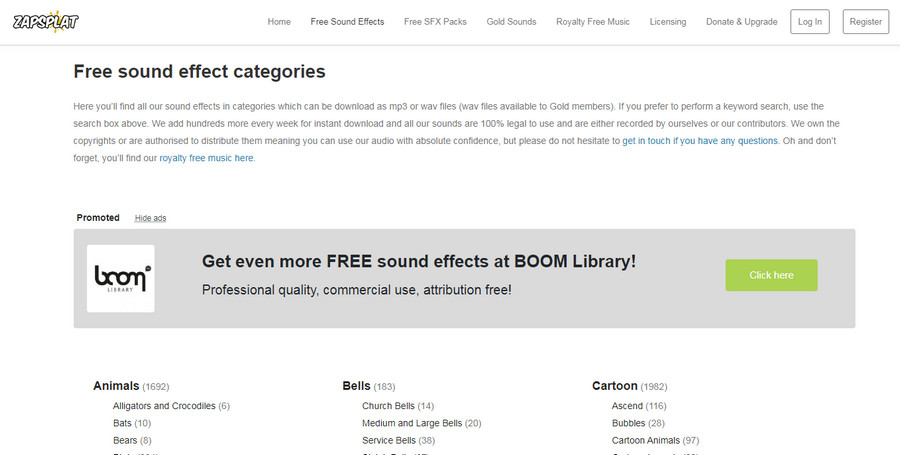 If what you're looking for is sound effects for YouTube, the YouTube audio library would give you a satisfying response. Several years ago, YouTube launched the library for free music that content creators can download and use on their projects. By entering YouTube studio and clicking the Audio library tab on the left vertical menu bar, users can get to the YouTube Audio Library interface, browse and download sound effects for videos. The category drop-down list contains 19 genres of effects and with no hassles, you can download any of them using the direct download buttons. There are two types of content – attribution required and attribution free. And you will see a related attribution label if you run into a sound that requires attribution. In addition to the Audio Library, YouTube has a plethora of channels concentrating on loyal-free sound effects, such as Audio Library — Music for content creators, Gaming Sound FX, Audio Library - Free Sound Effects, SoundEffectsFactory. With the assistance of a YouTube downloader, you can save sounds from these channels.