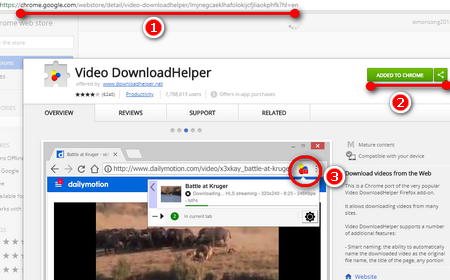 Download FC2 on Chrome and Firefox
If you think neither of the methods described above is right for you, choose Video DownloadHelper. Just follow the next three steps.
1.FC2 Download Chrome
https://chrome.google.com/webstore/detail/video-downloadhelper/lmjnegcaeklhafolokijcfjliaokphfk
Step1: Copy and paste the URL to Chrome "Address Bar". Click the "ADD TO CHROME" button on the page. Then click the "Add extension" button.
Step2: Visit video.fc2.com. Find the video you want to download and play this video.
Step3: Click the "Video DownloadHelper" button on the toolbar in the upper right corner. Then click "Download".
2.FC2 Download Firefox
https://addons.mozilla.org/en-US/firefox/addon/video-downloadhelper/
Copy and paste this URL to Firefox "Address Bar" The next steps are the same as downloading FC2 video on chrome.
This article provides three methods to deal with how to download FC2 video. For my part, I would like to recommend the first one because it is totally clean, safe and free! If you benefit from this article, please share it with your friends.