Copy DVD to PC - How to Copy DVD to PC or Laptop
Addicted to DVD movies? I believe you should have also encountered some annoying things. For instance: it takes too much room to store our DVDs especially when we have a lot of DVD discs. And, the DVD discs may be damaged if we do not store them properly, but some of them cost us a lot. Or someday we suddenly wanna watch a favorite old DVD but have to spend several hours to find it out. It's so bad. To avoid such troubles again, we ought to rely on the following solution. That is, we should copy DVD to PC or alternatively rip DVD to computer.
Copy DVD to PC to Backup and Watch DVDs on Your PC
How to Find a Professional Software to Copy DVD to Computer
There are sorts of ways to find a DVD ripping software. Firstly, directly search on Google, Bing or on any other search tools, if you don't mind picking up the right one from thousands of results. Secondly, turn to some pop technical forums like videohelp, afterdawn, etc. There are many friendly people loving to share ideas. But you'd better sign in first. Thirdly, ask a question on yahoo answer. You may get several quick answers in time. Some are truly helpful. But you can't ignore some ads activities… So, it may be not as easy as you think to copy DVD to PC. But it's necessary for us to finish this task with the help of a professional DVD copy software. Handbrake is well-known. But significantly it can't rip all DVDs especially rip the Disney DVD movies we own.
However, with the help of the best DVD Ripper software, similar problems will be easily solved. It can crack the copy protected DVDs, and copy DVD to Laptop with fast speed and high quality..
Recommended DVD Copy Software
The paragraph above has mentioned that it is necessary for us to get a professional DVD copy software to copy DVD to hard drive, PC, Laptop, so now I will introduce the one to you. You can just enjoy. WonderFox DVD Ripper Pro has the ability to help you copy DVD to PC, copy DVD to computer or copy DVD to Laptop.
1. It can copy any DVDs including those with CSS protection, Region Code Limitation, Sony ARccOS Protection, Disney X-project DRM.
Related stories:Backup DVDMovie Kingsman : The Secret Service, Backup Jurassic World 2015, Rip DVDChappie 2015
2. The operation speed is super fast. Some of the DVD copy software may take several hours to rip the DVD content, but with WonderFox DVD Ripper Pro, this situation will surely not appear.
DVD to MPG : 5-10 mins
DVD to MP4 (h264): 1 hour
DVD to AVI: 25-30 mins
DVD to WMV: 20-25 mins
3. It is safe. I believe nobody would like to get a software that is with virus or annoying spyware.
4. It is easy to use. With an intuitive interface, anyone can navigate to copy DVD to PC including DVD disc and ISO image within simple clicks.
5. It has various video formats, audio formats and popular digital devices as its output choice. Such as video formats: AVI, MKV, WMV, MP4, VOB, FLV, 3GP and so on; Audio formats: MP3, WMA, OGG, WAV, RM and so on; Popular digital devices: iPhone 6 Plus, iPhone 6, iPad Air 2, iPad mini 3, Samsung Galaxy ALPHA, A7, Note Edge, BlackBerry PlayBook, Passport, Nokia series, Sony PS4, Surface Pro, Xbox One, etc. And you can even copy DVD to TVs.
6. It can ensure the video and audio quality. I think this is the most important factor to be taken into consideration. Nobody would like to watch the videos or movies with blurry images.
These are the key features of WonderFox DVD Ripper Pro, if you need to copy DVD to PC, this software will easily help you crack the copy protected of DVDs and copy the DVD to your PC, computer or Laptop easily and efficiently.
How to Rip DVD to Computer with WonderFox DVD Ripper Pro
With the help of WonderFox DVD Ripper Pro, you just need to follow these simple steps mentioned below, and then you can easily copy DVD to PC.
Preparations:
Download and install WonderFox DVD Ripper Pro
Insert the DVD you wanna rip to your computer DVD-ROM drive. Or make your virtual drive ready for work.

Step 1: Run this DVD ripper solution. Click a DVD source (DVD Disc, ISO Image, DVD Folder). Here I take DVD Disc as an example.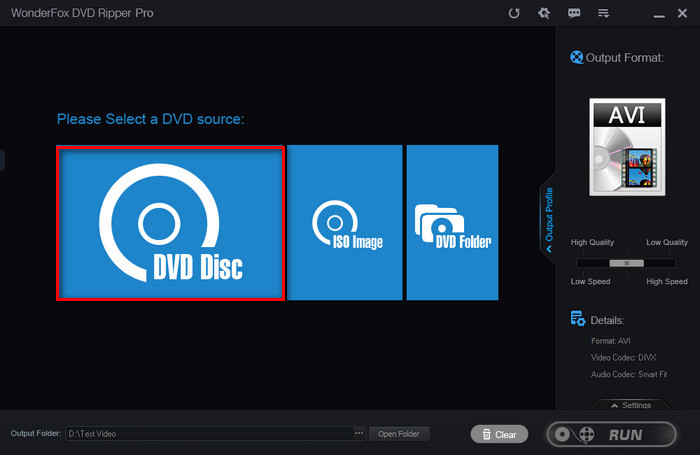 Step 2: Select DVD Disc and choose a DVD drive letter. After several minutes, you'll find that the main movie file has been precisely selected by WonderFox DVD Ripper Pro. You'll surely get surprised: even if you put a DVD series, each episode can be recognized correctly.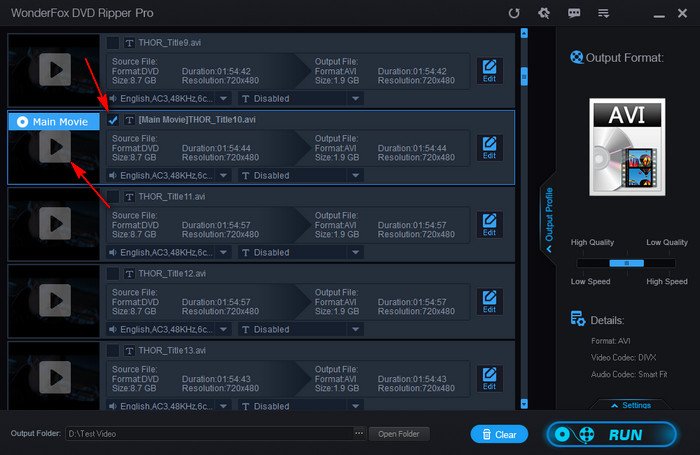 Step 3: Press the Output Format Button on the right side. Choose a video format or device. This software has set the complicated parameters for you in advance. What you need is a simple mouse click.
Step 4: Select an output folder and click Run. Done!
As you can see, just in several simple steps, and then you can finish copying DVD to PC, it is really easy for every user.
Related Resource
Time-limited Offer Today
Special Offer: WonderFox DVD Ripper Pro
Rip DVD to AVI, MP4, MPG, WMV, iPad, iPhone, Android with 0-Quality-Loss.(Rip a DVD in 5~10 Minutes)
Join the Disscussion