How to Compress 4K Video at the Highest Quality?
Have troubles with 4k video compression? Here I want to share with you my way to compress 4K video while preserving maximum quality and save space on my phone, tablet and TV.
4K resolution, also known as 4K, is one of the new trendy tags coming into people's sight in recent years. It's a newly-emerging resolution standard for Ultra HD, which provides with the ultimate visual experience. With the growing demand of the public, as well as the extraordinary advantage of better watching experience, 4K and above will definitely become the mainstream standard for digital video in the next couple of years.
Why Do We Need to Compress 4K Video?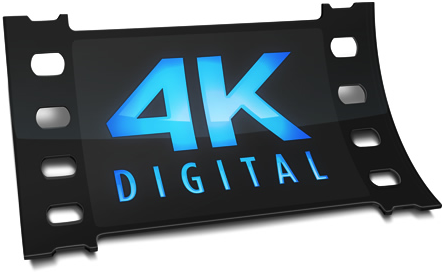 Limited by many realistic factors (like storage, devices, Internet technology and etc.), 4K video is still such hot potato nowadays. For example, if you happen to get a 4K movie file on the web, it will be a problem for you free up some storage space on your hard drive. An original 4K movie is normally more than 200 GB, which means you can keep 10 copies of 4K resolution movies in your 2TB hard drive at most. And there are other reasons.
Q: I shot a two-hour 4K video with my camcorder. And the output size is very large, about 400G. How could I compress the video? Is there a smart way to keep original quality?
Q: I recorded a video in 4K. And when I opened the video editor , it can't import the file. Any advice? Can I convert 4k to 1080p or compress 4K to 1080p?
With no doubt, it is a stunning experience to enjoy the visual feast of 4K video! Considering about the conflict between the lagging device support and the rapid development of 4K technology, a majority of mainstream devices are unable to play 4K video perfectly, including iPhone and other Android smartphones. And let alone, storage space on the device is that precious.
So if you've got a 4K movie video and want to transfer it to portable device, the best solution is known as 4K video compression.
How to Compress 4K Video in the Best Quality?
Bit rate, encoder, resolution, they are the DNA of a video file. The interaction of all of these factors plays as a joint result of video quality. So we can compress 4K video by optimizing its DNA. Here, we can make it easy with a tool specialized in HD video solution - HD Video Converter Factory Pro, which provides the best video compression solution.

HD Video Converter Factory Pro
Awesome 4K video compressor. It's easy to navigate for all-level users(beginners and skilled users). Compress your 4K video with stunning output quality.
More features>
Hot Search: H.265 VS H.264 | Convert Video to HTML5 Formats | Transfer DVD to Galaxy Note 4 | Rip DVD to iPad mini 3| DVD to iPad Air 2 | Backup DVD to Hard Drive
Three effective means to optimize & compress 4K video:
1. Convert 4K video to 1080P or less
You can adjust the video resolution by dragging the slider to 1080P as shown in the picture below.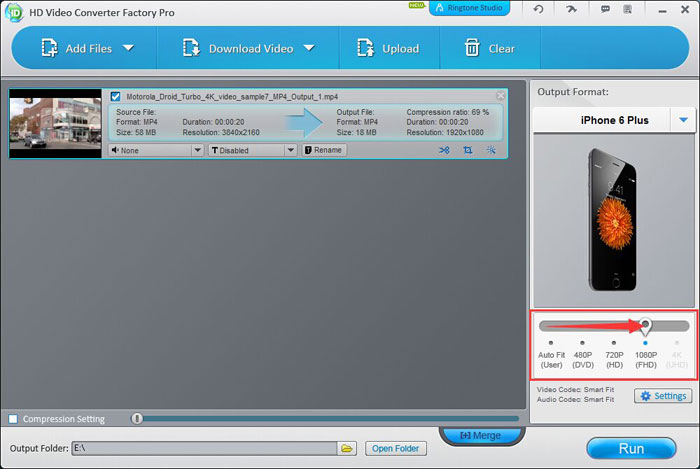 4K video file is very huge in size, and you can optimize it for your device by changing video resolution to 1080P full HD. After the compression, you can not only get the acceptable size, but also make it good at playing on portable device. It's the good way to reduce video size without quality loss but keep its high definition.
Tip: this 4K video compressor software has a one-click compression mode. You can select the "Compression Setting" and drag the bar at the bottom to control output video file compression ratio. It's a real time saver, however, I think this function is for those who have already handled the tool very well.
2. Optimize with the superior encoder H.265
As we know, most 4K videos are in H.264, the widely-used encoder currently. H.264 is very steady but low compression. Therefore, here comes H.265 as its successor.
H.265 (also called HEVC) is a new advanced HD video encoder, which leads to a smaller size but better quality. It's the best choice to compress 4K video by optimizing the video encoder.
Choose H.265 in the Output Format Box as your option, click "Run" button to start the process.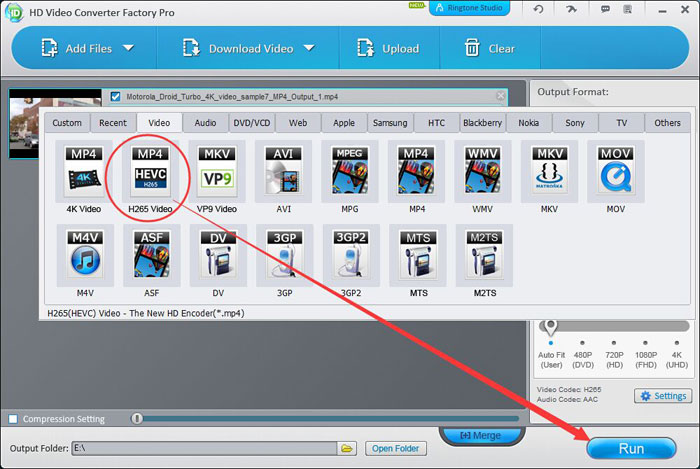 After the optimization, you will get an advanced smaller video file in the same bitrate and resolution. It can not only keep the original frame rate but also optimize the video quality. So are you satisfied with the 4K compression result with H.265?
3. Reduce the bit rate
It's the most direct way to cut down the video size. You can define the bit rate according to your need, but it will lower the video quality by reducing the bit rate.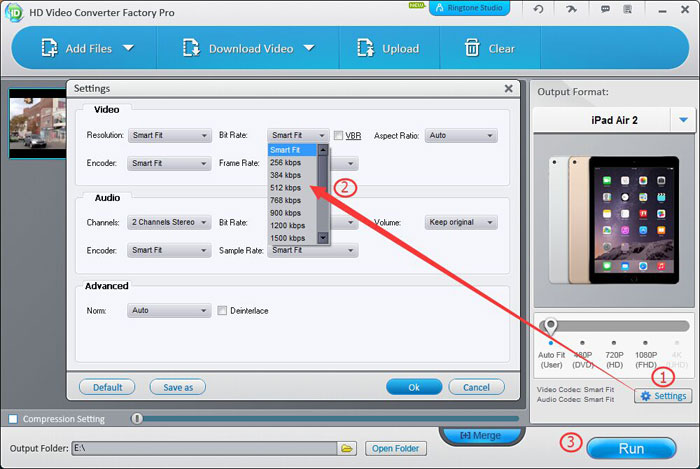 In the "Settings" screen, you can choose the output bit rate as your wish. In order to keep your video in good quality, we don't recommend reducing the bit rate much.
Except for 4K video compression, the powerful HD Video Converter Factory Pro can do more, for instance, you can download 4K resources and download VR video from YouTube and here's a simple guide: Click "Download Video" and paste the video .url into the "ADD URL" box.>>Click "Analyze" and choose a certain resolution.>>Press "Download".
To boot, you can edit your 4K video with simple clicks, cut video clips and add special effects and more. The program also supports batch video conversion, SD to HD video conversion, and you can use it to convert video to 4K video.
Submit Your Question to Us, Get an Answer within 24 hours
Related Resource
Related Software
Special Offer Today: HD Video Converter Factory Pro
Compress 8K/4K/1080P video to smaller size with original quality
Convert video to 200+ video formats and mobile devices
50X Faster conversion speed
Download YouTube video
Join the Disscussion on Video Compression