The difference between them comes from many aspects. Read the following information to get an intuitive view of the differences.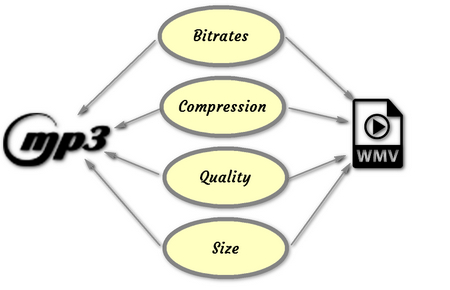 1.Bitrates
WAV: 1411 kbit/s at 16 bit
MP3: 32kbit/s - 320 kbit/s at 16 bit
Note: Bit rate is the number of bits used per unit of time to represent a continuous medium. The higher the bit rate, the better the fidelity.
2.Compression Ratio
WAV: Uncompressed
MP3: Usually, an MP3 file of 128, 160, and 192 kbit/s represent compression ratios of approximately 11:1, 9:1, and 7:1 respectively.
3.Sound Quality
WAV: Equals to a CD-audio quality
MP3: The sound quality of MP3 correlates mostly with the bitrates. With the bitrates higher, the quality could get better, but even the highest 320 kbit/s cannot be on par with WAV.
Note: Yet the truth is you really can't tell a difference between the two unless you use an upscale headset and are extremely sharp with sounds.
4.File Size
WAV: Large. An WAV file of CD-audio quality would produce approximately 10M per minute.
MP3: Much smaller.
The size is related to bitrates, as well. A higher bitrate would generate a larger size.