The difference between MP3 and WAV comes from many aspects. Read the following information to get deeper understanding of the two formats.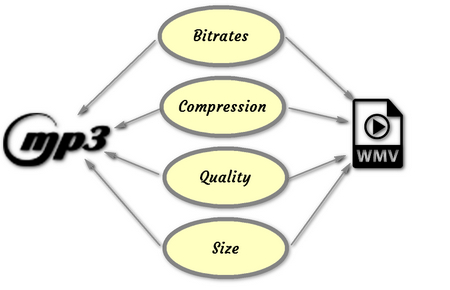 1.Bitrates
WAV: 1411 kbit/s at 16 bit
MP3: 32kbit/s - 320 kbit/s at 16 bit
Note: Bit rate is the number of bits used per unit of time to represent a continuous medium. The higher the bit rate, the better the fidelity.
2.Compression Ratio
WAV: Uncompressed
MP3: Usually, an MP3 file of 128, 160, and 192 kbit/s represent compression ratios of approximately 11:1, 9:1, and 7:1 respectively.
3.Sound Quality
WAV: Equals to a CD-audio quality
MP3: The sound quality of MP3 correlates mostly with the bitrates. With the bitrates higher, the quality could get better, but even the highest 320 kbit/s cannot be on par with WAV. But unless you have sharp ears and use fancy headphones, it can be hard to tell the difference between MP3 320kbps and WAV.
4.File Size
WAV: Large. An WAV file of CD-audio quality would produce approximately 10M per minute.
MP3: Much smaller.
The size is related to bitrates, as well. A higher bitrate would generate a larger size.