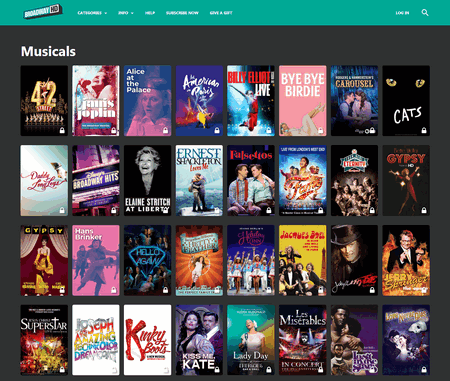 1.BroadwayHD - Heaven for Broadway Lovers
Started in 2015, BroadwayHD is determined to offer the best Broadway streaming service to musical fans and "democratize the niche market of Broadway by filming live productions and making them available to a wider audience through the internet". It has been bringing many classic and phenomenal shows online like Kinky Boots, Les Miserables, Cats, Phantom of the Opera, Miss Saigon, The Sound of Music, Oklahoma! and so forth. You can find over 200 live recordings of original Broadway productions, while several off-Broadway plays, concerts, and theater documentaries can be found here as well (Mega-hits like Hamilton, Dear Evan Hansen, Wicked and other first-run Broadway productions are less likely to be seen here). And during this quarantine time, it offers a 7-day free trial before an $8.99 monthly pay. Don't miss it to watch Broadway shows online here!
Other features:
Ads-free
Available on iOS, AppleTV, Android, Roku, Amazon Firestick and Web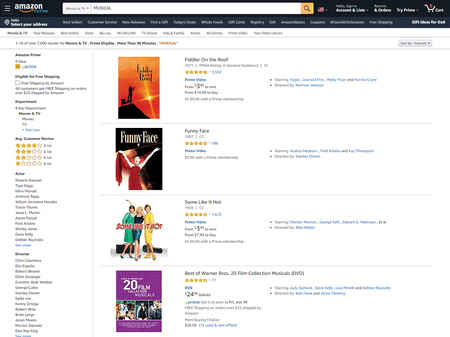 2.Amazon Prime - Huge Collection of Original Recordings from Broadway
Not only a haven for original recordings but also a library for finely-made musical soundtracks, Amazon Prime is your other option to turn to when watching full Broadway musicals online. It has prepared for you the high-quality Fiddler on the Roof, Hello, Again, Kiss Me, Kate, The SpongeBob Musical: Live on Stage!, Rent, Mary Poppins, and so on, together with their original soundtracks in stock. Drama plays like King Lear are also available in multiple versions. You can choose to rent, buy, or watch these shows online with Prime that offers a 30-day free trial. Wouldn't it be supercalifragilisticexpialidocious to enjoy all the great musicals here!
Other features:
Available on Amazon Fire-branded devices, smart TV, Apple TV, Android TV, Roku, and Web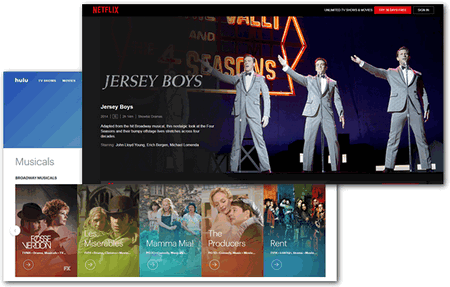 3.Netflix & Hulu- Movie Adaptations of Musicals and Broadway Plays
Netflix and Hulu are mainly for movie and TV productions, so they wouldn't be the best place to watch staged musicals. Yet, you can find enough movie adaptations of musicals and Broadway plays here, like Burlesque, Rent, Grease, Beauty and the Beast, Jersey Boys, and Sweeney Todd: The Demon Barber of Fleet Street. Stage musicals like Shrek the Musical is available but I'm not sure this is what you want. In a nutshell, they are for musical movie lovers.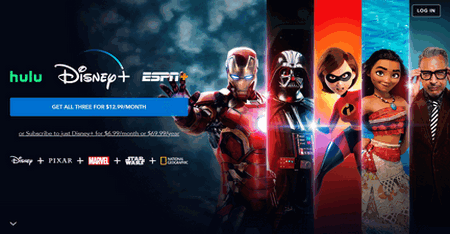 4.Disney Plus - Brings Back The Innocence of Childhood
Disney Plus has actually quite a lot superb musicals on demand, and it is continuing to make musicals fans happy by announcing the news of Hamilton (starring the original Broadway cast) releasing on July 3rd, 2022 on Disney Plus, more than a year ahead of schedule. No more fidgeting days to get hands on Hamilton tickets, you can finally enjoy the fantastic performance in your living room. Apart from this, other fairy-tale musicals like Frozen, classics like The Sound of Music and Mary Poppins are also available. Time to spend your family time on Disney Plus!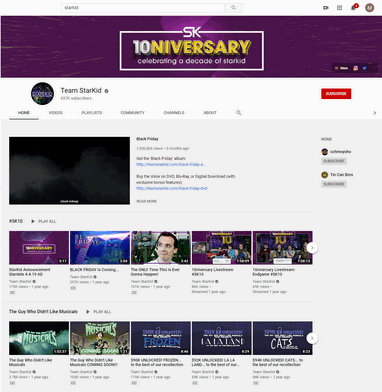 5.YouTube - Place to Dig Up Hidden Gems
Sometimes the most obvious thing is the easiest to get passed by. Yes, I'm talking about YouTube. It may not be the first thing to jump to your mind when you think of online musicals, but it might quickly become your habitat for musicals once you discovered its charm, which is the fact that it is filled with tons of good-quality musicals, including Broadway, off-Broadway, West End, and amateur productions. Many of them need a bit of extra effort to dig as they are hidden under some odd names and they are mostly bootleg musicals (shows illegally recorded) and it's not an ethical thing to watch those bootlegs. But the good news is that there are many excellent amateur works published on it for free, like the works from Team StarKid (Go try The Guy Who Didn't Like Musicals, you gonna love it). Full musical soundtracks can also be found here, such as Hamilton, Dear Evan Hansen, The Book of Mormon, Wicked, Mama Mia...though they are most likely pirated. Set the moral stuff aside, you would be damned to miss the opportunity to meet the largest collection of free musicals online.