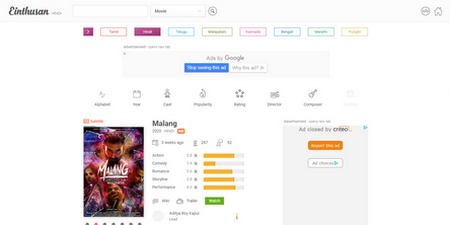 Einthusan
1.Einthusan
Site: https://einthusan.tv/intro/
Einthusan, "the largest collection in history of SOUTH ASIAN FILMS" as it promotes on its home page, is living up to its very line. When you first enter Einthusan, it will ask you to choose from Tamil, Hindi, Telugu, Malayalam, and so on and then provide you with the corresponding contents later in the main screen. If you ever want to change to another category, you could have it done anytime on the top menu bar. The free version of this site allows you to watch any of the movies, music videos, and movie clips freely without account-registration. In the movie section, the films can be searched by alphabet, year, cast, popularity, rating, director, and composer. You can also enter a specific movie name in the search bar to pin down the exact film. Another amazing thing about this site is that each movie is given a piece of clear and useful information, such as the resolution, subtitle, summary, casts, and, perhaps most important, viewer rating, which is quite user-friendly as you can decide whether the movie is worth watching or not immediately. Yet the reason I like this site so much is that it can automatically detect the best server to stream the movie, saving us the effort to choose it manually. Below the movie, it also lists related music videos and clips for you. What can I say! Definitely the best site to watch Hindi movies online free!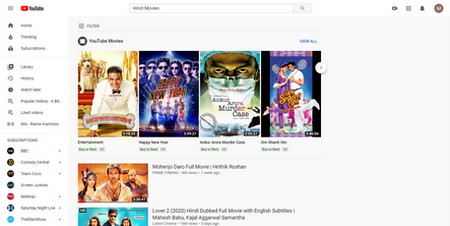 YouTube
2.YouTube
Site: https://www.youtube.com/
YouTube is a website that needs no further introduction. But several things still merit mentioning here. Though it might come as a surprise to many people, it is indeed a fantastic place to watch online Bollywood movies. It has a particular section for Indian movies and, though low in quantity, are of supreme-quality, you can either buy or rent them. Of course, these are not enough to satisfy our various needs. So here comes the part which is also the reason why I put this platform in this front position - there are a lot of individual users who are willing to upload their favorite Indian movies on YouTube. And that leads to many new or old, good or mediocre, funny or horrifying... Indian movies separated in different corners of this site. But with good use of the search engine, you are always likely to get your desired result, even the superhit one (though might be under disguise). What's more pleasing is that there are also some self-made channels/playlists that group the Indian movies by different times and genres. You could directly watch the whole list without searching on your own. Here are some recommended Hindi movie channels/playlists:
https://www.youtube.com/channel/UCOF23vGxkbhN4wl7ROrgXsA
https://www.youtube.com/channel/UCyoXW-Dse7fURq30EWl_CUA
https://www.youtube.com/playlist?list=PL1219761C842A34AB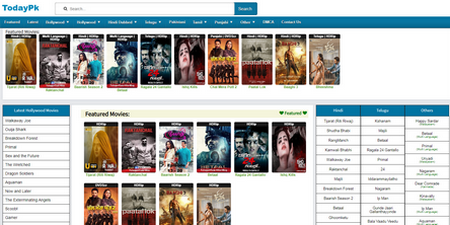 TodayPk
3.TodayPk
Site: https://ww1.1todaypk.info/
This is another impressive free online movie streaming site featuring a huge collection of Hollywood and Indian movies since 2008. And on both sides of the page, there are the direct links of latest Hollywood movies and hot movies dubbed in Hindi, Telugu, and others. Neat and ads-free except for the one before the playing video, TodayPk surpasses other movie streaming sites in its provision for high resolution, like HD and FHD. On the streaming page, it also offers four backup servers to watch the movie. Download links are provided below the video as torrents and direct downloading links. It's great to watch online Bollywood movies here.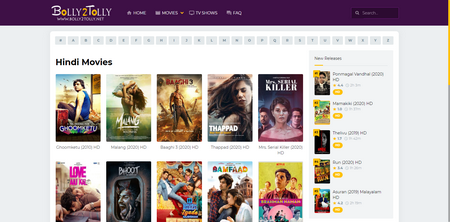 Bolly2Tolly
4.Bolly2Tolly
Site: https://www.bolly2tolly.plus/
Bolly2Tolly, as its name suggested, is a site mainly for Bollywood and Tollywood movies. It has both classic and newly released movies and they are all of a real high definition. No registration needed at all, you are free to watch any movie or TV show you want. The detailed intro at mouse-over offers you information in measuring the worthiness to watch the video. To play the video, you have three servers to pick, and when you hit the play button, it might first redirect you to other websites. You just have to close it and come back to the playing interface to resume watching. In a nutshell, this is a favorable place to watch Bollywood movies online.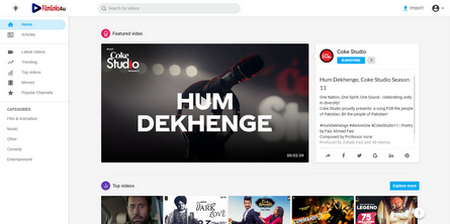 Filmlinks4u
5.Filmlinks4u
Site: https://www.filmlinks4u.site/
Filmlinks4u is another wonderful site to watch online Bollywood movies. It has the features of the website in many respects resemble that of YouTube. And the movies are, in fact, embedded in this site from other sources, like YouTube and Dailymotion. Within this site, you can be an uploader yourself, sharing videos to this site from other platforms. To find movies, you can go to the "Home", "Latest videos", and "Top videos" sections. And the "Popular channels" further allows you to subscribe to the latest Hollywood, Bollywood and many other types of videos. Here you can also find film & animation, music, comedy, and entertainment, and there are sub categories for you to choose within these sections. Almost forgot to mention that this site is also completely free and registration is optional, but there could be one or two ads/links that would redirect you to other sites.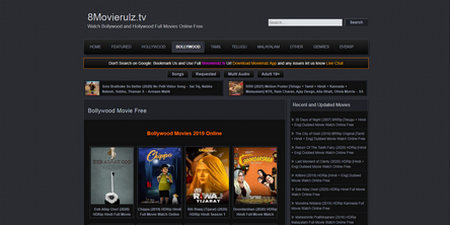 MovieRulz
6.MovieRulz
Site: https://5movierulz.li/
MovieRulz is a place to watch Bollywood and Hollywood full movies online free. Also being a registration-free site, it offers you a wide selection of Hollywood, Hindi, Tamil, Telugu, Malayalam movies including the dubbed ones and also a massive list of downloading links instead. In theory, you can watch and/or save any movie from this site. But I've found that most of the links are invalid due to many reasons, and some of which would send you to other spam sites, so be careful when clicking the links. In an overall view, it is still a worthy website to watch Bollywood movies.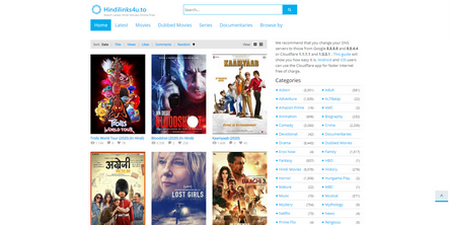 Hindilinks4u.to
7.Hindilinks4u
Site: https://hindilinks4u.lat/
Hindilinks4u is one of the best sites to watch Hindi movies online free and it is truly the hodgepodge of different types of videos, including Hindi movies, dubbed movies, TV series, and documentaries. It requires no registration and is completely free. Through a clean interface, you are allowed to view different videos in terms of detailed categories, years, actors, and actresses. This website also ranks the videos by date, title, view, likes, comments, or random, making it easier for you to locate your desired Bollywood movie. It has got several stream servers for you to turn to in case one or some of them are not accessible. A fly in the ointment is that these servers are outer links which means that you need to take further steps to stream the video on another page. But the speed is fast so that won't be a big problem. Also, it has many invisible links and ads placed on the streaming interface, you are likely to click on one and be redirected to other pages. So maybe considering adding an ad-blocking extension to your browser and be wary of the information it shows you. Apart from that, it is in the main a good place to watch online Hindi movies.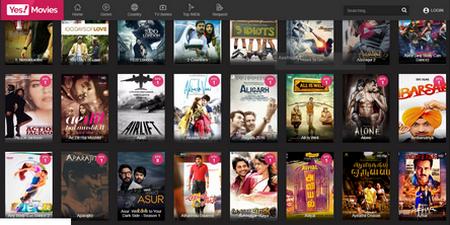 YesMovies
8.YesMovies
Site: https://yesmovies.at/country/india
Needing no registration while offering you free watching and downloading links, YesMovies is to be one of the best websites to watch Hindi movies online. It is supplied with a wide range of videos, be it movies or TV series, and has them sorted into different genres and countries. The main menu bar is stuck up to the top place, allowing you to use it handily to navigate to desired pages. And moving your mouse to certain movie cover, a brief description to the movie will appear for your reference in deciding whether to watch it or not. On the streaming page, it also gets five servers, you are free to choose any other server if one is blocked or banned. There is CC subtitle for the video, and the speed and resolution are also available for adjusting. The download link is provided under the video. It is perfect if there are no ads bothering. Yes, ads are also here both visible and invisible, so be careful when clicking your mouse. Besides this, it is genuinely perfect in every way.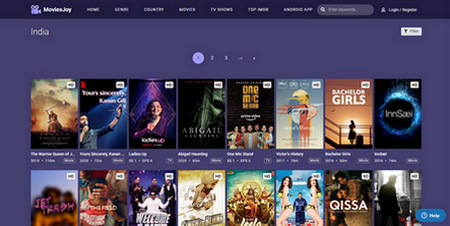 MoviesJoy
9.MoviesJoy
Site: https://moviesjoy.to/country/IN
Also needs no registration, MoviesJoy is not designed to stream Indian movies only, but provides a large collection of films/TV series from all over the world. So the Indian resources are limited and you have to use filters or search bar to navigate to the wanted pages. But the quality of the movie is guaranteed. It also presents several stream servers in case of broken links. CC and speed-changing are provided as well. A good thing about this site is that it does not have invisible ads hidden on the streaming page, which is much better than most other free streaming sites. In all, this is a site for people who are less-requiring of the Hindi movie quantity and willing to explore wonderful movies from other countries.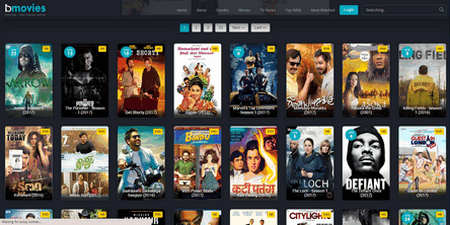 BMovies
10.BMovies
Site: https://bmovies.co/
BMovies is another free video streaming site that needs no registration. But it seems to have stopped updating since 2018. So here you can only find many old and classic Bollywood movies hence this site might be suitable for nostalgic people. The classification of the movies and TV shows is one of this website's weakness, as they are only sorted by genres and countries, insufficient compared to other sites. But the "Top IMDB" section is quite practical for users to add top-rated movies to watch-list directly, and they are all in high-definition. Like YesMovies, short information about a movie will appear when you place your mouse over the poster cover. Each movie is provided with three backup servers and CC is also available.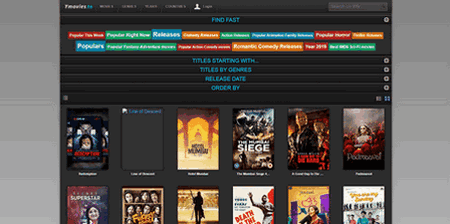 Yify TV
11.Yify TV (Not Working)
Yify TV also needs no registration and offers a large list of Bollywood movies. Like some other registration-free websites, it is again filled with annoying invisible links that will redirect you to other sites. If you could live with these spam websites, then you probably would find this website to be an extraordinary place to watch Bollywood movies online free. The movies can be reached under different categories or by directly searching the names if you have them in mind. It will also show you a brief synopsis and other basic information about the movie when you move your mouse around one film. On the video streaming page, it also has multiple servers for you to stream. The CC function is more advanced, for you could load external subtitles to the movie or search them online. Moreover, there is a subtitles settings pane where you can change the font, size, and color of the lines, and sync the subtitles with the audio if you find there is any misplacing. Below the streaming movie, it offers you all the torrents related to the movie, you can download the movie through one of the torrents if there is a need.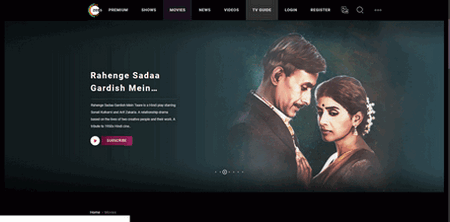 Zee5
12.Zee5
Site: https://www.zee5.com/global/movies
Zee5 is a site that offers both free and premium content. Its free content, like movies and TV shows, is limited in number but of high-definition, up to 1080P. And there are no unpleasing ads to interrupt during video playing. The sad thing is that it only allows you to watch one free movie, and the rest is only available after upgrading to the premium version.