How to Rip DVD Transformers: Age of Extinction
An Overview of Transformers: Age of Extinction
As a follow-up to the excellent Transformers film series, Transformers: Age of Extinction is a 2014 summer American science fiction action film starring Mark Wahlberg, directed by Michael Bay. Returning Transformers include Optimus Prime, Bumblebee, Ratchet, and Brains. The movie, awaited by the entire world, was on show on June 27, 2014, in IMAX and 3D. Fans may pre-order the DVD of Transformers: Age of Extinction now on Amazon at a price of $14.99. http://www.amazon.com/Transformers-Age-Extinction-Mark-Wahlberg/dp/B00L4K450G/ref=pd_cp_mov_0
The film takes place four years after the ultimate battle of Chicago. The autobots and Decepticons have vanished from the earth, and human beings also start a new life in the ruins. However, the alliance of a group of businessmen with great power and talented scientists intend to create the new transformers by catching autobots. At the same time, a struggling inventor with his daughter begin to escape from government for protecting Optimus Prime and seeking for the truth. The battle about freedom and slavery will be triggered at any moment.
Autobots Fantasy
Each boy has a dream of autobots. Still remember the Transformers unfolded on the big screen for the first time? As the latest sequel to Transformers series, without doubt, Transformers: Age of Extinction will also bring you different surprise. If you are one of millions of autobots fans obsessed in the Transformers, you must have been longing to have a close contact with it in the theater.
Although the release date of DVD is unsure, undoubtedly that many of you are ready to collect the DVD just like you treasure your autobots dream.
A Full Guide to Rip DVD Transformers: Age of Extinction with WonderFox DVD Video Converter
First you shold choose a reliable DVD converter. What is your priority need of ripping a DVD? Speed, supported format and device, or quality? Whatever you require, WonderFox DVD Video Converter is fully meet your demands.
1. Thiso is almost twice of the industry-wide average. It allows you to backup a DVD to MPG video within 5 minutes.
2. This software enables users to convert DVD to a wide range of mainstream video and audio formats such as DVD to AVI, DVD to MP4, DVD to MKV, DVD to MPG and devices like DVD to iPad, DVD to iPhone 5S, DVD to Android, etc.
3. The output is also guaranteed 0-quality-loss, to make sure the users' experience of high-definition image quality.
Now, download this DVD ripping tool below:

Step 1 Load DVD Transformers: Age of Extinction
Insert DVD Transformers: Age of Extinction to the hard drive and then launch this program. Click the button "DVD Disc".
Step 2 Select Output Format
Select an output format or device.
Step 3 Start Conversion
Click "Run" button to rip DVD Transformers: Age of Extinction. The "Settings" button is provided for your higher demands on visual or auditory effects, such as encoder, resolution, bit rate, aspect ratio, etc.
After the 3 simple steps done, the DVD movie Transformers: Age of Extinction will accompany you forever along with your autobots dream.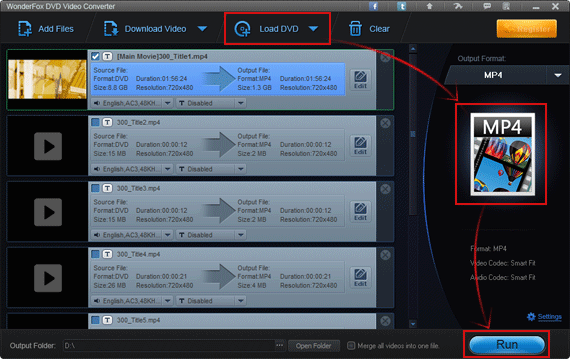 See specific conversion time below:
DVD to MPG (MPEG-2): 5~10 minutes
DVD to AVI (Divx): 25 minutes
DVD to MP4 (H264): 40 minutes
DVD to iPhone 5S: 20~40 minutes
DVD to Samsung Galaxy/Note: 20~40 minutes
Still have trouble about backing up DVD? Please feel free to Email Us >>