How to Rip DVD The Expendables 3 Step by Step
MOVIES.COM: "If you're a fan of action movies, The Expendables 3 is basically an all-you-can-eat buffet of macho awesomeness."
APUN KA CHOICE: "If you love action films, boy, you are in for a treat! Starring Sylvester Stallone, Mel Gibson, Arnold Schwarzenegger and Jason Statham, the latest trailer of 'The Expendables 3' is AWESOME."
"This summer, what team are you supporting?" This word has been on the list of hottest topics in 2014 along with Brazil World Cup's curtain-up. Yet in addition to the teams, another tough men trooper's ready to go, which is the new third work of The Expendables film series having swept across the world's big screen twice. The blockbuster, starring a collection of Sylvester Stallone, Jason Statham, Jet Li, Dolph Lundgren, Randy Couture, Terry Crews, Arnold Schwarzenegger and more top action stars, has been opened across America on August 15, 2014, with a strong return.
How to Deal with The Expendables 3 DVD Backup with a Straightforward Process
For this purpose I recommend to free download and install WonderFox DVD Video Converter to the computer compatible with Windows first.
https://www.videoconverterfactory.com/dvd-video-converter/

1. Insert DVD to disk drive and launch the DVD converter. Next click "Load DVD". Please wait for a few seconds until the program completes DVD The Expendables 3 download analyzing. 
Note: To backup DVD The Expendables 3 to your portable device, like DVD to iPhone, DVD to iPad, DVD to PSP, DVD to Android, etc, please connect it to your computer first.
2. Hit the drop-down menu of "Output Format", select an output format (AVI, MP4, MKV, WMV, MOV, M4V, FLV, etc) or output device. Go to the "Settings" to make your adjustments on video and audio quality.
3. The third and last step is to click on "Run" button to get the process of The Expendables 3 movie download from DVD started. It takes very little time.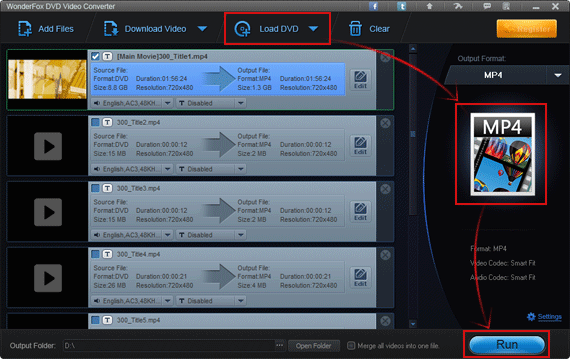 Not just The Expendables 3, you're able to rip any DVD already released or coming soon with WonderFox DVD Video Converter, e.g. rip DVD How to Train Your Dragon 2, rip DVD Maleficent, rip DVD Transformers: Age of Extinction and more.