Rip DVD Movie The Fault in Our Stars
Movie Information
Have you ever read the novel "The Fault in Our Stars" by John Green? It has been adapted into a movie and the release date is set on June 6, 2014. The story narrates the love, life, and death between two teenagers both suffering from cancer. Hazel (Shailene Woodley), a sixteen-year old girl, who has to wear the portable oxygen tank everyday because her cancer. Forced by her parents, she join a support group, where she meets the seventeen-year-old boy Augustus Waters (Ansel Elgort), an ex-basketball player and amputee, and fall in love with him. Since then, they have to face the prospect of death on a daily basis and the inevitable fate hand in hand.
Like an audience says, "You'll need plenty of tissues, or a bucket. Or possibly both", it is called one of the most genuine and moving love stories in recent American fiction, even a "guaranteed tearjerker".
What People Say About This Movie
"As teen romances go, this is powerful stuff. For a cancer weepie, it's a very rare thing indeed - an honest film that earns every tear."
- Andy Lea (Daily Star)
"Rarely have I ever had to fight so hard to hold back from sobbing uncontrollably in a theater as I did with The Fault in Our Stars."
- Josh Hylton (Dark Horizons)
"A heartfelt drama, where a pair of teenage protago nists set the stage for an ageless (and uplifting) message about human life - highlighting both its frailty and beauty."
- Ben Kendrick (Screen Rant)
Touching story always leaves endless aftertaste in people. Collecting DVD The Fault in Our Stars allows you to keep the niceness. As the current No.1 requested DVD, the release date is estimated in September. Instead of much cautions DVD preservation, ripping DVD The Fault in Our Stars to your portable devices is more preferable.
How to Rip The Fault in Our Stars to Portable Devices
A reliable DVD converter/ripper is the necessity of ripping The Fault in Our Stars. And WonderFox DVD Video Ripper is highly recommended for its super fast speed and high output quality. Next the full guide on how to back up The Fault in Our Stars will be introduced to all of you. Download it below

After install, see the 1 minute guide below:
Step 1: Insert the DVD The Fault in Our Stars to the hard drive and then launch this program. Click the button "Load DVD". You are suggested to choose the detected main movie.
Step 2: Select an output device. WonderFox DVD Ripper supports multiple pop portable devices such as DVD to iPad Air, iPad mini 2, iPad 3, iPhone 5S, iPhone 5, Samsung Galaxy and Note, Sony cell phone, Nokia Lumia, BlackBerry PlayBook, BlackBerry cell phone, HTC, Android device, etc.
Step 3: Press the "Run" button. In the shortest time, you are able to copy DVD The Fault in Our Stars.
Still have trouble about backing up DVD? Please feel free to Email Us >>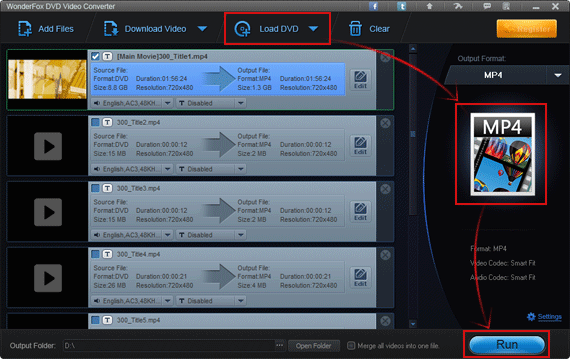 See specific conversion time below:
DVD to MPG (MPEG-2): 5~10 minutes
DVD to AVI (Divx): 25 minutes
DVD to MP4 (H264): 40 minutes
DVD to iPhone 5S: 20~40 minutes
DVD to Samsung Galaxy/Note: 20~40 minutes