Rip and Convert DVD to BlackBerry 9300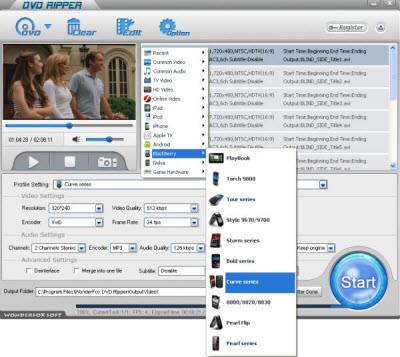 BlackBerry Curve 9300 is the popular BlackBerry mobile phone model, but it also contains nice multimedia features (especially for video/audio playback). However, if we want to enjoy some DVD videos on BlackBerry 9300, we have to rip and convert DVD to BlackBerry 9300 firstly. WonderFox DVD Ripper is a good choice for the process.
Rip and Convert DVD to BlackBerry 9300 to Enjoy DVD on BlackBerry 9300
BlackBerry 9300 is the Right Device to Play DVD
Just because the BlackBerry 9300 performs well in the field of video playing, many users may would like to play video files on it. The BlackBerry 9300 is really a great tool to play videos, the parameters of its main screen can be up to 320*240 pixels, 2.36 inches, and the sound quality of BlackBerry 9300 is also good, all of these features make this cell phone have a good performance in the filed of video playing.
However, there are still some shortcomings that restrict the video playing function of this popular cell phone. One of the most apparent shortcomings is that we can not enjoy some excellent videos on it like the DVD videos. Thus, if you want to play DVD on your BlackBerry 9300 whenever you need or wherever you go, you need a BlackBerry 9300 DVD ripper to help you rip and convert DVD to BlackBerry 9300.
Suggested BlackBerry 9300 DVD Ripper
Before we rip and convert DVD to BlackBerry 9300, we need to choose a good BlackBerry 9300 DVD ripper. There are so many DVD rippers that claim they can help you do the task. But not all of them can really perform as they advertise. You need to polish your eyes to judge which one is the real one that can meet you needs.
Among so many BlackBerry 9300 DVD rippers, I highly recommend WonderFox DVD Ripper. It is the latest DVD ripper for users, which can avoid so many shortcomings that some former DVD rippers have such as the slow ripping speed, fuzzy converted video, less supported formats and the interface is difficult to understand and so on. With WonderFox DVD Ripper, all of this kind of problems will never show again.
If you are one of such users and want to rip and convert DVD to BlackBerry 9300, this DVD ripper is the right choice for you.
How to Rip and Convert DVD to BlackBerry 9300?
If you have decided to use the WonderFox DVD Ripper, you just need several easy steps and then you can get the answer of how to rip and convert DVD to BlackBerry 9300.
Step 1: Download and run the WonderFox DVD Ripper



Step 2: Click 'DVD' button to load your DVD files.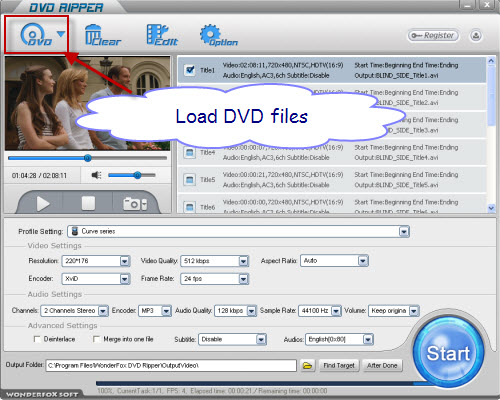 Step 3: Click 'Profile Setting' combo box to choose an output format that your BlackBerry 9300 can support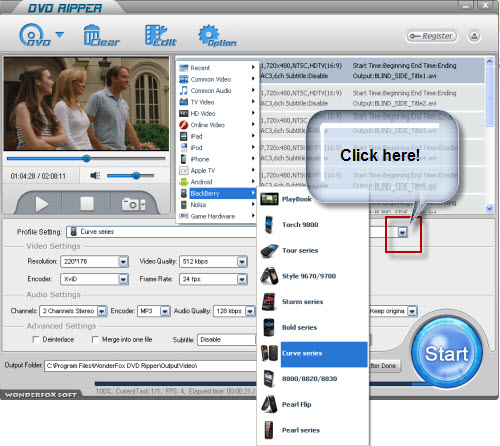 Step 4: Click 'Start' button to start the converting process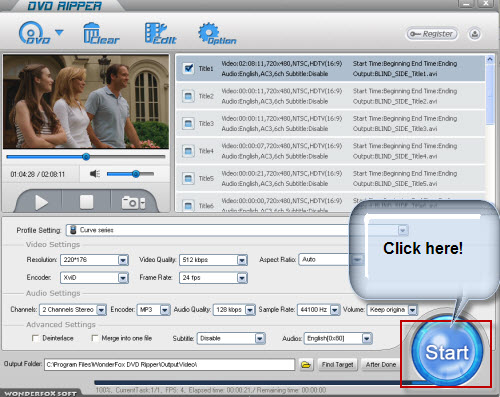 Step 5: Get the converted videos and enjoy them on your BlackBerry 9300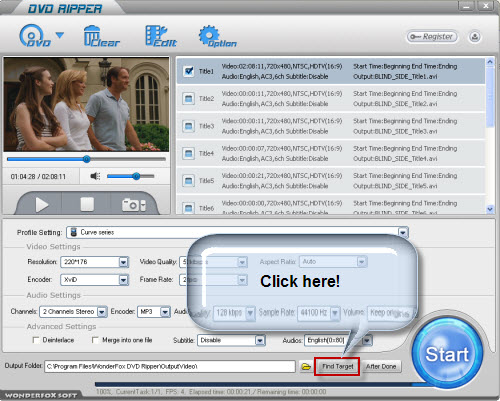 Like what you see, you only need these easy steps and then how to rip and convert DVD to BlackBerry 9300 can be solved.
So, what are you waiting for, just go for one for your BlackBerry 9300!
In conclusion, the WonderFox DVD Ripper is really a good BlackBerry DVD ripper for us to rip/convert DVD to BlackBerry compatible video formats. What's more, it also allows us to convert DVD to Nokia, convert DVD to Android based devices, convert DVD to iPad, convert DVD to iPhone... Besides, convert DVD to AVI, convert DVD to MP4, convert DVD to MKV, convert DVD to WMV and extract audio from video are also available for us with the recommended DVD ripper. All in all, with the WonderFox DVD Ripper, it will be very easy and convenient for to convert DVD to PlayBook, so as to convert DVD to BlackBerry 9900, convert DVD to BlackBerry 9800/9850, convert DVD to BB 9700 and convert DVD to BB Curve 8900 and so on.