Palm Video Converter - Convert Video to Palm Device
Although fewer and fewer people using the Palm portable devices like mobile phones in recent years, there remains a considerable part of the fans. I write this article mainly for all the Palm users and who will become the Palm users to convert any video to Palm with the Palm video converter.
What is Palm in the End
There are many related explanations to the Palm, and here I refer to the Palm OS. Palm OS is a mobile operating system initially developed by Palm Inc. in 1996 and designed for ease of use with a touch screen-based graphical user interface. Because it is an open standard, coupled with the success of Palm PDA and the strong support of developers, making the Palm OS has a large number of third-party hardware vendors, a surprising number of developers and application software. Popular point, it is a platform for you to free to explore. Palm OS is known for simple, and the Palm OS running just take fewer resource and the processing speed is fast. When the Palm digital products especially the mobile phone were launched, immediately attracted the attention of many people, many people became its fans until now. But I have to emphasize that because of PALM OS excessive pursuit of the design of low power consumption and low hardware requirements of the concept, it is difficult to integrate into the rapid development of smartphones market today.
Why We Need Palm Video Converter
Will, if you are familiar with the Palm portable devices, you will know the Palm portable devices can support many video formats such as WMV, ASF, 3GP etc. Watch movies on your Palm portable devices is a wonderful thing. But now there are many popular online videos it can't support, such as YouTube, Google video etc. The online video format is FLV. If you want to play a funny or wonderful FLV video on your Palm portable device, it can't work, how about this feeling? I think it must be very upset. But it does not matter; the video converter for Palm can solve this problem.
The Best Video Converter for Palm is Coming
According to my experience, here I recommend the Video Converter Factory Pro for you due to its professional, powerful and simple.
Video Converter Factory Pro is perfectly designed for Palm users and it also can be called the best video converter for Palm. Why? It can convert all the popular video formats (including AVI, MPEG, FLV, VOB etc,) to what Palm portable devices supported. This powerful video converter can be used for all Palm family devices: Palm Pre, Palm Treo, Palm Centro and so on. At the same time, it also offers powerful video editing function, video effect and settings for users; you can easily adjust the parameters for the output files such as video Bit Rate, audio Bit Rate, and resolution. You also can clip video, merge several videos as you like, even how to add effects to video will be easily solved. Do you have any reason to refuse it? At least, I can't find any reason t refuse it. Convert video to Palm is so easy with this Palm video converter, so what are you waiting for? Just feel free to try it, you should not miss your chance.
Screenshot of Video Converter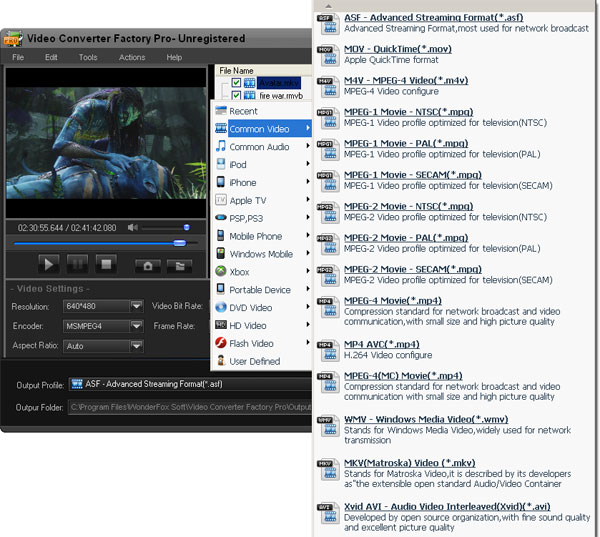 Video Converter Factory Pro can Help You Do more Video Conversion Jobs
Apart from converting AVI to MKV, Video Converter Factory Pro can help you do more. This professional video conversion software can help you convert virtually any videos to a wide range of video formats, audio formats and popular digital devices.
The input video file supported by this video converter software include all frequently used video files, Flash video files, DVD(VOB) file, etc. And, it also can support outputting all frequently used video files and popular digital devices, including AVI, MP4, DAT, MPG, MPEG, H.264, NSV, VOB, MOV, FLV, MKV, TS/TP/TRP(AVHD H.264, VC-1, MPEG-2 HD), DV, WMV, ASF,3GP, 3G2, iPhone, iPod, iPad, Nokia, HTC, BlackBerry, Zune, Window Mobile device: Pocket PC, Dell Axim X51, HP iPaq hw6500 series, etc.
For more information about Video Converter Factory Pro: Detailed information of Video Converter Factory pro >>
With Video Converter Factory Pro, you will definitely enjoy videos without any format limitation.