Motorola Xoom Video Converter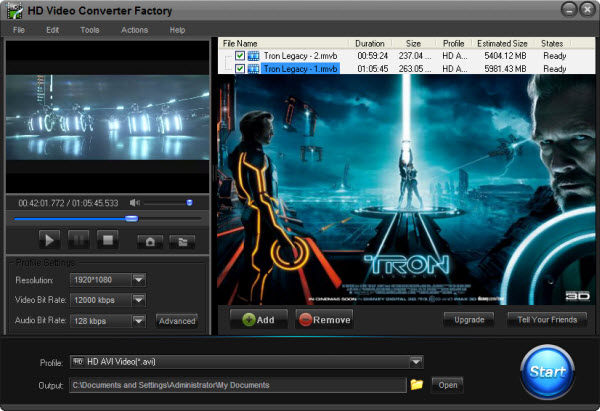 Motorola has released Xoom tablets of two generations as Xoom and its successor, Xoom 2. Motorola Xoom gains much praise from many related reviewers for its great capability. It is indeed true that Xoom can be treated as a good choice for common purposes of the tablet. The 10.1-inch screen with 1280*800 pixels is really great for video enjoyment. However, that is not enough for the ideal video playback on Xoom. You also need a Motorola Xoom video converter to remove the limitations of video format and resolution. Once you convert video to Motorola Xoom as proper ones, you will enjoy more convenience of video freely.
How to Enjoy Videos on Motorola Xoom Freely
Even Motorola Xoom gets great hardware condition and powerful functions, it can still be a big problem for Xoom to play various common video files, such as downloaded AVI video, YouTube videos, self-made HD videos. Due to limitations of formats and parameters, it can not support video playback perfectly. At this time, you do need convert video to Motorola Xoom with suitable format and profile settings. The Motorola Xoom video converter is the indispensible choice for you.
All you need to enjoy videos on Motorola Xoom/Xoom2 is to convert the video to supported MP4 file format with 1280*800 pixels, which can ensure the quality original video effect. We may get various kinds of videos in real life, if you are trying to play videos on Motorola Xoom freely, you just need convert videos to standard supported files for Xoom. Here I will show you more details about the Motorola Xoom video converter.
The Video Converter for Video to Motorola Xoom Conversion
A related video converter is the best solution for playing video on Motorola Xoom freely. Just like what I mentioned above, you can enjoy every video on Motorola Xoom once converting them to the supported videos for Xoom. Here I would like to share some main factors about a Motorola Xoom video converter:
1. Parameter settings. This is the most important factor for video conversion. Resolution, format, encoder and frame rate can decide the output video quality directly. You can only get the quality videos with proper settings.
2. Fast speed and handy operation. They can provide you with time-saving video conversion.
3. Safe conversion. This matter protects your Xoom/Xoom 2 and PC from viruses, spywares or adware.
The video converter with the listed features can ensure quality output video effect for you. They can be seen as the criteria for a qualified Motorola Xoom video converter.
HD Video Converter Factory Pro can convert video to Motorola Xoom. The output profiles include Motorola Xoom and many other devices. The output video converted into merely the exact parameter settings can be supported by Motorola Xoom/Xoom 2 well. Fast speed and handy operation save much time for you. It is a perfect one to deserve a try!
Handy Process to Convert Video to Motorola Xoom
You can handle this wonderful Motorola Xoom video converter with several clicks. Here is the detailed guide to the video conversion:
Download the HD Video Converter Factory Pro and install it.
Step1: Run the software and add the target video file at first.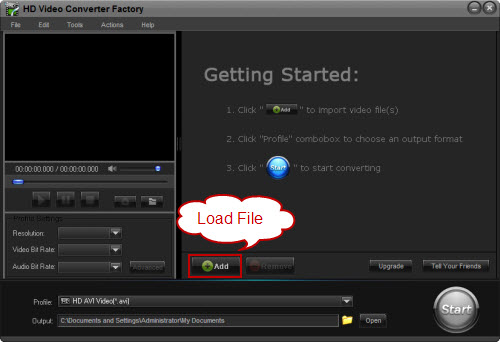 Step2: Choose "Motorola Xoom(2)" as the output device. The parameter settings are predetermined well.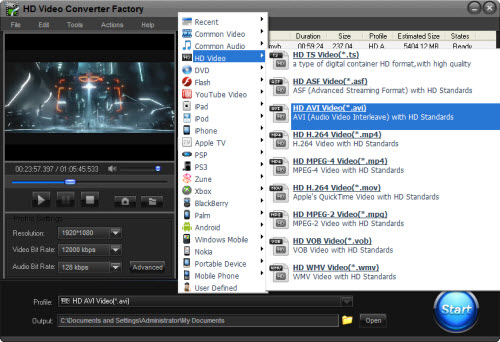 Step3: Choose the output Folder as your wish. (Optional)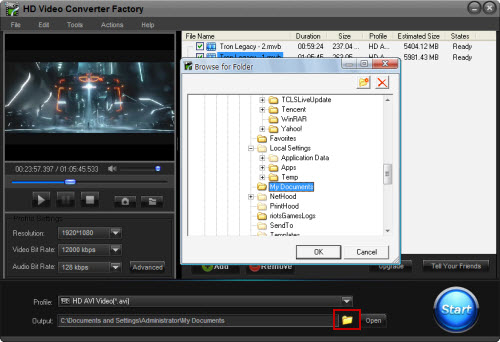 Step4: Click "Start" to launch the whole converting process.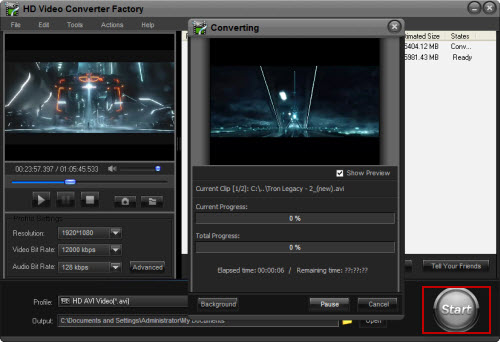 Step5: Transfer the converted video into your Motorola Xoom/Xoom 2, then you can enjoy video on Xoom freely.
Hope this tutorial can be helpful to you. You can also check the user guide of HD Video Converter Factory Pro.
More Tips and Guides about HD Video Converter Factory Pro
HD Video Converter Factory Pro is an all in one video converterting software. This HD Video Converter builds in 150+ video formats, it can convert nearly all popular videos besides the SD video and HD video.
So, it cannot only help you solve how to convert MP4 to MKV, but also it can help you solve nearly all video conversion problems. For example, if you want to convert SD video to HD video, HD Video Converter Factory Pro will help you do it easily. And, if you want to convert videos from your Camcorders or DV like Sony HD camcorder, Cannon HD Camcorder or some other camcorders, this HD video converter will also help you convert them to your desire video formats without quality loss while in a high converting speed (Featured as Camcorder video converter), for example, it can help you convert MTS video, convert video taken from your DV (Featured as a DV file converter), etc. What's better, with its built-in 150+ video formats, you can convert virtually any video to a wide range of video formats, audio formats and popular digital devices with optimized presets.
If you are a video lover and would like enjoy videos without format limitation, HD Video Converter Factory Pro is one of your best choices.