How to Rip DVD to Windows Movie Maker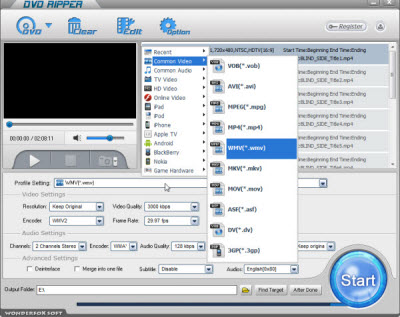 Windows Movie Maker is a video creating/editing software application, included in Microsoft Windows Me, XP, and Vista. It contains features such as effects, transitions, titles/credits, audio track, timeline narration, and Auto Movie. New effects and transitions can be made and existing ones can be modified using XML code. Windows Movie Maker is also a basic audio track editing program. It can apply basic effects to audio tracks such as fade in or fade out. The audio tracks can then be exported in the form of a sound file instead of a video file. To convert DVD to Windows Movie Maker is a good way to edit movie or music as we like. Then, let's figure out the rules we should follow when we choose a DVD Ripper for Windows Movie Maker and how to rip DVD to Windows Movie Maker.
How to Rip DVD to Windows Movie Maker
Choose A Good DVD Ripper for Windows Movie Maker
The formats Windows Movie Maker accepts for import are .WMV/.ASF, .MPG (MPEG-1), .AVI (DV-AVI), .WMA, .WAV, and .MP3. Additionally, the Windows Vista Home Premium and Ultimate editions of Movie Maker support importing MPEG-2 Program streams and DVR-MS formats. Importing of other container formats such as MP4/3GP, FLV and MOV, MIDI, AIFF, AAC and SWF are not supported even if the necessary DirectShow decoders are installed. So a nice DVD Ripper for Windows Movie Maker must combine extracting function with converting function. And it should also has the following features:
1. Fast converting speed - Conversions should happen at a reasonable quick speed. It shouldn't take forever to rip DVD, but faster is not always better. Keep in mind that your system has a lot to do with the speed of conversion.
2. High Quality - The audio should be just the same as in original.
3. Easy to Use - It is true that the fewer the number of click, the easier the DVD Ripper is to use. One thing you should require of your software selection is an easy-to-access output folder. Even a perfect conversion is worthless if you can't find the converted file.
3. Features - It should offer many practical features. The most common feature is output dimensions. This feature allows you to determine the sound's effects. But since there are so many more possible features out there, don't be satisfied with mediocrity.
4. Support - Having multiple forms of help is important. But not all support is equal. Does the ripper offer in depth, can you receive friendly, effective service? Great help and support is essential.
According to the rules above, I suggest using WonderFox DVD Ripper.
How to convert DVD to Windows Movie Maker with WonderFox DVD Ripper
WonderFox DVD Ripper is the powerful and professional ripper software. It is the good solution which is also easy to use for ripping content of DVDs to the formats which Windows Movie Maker accepts. The ripper software would also ensure the quality of output audios. Then let's learn how to rip DVD to Windows Movie Maker by using WonderFox DVD Ripper.
Steps:
1. Download and run WonderFox DVD Ripper.



2. Load DVD.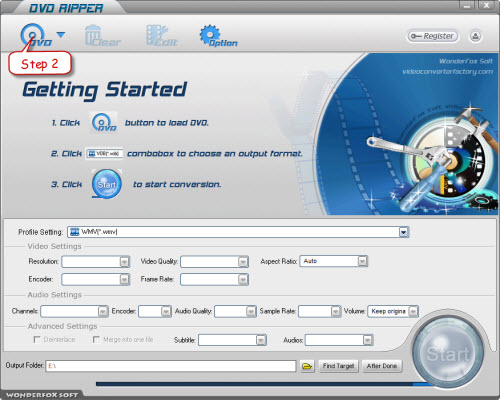 3. Choose the part you want to rip.
4. Set your profile.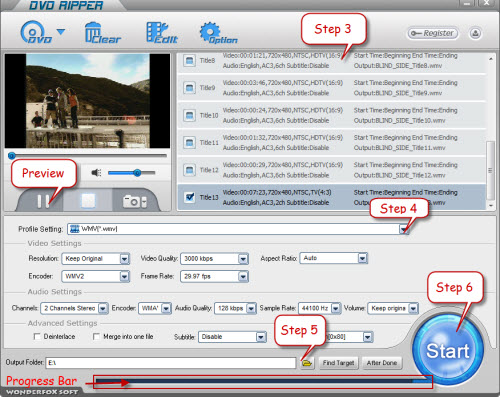 5. Select the output folder.
6. Click the 'Start' button, then wait the blue progress bar fill with the line.
In conclusion, the WonderFox DVD Ripper is really a good choice for us to rip/convert DVD to video. The DVD ripper runs well on Windows, so, we can easily convert DVD to PC, convert DVD to Hadr Drive, copy DVD to tablet, convert DVD to cell phone with it. Furthermore, the software also allow us to convert DVD to AVI, convert DVD MKV, convert DVD to WMV, convert DVD movies to MP4, rip DVD files to audio; and besides, convert DVD to iPad, rip DVD to file to iPhone, convert DVD to Nokia video type, convert DVD to BlackBerry video formats and convert DVD to Android devices are also available for us.