How to Convert Ogg to BlackBerry 9300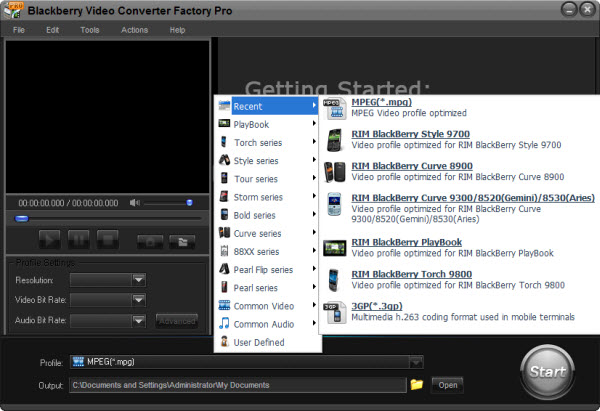 How to Convert Ogg to BlackBerry 9300 to Enjoy Music on Curve 9300
Great Audio Playing Capability of BlackBerry 9300
BlackBerry 9300 is a commercial and smart mobile phone with great entertainment features. As for the audio and video playing ability, it shows the power sufficiently. Well, I would prefer to focus on its audio playing capability this time. The alert types of BlackBerry 9300 are vibration style, polyphonic(32), MP3 ringtones. It can play music sound via loudspeaker and the output tone is pretty good! Besides, BlackBerry 9300 supports the 3.5mm jack and equips with dedicated music keys. It can be said that BlackBerry 9300 is designed for music playing in some aspects. It is really convenient and enjoyable for music playing with BlackBerry 9300. But, nothing is perfect. BlackBerry 9300 users may meet the problem that you can not play Ogg, a music file format, on this popular cell phone. At this time, it is necessary for you to know how to convert ogg to BlackBerry 9300 if you want to enjoy music better.
About the Ogg
Ogg is a kind of newly popular music file formats to music fans in recent years. It is kind of compressed audio file that uses free. The creators of the Ogg format state that it is unrestricted by software patents and is designed to provide for efficient streaming and manipulation of high quality digital multimedia. It seems similar to an MP3 file, but sounds better than an MP3 file of equal size, and it is supported by many audio players and some portable music players in PC. As the limitation of mobile phone, BlackBerry 9300, like many other cellphones, can not play Ogg files. Users need some pro BlackBerry 9300 audio converter to solve the problem how to convert ogg to BlackBerry 9300.
The Way to Select Related Software to Convert Ogg to BlackBerry 9300
It is not easy to pick out an excellent audio converter for BlackBerry 9300. Here I suggest the blackberry 9300 audio converter named BlackBerry Video converter Factory Pro. It gains such great advantages in the aspect of audio converting and can solve the problem that how to convert Ogg to BlackBerry 9300 easily. The below passage will show you the key features of BlackBerry Video Converter Factory Pro.
1. Operating. It is very easy to handle the audio converter. Users can spend less time on converting process and guide learning.
2. Formats. It supports all the audio formats in daily life and output formats are pretty suitable for general use.
3. Converting quality. It is pretty reliable to convert different kinds of audio files and the output quality can meet high standards.
4. Batching conversion. It is pretty convenient to support batching conversion and saves you lots of time.
5. Safe converting process. It doesn't include any spywares or viruses, which make the users can employ relievedly.
Steps for Converting Ogg to BlackBerry 9300
Here I take BlackBerry Video Converter Factory Pro as a guide for the converting steps.
Step1. Download BlackBerry Video Converter Factory Pro and install in your PC.
Step2. Load the Ogg files and select the output format in 'profile' setting.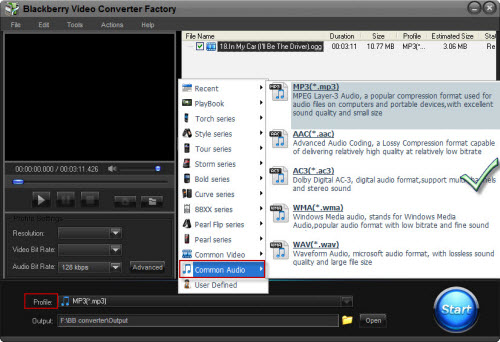 Step3. Click 'START' button to launch the converting process.
Step4. Open the output folder to get the converted files.
Related screenshot: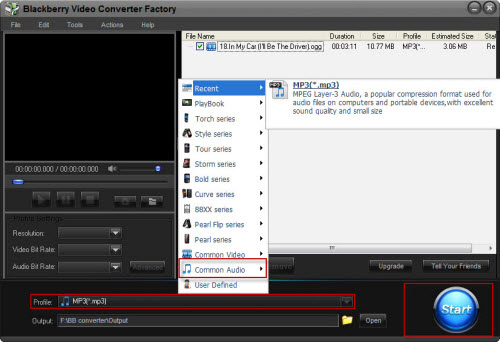 As you can see, everything is so easy if you get a professional audio converter for your BlackBerry 9300. Have a try!
Screenshot of BlackBerry Video Converter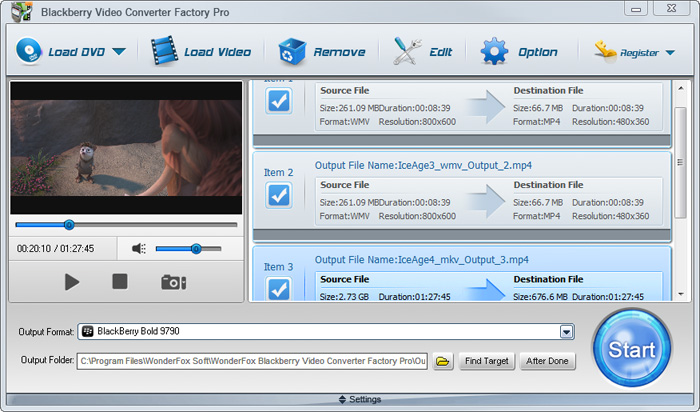 BlackBerry Video Converter Factory Pro can Help you Do More �Related Tips and Tutorials
Like the passage mentioned above, BlackBerry Video Converter Factory Pro is specially designed for BlackBerry devices, it can convert virtually all video and audio files to nearly all BlackBerry devices with optimized presets. (More details about BlackBerry Video Converter Factory Pro and its Format References >>)
In the below passage, I will show you how to convert Flash videos, including FLV videos and online YouTube videos to BlackBerry supported videos.
For users who want to enjoy FLV videos on BlackBerry devices, BlackBerry Video Converter Factory Pro can help you convert FLV to BlackBerry Style 9670, convert Flash video to BlackBerry Storm series, convert flash video to Blackberry 9700 and much more.
And, for users who want to play MKV files, including HD MKV files, BlackBerry Video Converter Factory Pro can easily help you convert MKV to BlackBerry PlayBook supported video, help you effortlessly convert MKV to nearly all BlackBerry cell phones, such as converting MKV to BlackBerry Curve 8900 and converting MKV to BlackBerry Bold 9700.
In conclusion, BlackBerry Video Converter Factory Pro is definitely the best chocie for you to convert video to BlackBerry devices supported videos. If you want to know more tips and tutorials about BlackBerry Video Converter Factory Pro, please see the BlackBerry video converting tips center.