How to Convert Flash to Video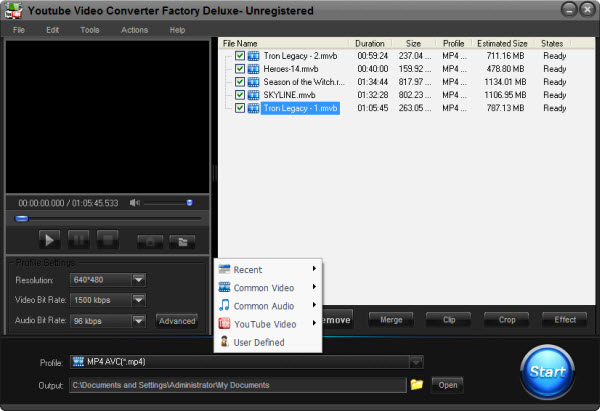 In the recent months, I have found that many people searched the help of how to convert flash to video while I visited some forums. Here I have some suggestions about how to convert flash to video, but first we have to know why.
Why We Have to Convert Flash to Video
Mostly, flash is also kind of video, and the "flash" here we mentioned means the video formats in FLV or SWF. When we download some videos in these kinds of formats from some web, and may it is worthy of keeping. But different people will have different ideas; someone like to keep them in AVI, MP4, MKV, FLV, etc. someone may like to VCD or DVD, and may somebody would like to transfer them in MP4 to some mobile media player for enjoying�Then we have to select a video converter to convert flash to the video formats we like.
How to Select Video Converter
Here I provide some suggestions from my experience for selecting video converter:
1) The formats, does the video converter support the input format FLV or SWF and how many output formats it supported?
2) The speed and the quality, fast converting speed can save the time and high quality make you enjoy videos comfortably.
3) Updating, if you want to keep one video converter for long-use, updating is very important for you.
And now the video converter I used is Free Flash Video Converter Factory. It serves me to convert flash (FLV or SWF) to video conveniently and I have used it for several months but didn't have any problem. Besides, Flash Video Converter Factory Pro is also available; it serves powerful editing function (to merge, clip, and crop) and effect. At last, I will show you the process to convert flash to video.
How to Convert Flash to Video
I will take Free Flash Video Converter Factory for example to introduce you the process:
1. Select and download the video converter and install it.

2. Click "Add" to import video file(s).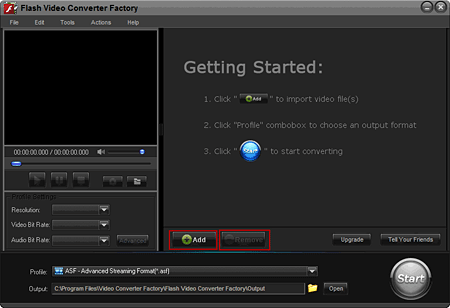 3. Choose an output format: 3-1, Click 'Profile' combo box to choose an output format. > 3-2, Common profile settings, In most cases, we provide multi-options for each setting. > 3-3, More advanced profiles settings.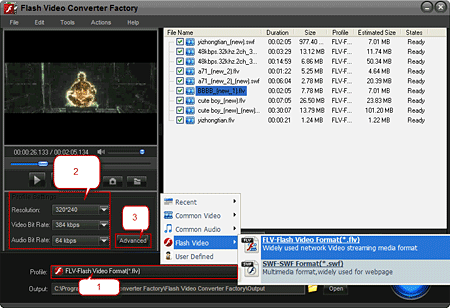 4. Click "Start" to converting.
5. Then you just have to waiting for the process done.
As we can see, with Free Flash Video Converter Factory, the whole converting processes are so simple, just go for one, you will surely enjoy more. So, after you learned the whole passage, if you got your answer, I will feel pleased for helping you.
Screenshot of Free Flash Video Converter Factory