How to Rip and Backup DreamWorks DVD Movie Home 2015 for Your Kids

Have you already watched the trailer for Home 2015? It is really, utterly cheerful, colorful and wonderful! From it, we can feel the fantastic chemistry of a friendship between a loveable misfit from another planet and an adventurous girl named Tip who is on a quest of her own and this series of comic adventures as on the spot. If you're used to the type of some animations where the creator put small jokes in to entertain the adults, this isn't it. Home is all for children. Also, Jim Parsons, Rihanna, Jennifer Lopez made a surprise dubbing in the exciting film.
DreamWorks animations always project positive images and convey a lot of positive energy to children. Like "How to Train Your Dragon", "Kung Fu Panda", "Turbo". In Home movie 2015, it tells us the true worth of kinship and friendship, the most precious things in the world.
3 Steps to Rip and Backup Home Movie
If you want to enjoy DVD Home with your child for anytime, anywhere viewing, you'd better rip DreamWorks DVD movie Home. With a great DVD converter, you can easily rip and backup Home movie at one go without interruption.
The following guide will show you the easiest and fastest way to rip and convert DreamWorks DVD step by step.
Tip: Before Home 2015 dvdrip, you should download WonderFox DVD Video Converter to your computer and install it.

Step 1: Launch the converter and add DVD information to it by clicking the "Load DVD" button.
Step 2: Choose an output format like (HD) MP4, AVI, MKV, WMV, FLV, MOV, or a certain device, say, iPhone 6, 6 Plus, iPad Air 2, iPad mini 3, and any more.
Step 3: Click the big blue "Run" button to start to rip and backup Home movie.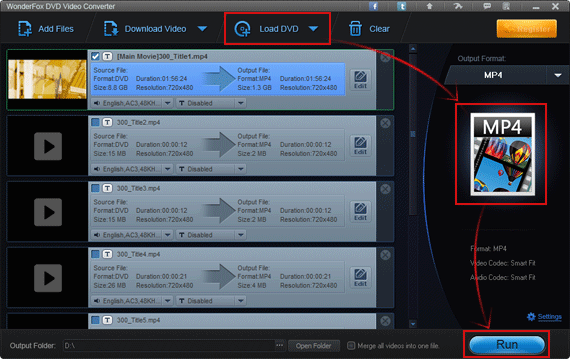 See? Ripping DVD Home with WonderFox DVD Video Converter is so safe, effective, and effortless. Let's do it, starting downloading the HD video converter for free.
Tips: This DVD converter is an online video downloader, and a video player as well. You can download the trailer for Home 2015 from YouTube and watch it directly.