How to Rip and Copy DVD Guardians of the Galaxy
It was a strange conjunction — the cynical "lord", the cold woman killer, the impetuous bulky fellow, the shrewd racoon and the loyal tree man. They formed themselves into a team accidentally after the lord stealing a sphere of mystery and being monstrously hunted down, and struggled to save the entire galaxy. More than the crazy funny plots and dialogues, Guardians of the Galaxy was swept up in the mood of warmth. The plots, characters, visual splendors, and the music all drew lavish praise from audience. After watching the film, you'll find that life needs love, friendship and family to stuff.
James Gunn has confirmed on his Twitter page that Guardians Of The Galaxy will arrive on DVD from December 9th in the US. "I've seen this movie 3 times tomorrow will be my 4th (avatar all over again lol) and it's the best marvel movie to date!" If you're bound to feel the same way, just collect the DVD. What is beautiful to explore the marvels of Marvel Guardians of the Galaxy. It's going to be a while before your Guardians of the Galaxy DVD's arrival, why not learn the simplest method for rapid Guardians of the Galaxy DVD rip and copy first? So what is the method?
How to Easily Rip and Copy Guardians of the Galaxy DVD in 3 Steps
WonderFox DVD Video Converter provides the most professional and efficient solution to rip and copy any protected DVDs including Guardians of the Galaxy DVD. Here you can have a free download of this DVD converter.

Firstly: load DVD
After placing Guardians of the Galaxy DVD to your PC DVD-ROM, launch this app and load the DVD. This converter would automatically detect the correct title to rip Guardians of the Galaxy full movie.
Secondly: choose output format/device you need
Click to open the drop-down list box of Output Format. Alternatively, you can also set the output device as whichever your handheld device like iPhone 6, 6 Plus, iPad Air, Samsung Galaxy Note 4, HTC One M8, etc or widescreen TV. If you have any further demands, press "Settings" to customize your output video.
Thirdly: run conversion
Click "Run" button to start DVD Guardians of the Galaxy movie backup. Only a few minutes are needed for your conversion.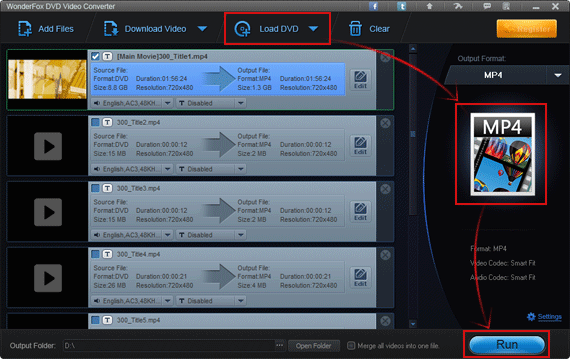 A sequel has been announced and is scheduled to be released on July 28, 2017. Once you know how to rip and copy Guardians of the Galaxy DVD, backing up the sequel to this movie, and any other Marvel movies like Captain America: The Winter Soldier, Thor: The Dark World, Iron Man 3, The Amazing Spider-Man 2, X-Men: Days of Future Past, is a breeze.