OBS Studio - The Best Game Recording Software for PC
OBS Studio is free and open-source for live streaming, video recording, and video editing. It has a stylish interface with a set of configuration options that are quite intimidating to new users. You might get perplexed by its layout and features and don't know what to do first, yet deep learning with this software will bring you to see its charm and worth. The biggest highlight of OBS is that it has a wide range of settings for you to customize the software to your taste. You can choose to get your video encoded with either CPU or GPU (the usage on CPU might affect your gameplay while GPU might generate a bigger file) and output your video in MP4, MKV, MOV, TS, and FLV. Also, external plugins can be added to improve its performance.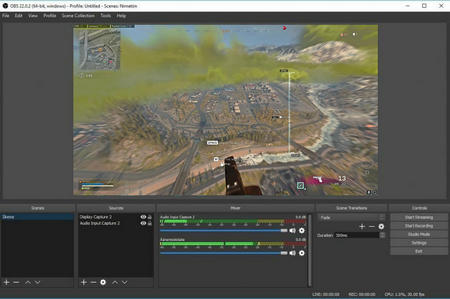 Streamlabs OBS - Advanced but Simplified OBS Studio
This is another free and open resource used for streaming and recording. It is developed from OBS Studio but get rid of the complicated stuff in OBS, so it has a better user experience than OBS Studio and more advanced functionality. Once you started the Streamlabs OBS, it will automatically pre-configure all settings in terms of your system and prepare you to stream and record games directly. You can then link to your Streamlabs account and import additional tools to enhance user experience.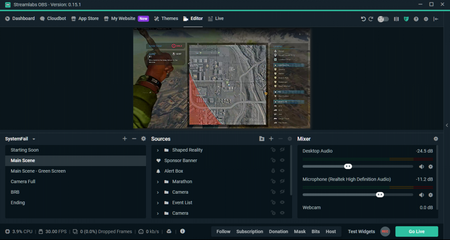 Bandicam - All-Around Gameplay Recorder
Bandicam is no stranger to us for it has long established its reputation as a professional recorder for PC. It has three modes - Screen Recording mode, Game Recording mode, and Device Recording mode. Under the gaming mode, it can directly record the target using the DirectX/OpenGL/Vulkan graphics technologies, and FPS is displayed on the left corner while in-game. Besides game recording, its Screen Recording mode is also powerful in capturing other activities in a resizable window, like recording streaming videos. The most amazing part of Bandicam is its built-in compression feature that produces video in a small size while preserving the quality. The multiple audio stream recording function also allows you to record game sound and microphone simultaneously.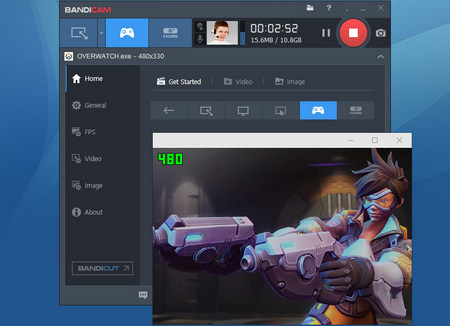 Nvidia Shadowplay - Optimal Gaming Screen Recorder for NVIDIA Users
If you are using Nvidia GPU, it is highly suggested that you try the Nvidia Shadowplay which is particularly made for Nvidia users to operate gameplay streaming and recording. The best part about ShadowPlay is that it uses the GPU (Nvenc) to handle the video encoding, so it won't eat up your system resources, instead, it ensures your smooth gaming experience. The software can record high-resolution videos up to 4K at 60 frames per second so it can capture the details more clearly.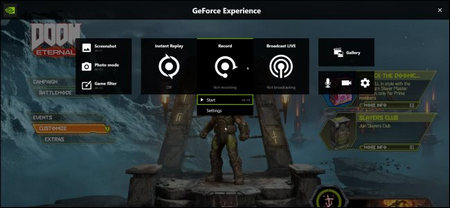 Radeon ReLive - Nice Shot for AMD Users
Radeon Relive, or AMD ReLive as called earlier, is an equivalent to Nvidia Shadowplay and differs from the latter in the GPU it seized on. Similar to Nvidia Shdaowplay, Radeon Relive takes advantage of the AMD card in your rig and saves the CPU for other use. The features it has are also like that of Nvidia, but its performance falls short in some respects. When to record gameplay at 4K 60fps, users tend to complain about Relive's dropping frames. But it boasts another feature which is to upscale your video quality so that you can get a 4K video even if you are recording a 1080P material.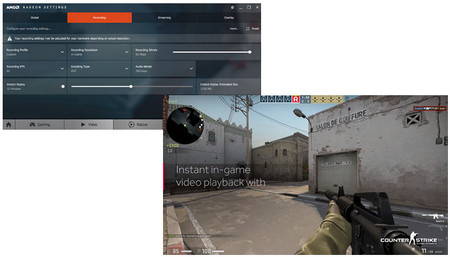 Fraps - Classic Yet Robust Recorder for Gamers
Fraps is an old product that carries a simple aim to record screen and capture screenshots and benchmark records. It does not have many fancy features as the others, yet such simplicity is its strength. Users can follow straightly its present options to customize the settings and use the hotkey to record games under the Movies section. It can record games using DirectX and OpenGL graphic technologies and output results in large but high-quality files. FPS varies from 30 ~ 60, but you can manually insert an FPS that's even below 30. The cursor can also be shown on the screen like OBS. Another highlight of this lite-ware lies in its ability to record real-time system sound and external input.