How to Watch DVD Fury on iPhone 6 Plus
User Reviews
Loud, intense, violent, relentless, Fury doesn't stop until the credits roll, thanks to Ayer's cracking direction and a committed cast. The best WW2 movie in some time.
- By James Mottram, Total Film
David Ayer's film succeeds in creating a claustrophobic mood, prising us into the Sherman tank in 1945 Germany with its melting pot of tension and mix of personalities.
- By Louise Keller, Urban Cinefile
War & Honor & Glory
The grand war scenes, combined with the bravery of soldiers in combats, and the emotional punch make Fury movie 2014 a milestone in the history of cinema. The story is set in World War II and its cast embraces Brad Pitt, Shia LaBeouf, Logan Lerman, Jon Bernthal, Michael Peña, Jason Isaacs, and Scott Eastwood. The movie hit the big screen on October 17, 2014.
For such a movie spectacular, nothing compares to sensing the visual - shocking pictures transmitted by the big screen in movie theatres. While what if you miss the screening? You'll actually be able to rip DVD Fury to iPhone 6 Plus and then watch it. The 5.5-inch large screen will give you a cinematic visual effect when watching the DVD Fury. Note: Fury film DVD release date announced for January 20, 2015.
Hot Movies: The Maze Runner, The Equalizer, Guardians of the Galaxy, The Expendables 3, Maleficent, Transformers: Age of Extinction, The Fault in Our Stars
How to Watch DVD Fury on Your iPhone 6 Plus
The first please download the DVD Converter tool below:

1 Load DVD Fury
To start with, you should download and install the Fury DVD movie ripper – WonderFox DVD Video Converter, and insert DVD Fury to your PC DVD drive. Then import the DVD source by pressing "Load DVD". This DVD ripper would remove the DVD Fury copy protections and recognize the main movie automatically.
2 Choose output device as iPhone 6 Plus
Click to open the drop-down list box of Output Format. You're guided to set the output device as iPhone 6 Plus. If you have any further demands, press "Settings" to customize your output video.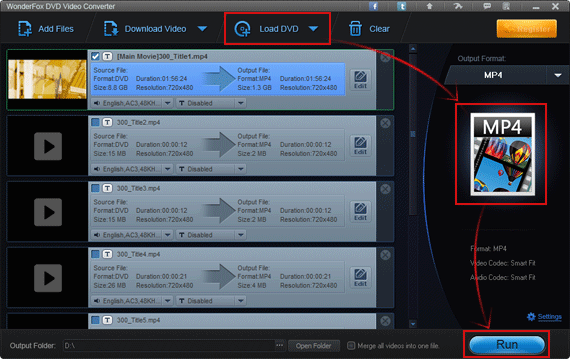 3 Run conversion
Click "Run" button to begin to rip DVD Fury to iPhone 6 Plus. Only a few minutes are needed for the Fury DVD copy.
I believe watching Fury movie DVD on your large iPhone 6 Plus is sure to be a feast for the eyes. With WonderFox DVD Video Converter, you can easily rip movie from DVD Fury and stream it into your iPhone 6 Plus in only 3 steps.
More Info about WonderFox DVD Video Converter
Besides the powerful ripping function, you can even download Fury movie 2014 related videos from YouTube, Facebook, Vimeo, Liveleak, Metacafe and other popular video sharing sites. Optionally, you may also edit DVD Fury by the functions of merge, trim, crop, and adding special effects before DVD conversion.