Free Video Converting Software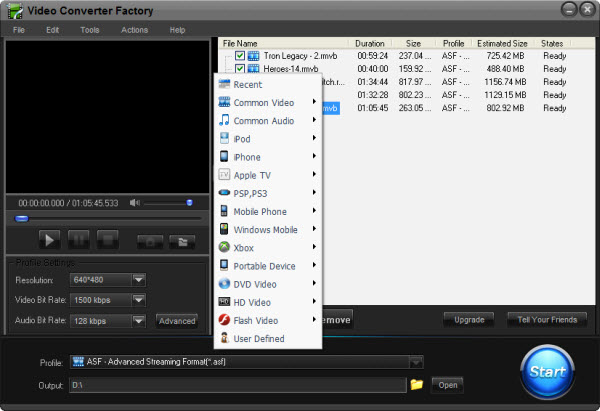 Converting Videos among Pop Formats
Nowadays, diverse digital devices are used by almost every family. With the advance of the internet technology, we can use our digital devices to download various videos we like from the computer. However, there are some attendant questions - How can we play them on our digital devices properly? Fortunately, free video converting software has already come which can help you convert the original format to the desire format that can match your devices accordingly.
The Method of Choosing the Free Video Converting Software
Here are some pop formats which are commonly used today: AVI, MOV, WMV, MPEG, FLV, MP4 etc. You should clear that what kind of formats you would like to deal with or what video formats your digital device support, then choose the right one to convert the original format to the desire formats.
What's more, you should know how fast this free video converting software converts and whether it is easy to use. Fast converting and simple operation can save your time and give you pleasure. User-friendly interface is also an important factor we should take into consideration. You'd better clear that it can works as your will.
The third thing is if the free video converting software is free and clean. You had better choose free video converting software which is without any virus, adware, spyware. Here I suggest a free software for you - Free Video Converter Factory, it is one of the best free video software I have ever tried.
Lastly, for some users, they probably tend to use software that has the most common settings for its default settings, which is still powerful enough for you to customize its features accordingly. Thus, you can change video file size, effect video, etc.
Finally, I recommend Free Video Converting software for you - Free Video Converter Factory, which have all the functions and characteristics above. It is very easy to use for users of all levels with user-friendly interface. This free video converting software also features the ability to its advanced functions, like grabbing screenshot, separating audio from video, setting parameters and changing output video quality and size. With the free video converter software downloaded and the video converted, you may easily get the specific video format watched on your devices.
How to Convert Videos with Free Video Converter Factory
The passage below will help you know how to convert videos with Free Video Converter Factory, I think it is not difficult for you to finish this task.
1.Importing Files - You are allowed to import video or audio files by clicking "Add" button on the interface of this video converter.
2. Choose an output format from the profile combo box on the interface of this video converter.
3. Click 'Start' button on the interface of this video converter to begin the converting process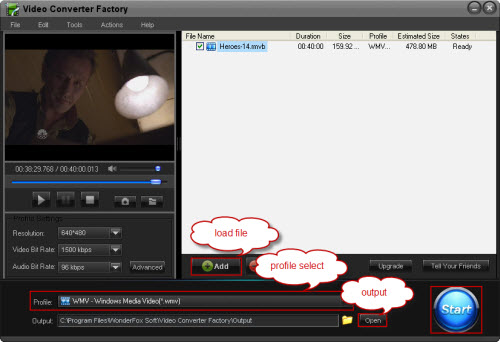 You should only follow these three steps and then you can finish the converting task, you must feel that it si very easy for you to do this job.