Free iPhone Video Software, Convert Video to iPhone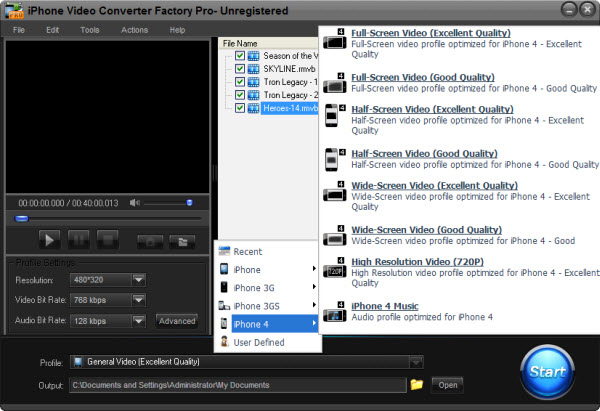 This is is iPhone

From the day iPhone was born in 2007, it's not just a phone but also a PDA for its free and convenience to surf on the internet and the function of multimedia video playing. As a multimedia video player, it can let you to enjoy videos and audios freely and conveniently no matter when and where. But a phone is still a phone, even as a multimedia video player. For its multimedia video playing function, there lies some limitation about format. It can just support MP4 and MOV. So you have to get iPhone video software first. But would you like to choose free iPhone video software?
Do you Like Free iPhone Video Software
Once, there has an investigation on the internet among the United States, would you like to choose free iPhone video software or not? The answer of the majority who has been questioned is "No". In their opinion, the free iPhone video software has so many drawbacks, such as: 1) Unprofessional and inefficient; so the users will waste lots of time on the process. 2) Low quality; so the users cannot enjoy their videos so well just because of this. 3) No update; many free iPhone video software just for one-off using, even not, without updating, some bugs or some new problems about the software cannot be solved by the users themselves...... The problems lied there, but there may still have some good one.
Some Professional Free iPhone Video Software
I'd like to choose free iPhone video software, it's convenient, and it's free. I have ever used free iPhone video software - Free iPhone Video Converter Factory, I think it's a good one; at least it is not so bad. It provides fast converting speed and high quality, and it supports updating for a lifetime. It also can extract audio from videos to MP3, M4A, WMV and serve you to convert your video to some other formats as you like.
Free iPhone video software has its own limitations, but there still has some good one among the mass of free iPhone video software and it also helpful. If you don't mind, free iPhone Video Converter Factory is worth using. Try it!
Screenshot of Free iPhone Video Converter Factory