How to Rip DVD Draft Day
Based on a true story of National Football League (NFL), it tells the story that the how Cleveland Browns general manager exert him in the struggle for building it to a powerful force. It is a film that knows how to tell a good, traditional story and tell it well. Similar to a well received film in which starred Brad Pitt in some ways, "Draft Day" is regarded as the football version of "Moneyball".
Reviews for Draft Day
"Much like "Moneyball" did for baseball, "Draft Day" exposes the harsh realities and competitiveness of another major league sport."
- Jeanne Kaplan
"It's only April, but after watching "Draft Day" you'll be ready for some football."
- Mark Ellis
"Sports fans will cheer for intense football drama."
- Sandie Angulo Chen
For American football fans, apart from joining the match, watching football drama films is a favorable way to come into contact with the sport they love most. The Longest Yard, Invincible, Jerry Maguire, are the best representatives. Draft Day, released on April 11, is the next one. It is said that Blu-ray/DVD release date of this movie is September 2, 2014. After few months, collecting DVD Draft Day becomes reachable. Meanwhile you may face some limitations of it. You are unable to enjoy the movie without any video playback device, and you are not sure to keep the DVD disc in good condition. Thus ripping DVD Draft Day to your portable devices is quite necessary.
How to Rip DVD Draft Day with WonderFox DVD Video Converter
First please download it from button below:

Step 1: Insert the DVD Draft Day to the hard drive and then launch this software. Click the button "Load DVD". You are suggested to choose the main title of this DVD which has been detected.
Step 2: Select an output format or an output device. The "Setting" button is provided for your higher demands on visual or auditory effects to rip DVD Draft Day, such as encoder, resolution, bit rate, aspect ratio, etc.
Step 3: Press the "Run" button. In the shortest time, you are able to copy DVD Draft Day.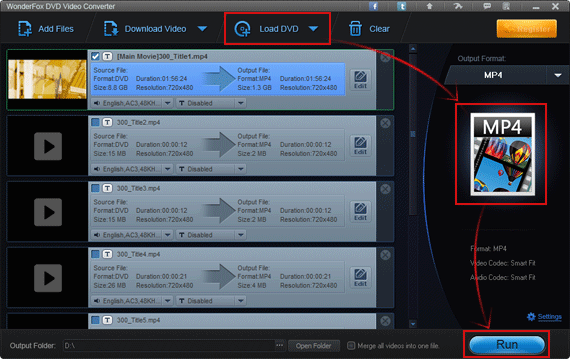 Maybe you used to be a rugby player, Draft Day may arouse your memory. If you are a professional American football player or love this sport, Draft Day makes football take over your hot heart and all your passion.
Have trouble on backup DVD Draft Day? Please send email to support@videoconverterfactory.com to get assistance.