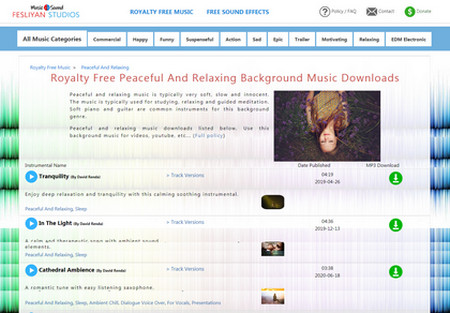 1.Fesliyanstudios.com
https://www.fesliyanstudios.com/royalty-free-music/downloads-c/peaceful-and-relaxing-music/22
FESLIYAN STUDIOS is a free music website that provides high quality royalty free music and free sound effects. Its music is sorted into a wide variety of genres, moods, instruments and more. Under the "Relaxing" section, you can find many clam and meditative songs, each with a brief description, which helps you decide if the music is to your liking. Users can listen and download what they want in 320kbps MP3 music from this website, totally free for personal use with credit contribution. In short, FESLIYAN STUDIOS is an ideal and clean place to immerse yourself in relaxing music freely.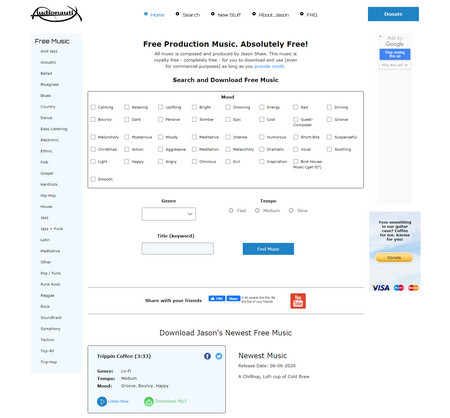 2.Audionautix.com
https://audionautix.com/
The songs on Audionautix are written and produced by the passionate and talented Jason Shaw, founder of the site. On the left side of the page he lists all his carefully composed works by different genres. You will be amazed at how beautiful and inspiring his music is, especially the calming, relaxing and meditative songs. Plus, the site has a clean interface, allowing you to navigate directly to your favorite music genres from the home page. Or you can use the search function on the top menu to tick multiple moods to get a mixed music collection. Even better, the tempo options allow you to easily choose a fast, medium or slow melody. What's more, music is open to everyone for personal and commercial purposes as long as you give the authot credit.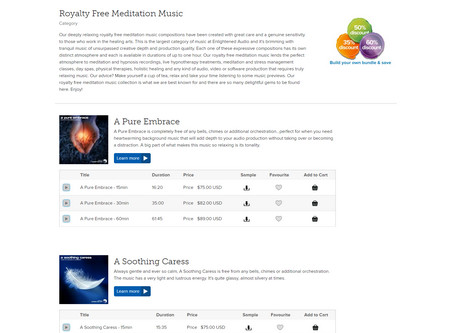 3.Enlightenedaudio.com
https://enlightenedaudio.com/categories/royalty-free-meditation-music
Enlightenedaudio, as the name suggests, aims to illuminate people's minds. It has a set of tranquil music, which is mainly used for various relaxation activities such as meditation, hypnosis, stress-relieving, etc., and is dedicated to the art of healing. All music such as meditation music, Angelic music, nature sounds, inspirational music is produced with unparalleled creative depth and production quality and is royalty free. For every piece of music posted here, you can download a 16-minute MP3 sample for free, but commercial use of the music is not permitted unless purchased.