Breaking Bad swept Emmy Awards 2014 - How to Rip and Convert Breaking Bad DVD Season 1-5
Emmy Awards 2014 were presented during a live NBC telecast at the Nokia Theatre L.A. on 25, August. Breaking Bad was the night's biggest winner, picking up an incredible total of five trophies, including Outstanding Drama Series, Outstanding Lead Actor in a Drama Series, Outstanding Supporting Actor in a Drama Series, Outstanding Supporting Actress in a Drama Series, and Outstanding Writing for a Drama Series.
As a crime drama television series, since Breaking Bad season 1 went out, the series broadcasted 6 consecutive years from January 20, 2008, and had maintained high ratings. Millions of fans followed it devotedly. It had come to an end on September 29, 2013. The last part of the serial ended with a real cliffhanger. Now there is no doubt—Breaking Bad is the greatest drama series in the history of television.

Though Breaking Bad may finally have had its day on the screen, Breaking Bad season 1, Breaking Bad season 2, Breaking Bad season 3, Breaking Bad season 4, as well as Breaking Bad season 5 is all available in stores. Whether you have watched this drama already or not, Breaking Bad DVDs are worth collecting.
It is completely unrealistic to take stacks of Breaking Bad DVD discs while you go out. You will feel heavy and awkward, while it is probably the best way to kill time on tour. So, you'd better rip the Breaking Bad DVDs for backup and playback on your portable device.
Via the net friend's inquiry, we can distill the crucial points. When you make a copy of Breaking Bad DVDs, the first problem you will come across is copy protection. Commercial DVD always has one or more copyright protection to avoid copying DVD content from DVD disk. Breaking Bad DVDs are no exception.
Secondly, if you do not wish to watch the DVD in the drive, it's obvious that you need a DVD converter to transfer the DVD content into trendy handheld device.
Based on this, WonderFox DVD Video Converter is my first suggestion. This ripper + converter purports to work around all DVD copy protection so if you run that you should then be able to just copy the files off as you wanted to.
Then again, one step to rip Breaking Bad DVDs to iPad, iPhone, Android Tablet, Samsung Galaxy and Note, HTC cell phone, Nokia Lumia, Blackberry cell phone, Sony cell phone and PS, TVs, XBox, Wii, Kindle Fire, Surface, etc. Up to 150 latest devices are supported.
Three – Step Method of Breaking Bad DVD Rip
Please download WonderFox DVD Video Converter by clicking green button below:

(1) Insert the first disc in the Breaking Bad series set and launch the program. Click "Load DVD". Breaking Bad DVD would be analyzed in few seconds, and then you'll be suggested to choose the right title (with the full content) which has been recognized automatically and marked with the tick.
(2) Hit the drop-down menu of output format, select whichever available output device.
The "Settings" button is provided for your higher demands on visual or auditory effects, like encoder, resolution, bit rate, aspect ratio, etc.
(3) Click "Run" button to start the process of DVD Breaking Bad download. In the shortest time, you will be ready to enjoy the complete thrilling episodes of Breaking Bad on mobile.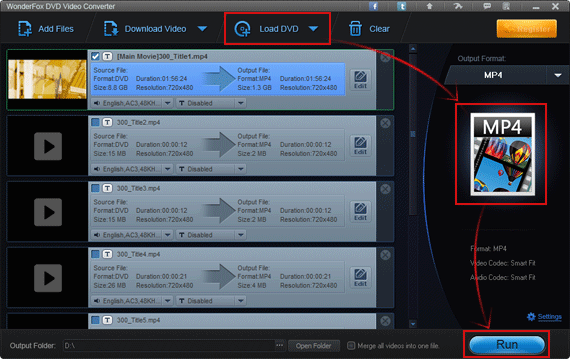 Similarly, with WonderFox DVD Video Converter, any other Emmy-winning TV series like Game of Thrones, True Blood, The Big Bang Theory, Modern Family, House of Cards can also be ripped into your portable device for playback whenever you want and wherever you are.
There's a trial version of it available here so you can at least check if it works as advertised.