BlackBerry Bold 9650 Video Converter
BlackBerry Bold 9650 is the mobile phone under BlackBerry 9600 device series. It is the successor of BlackBerry Tour 9630. It takes design cues from both BlackBerry Tour 9630 and BlackBerry Bold 9700. It is the special version of 9600 series and it almost contains the advantages of both Tour series and Bold series. It's hot and attracted many fans after the release. Its powerful processor announced that BlackBerry Bold 9650 was not just a message phone, but also one multimedia phone. But for video playback on BlackBerry Bold 9650, we may still need a BlackBerry Bold 9650 video converter first.
BlackBerry Bold 9650 Video Converter - Video Assistant for BlackBerry 9650
Why We Need Such Converting Software for BlackBerry Bold 9650
BlackBerry Bold 9650 is the high-end message phone with powerful multimedia features. The powerful processor and the newest BlackBerry OS 6.0 allow BlackBerry 9650 to run H.263 videos and WMV videos. But no matter how powerful the machine is, the phone is still a portable media player. For portable media players, MP4 files maybe the best. And BlackBerry Bold 9650 also supports MP4 (MPEG4 Part2 Simple Profile). So we need a video converter for BlackBerry Bold 9650 to convert videos to MP4 and even H.263 and WMV files.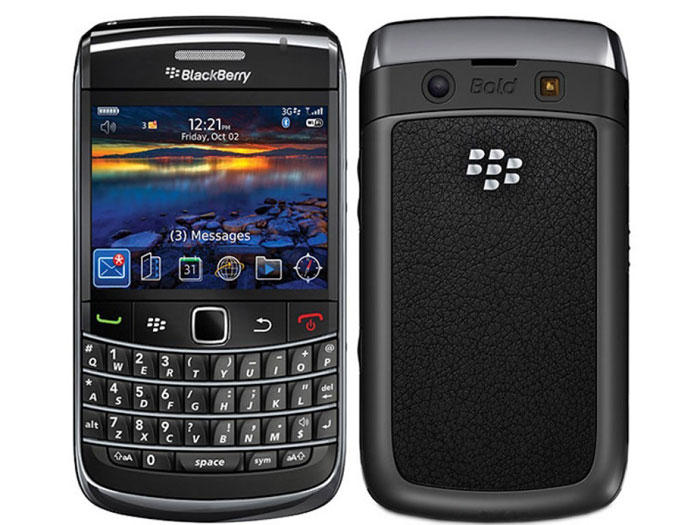 Besides, supported frame rate for video playing on BlackBerry 9650 is up to 30 fps. It means BlackBerry Bold 9650 could play the most videos well. But as for some high quality videos which have some specific frame rates, we need a professional BlackBerry Bold 9650 video converter to adjust the frame rate right. An improper frame rate may cause the video and audio files don't match each other.
What's more, the display of BlackBerry Bold 9650 is 2.4 inches. It is a little bigger than BlackBerry 9700 but less than BlackBerry 9000. And its resolution is 480*360. For this reason, we need some conversion software for Blackberry Bold 9650 to adjust video size and resolution for playback.
Suggestions for BlackBerry Bold 9650 Video Converter
Among a large amount of video converters on the market, I just suggest WonderFox DVD Video Converter to all BlackBerry users. It is the professional software for Blackberry video conversion. The software supports all BlackBerry models (BlackBerry PlayBook is also included). It is easy to use. It provides fast conversion speed with good image and supports users to adjust the video parameters (frame rate, resolution and video/audio bit rate). Besides, you can apply it as online video downloader and video editor, as well. The advanced functions (merge, clip, crop and effect) are also available for users to edit videos. It is the reliable video assistant for BlackBerry.

How to Convert Videos to BlackBerry Bold 9650 with DVD Video Converter
Step 1 Import Videos to DVD Video Converter
Download and install WonderFox DVD Video Converter. Click 'Add' to import videos to program.
Step 2 Select Output Format
Select output format in 'Profile' setting and adjust other settings you need. Here we set output profile as "Bold Series".
Step 3 Start Conversion
Click 'Run' to begin converting process. Open output profile to get the output video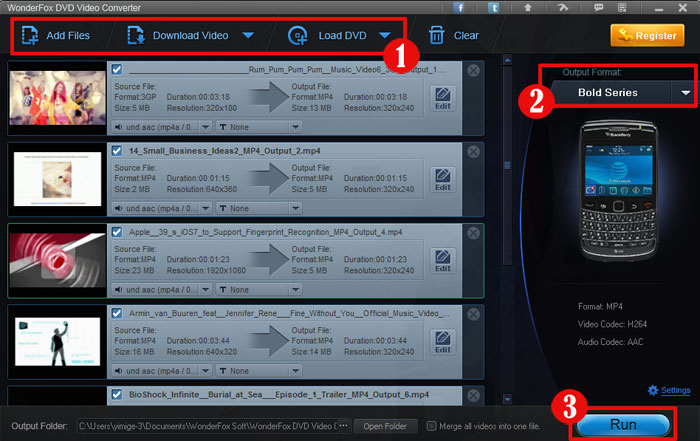 Then, with the professional BlackBerry Bold 9650 video converter, it is convenient to watch videos on the BlackBerry Bold 9650 and easy to share with others.
Still have trouble about converting DVD and video for BlackBerry cell phone? Please feel free to Email Us >>
What Else We Can Do with WonderFox DVD Video Converter
WonderFox DVD Video Converter has nearly all BlackBerry devices as its output choices with optimized profile, that is, you can convert video/audio to BlackBerry devices directly without figuring out the right video format, display resolution, bitrate, frame rate and encoder for BlackBerry devices. This DVD Video Converter completely supports the latest BlackBerry Strom 2, BlackBerry Bold 9700, Blackberry Storm 9530, BlackBerry Storm 9500, BlackBerry Tour 9630, BlackBerry 8800, 8830, 8820, BlackBerry Pearl 8100, BlackBerry Curve 8300 and more other Blackberry series.
The below passage will show you some hot topics, hot tips and useful tutorials. I hope they will be useful to you.
For users who want to enjoy FLV videos on BlackBerry cell phones or PlayBook, WonderFox DVD Video Converter can help you convert FLV to BlackBerry Curve 9300, convert FLV to BlackBerry Style 9670, convert FLV to BlackBerry Strom 9520 and much more.
And, for users who want to play MKV files, including HD MKV files, WonderFox DVD Video Converter can easily help you convert MKV to BlackBerry PlayBook supported video, help you effortlessly convert MKV to nearly all BlackBerry cell phones, such as converting MKV to BlackBerry Curve 8900 and converting MKV to BlackBerry Bold 9700.
In conclusion, WonderFox DVD Video Converter is definitely the best choice for you to convert video to BlackBerry devices supported videos. If you want to know more tips and tutorials about BlackBerry, please see the BlackBerry video converting tips center.